Geheimer Nebenquest: Roboterteile finden
In einigen Dungeons des Spiels findet man Teile eines Roboters, die zu einem geheimen Nebenquest gehören, nach dessen Bestehen man einen schon im ersten Teil vorhandenen neuen Nebenquestgeber bekommt: den Trillbot-4000. Um den Roboterbarden vollständig zusammenzusetzen, muss man in folgenden Dungeons die einzelnen Teile sammeln:
Im ersten Akt in den "Frosted Hills" muss man im Dungeon "Widow's Veil" alle Kohlebecken entzünden, um am Ende des Dungeons einen geheimen Raum zu öffnen, in dem das erste Teil des Trillbots liegt.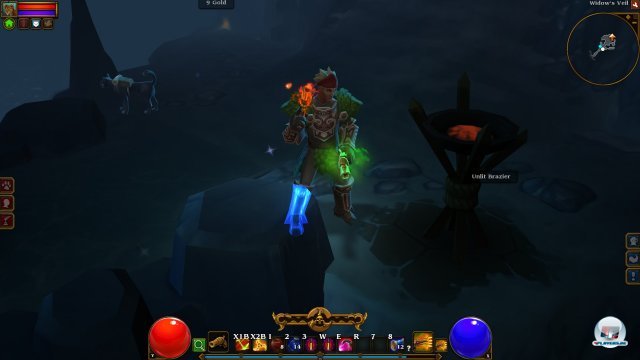 Im zweiten Akt sind zwei Teile zu finden. Einmal im "Tower of the Moon" im Gebiet "Ossean Wastes". Dort gibts ein Fallgitter, das sich öffnet wenn man alle großen Gongs in dem Dungeon einmal hat anklingen lassen. Hinter besagtem Fallgitter findet man das zweite Teil des Roboters.
 – So sehen die Gongs aus, die man ertönen lassen muss...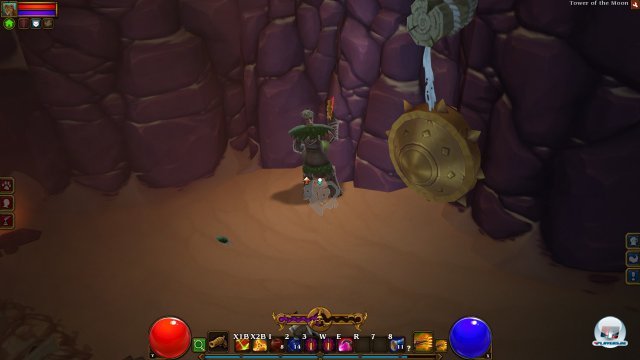 ...um dieses Tor zu öffnen: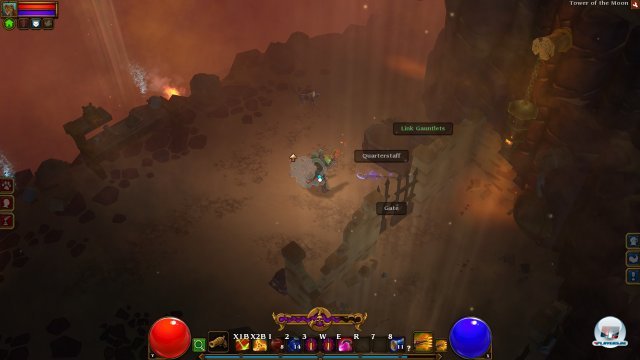 Das zweite Teil in diesem Akt gibts im "Brood Hive" in den "Salt Barrens", genauer gesagt ist der "Brood Hive" ein Sub-Dungeon des "Swarm Point". In besagtem "Brood Hive muss man nach einer großen Ansammlung von Eiern suchen und diese zerstören, um einen geheimen Bereich freizulegen, in dem noch mehr Eier gelagert sind. Eines dieser Eier droppt nach seiner Zerstörung Teil Nummer drei.
 Ist das Nest so zugerichtet...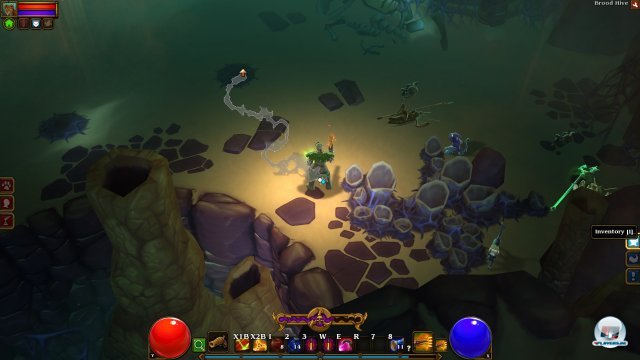 ...findet man kurz dahinter diesen Raum: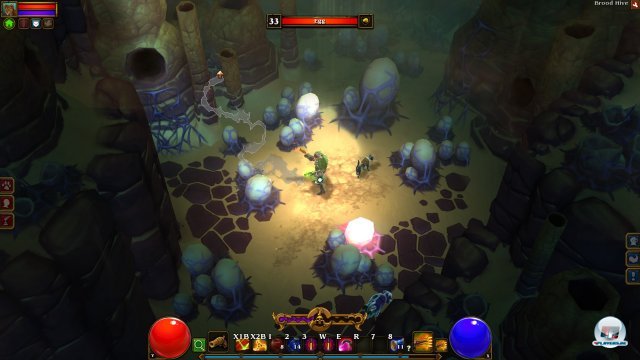 Im dritten Akt gibt es wiederum zwei Teile. In der "Abandoned Sawmill" in "Blightbogs muss man alle an der Wand hängenden Skelette anklicken, um ein Gatter, das relativ zentral im Dungeon gelegen ist, zu öffnen. Dahinter in einer Truhe wartet das nächste Teil auf einen neuen Besitzer.
Nach dieser schmuckvollen Wanddekoration muss man Ausschau halten: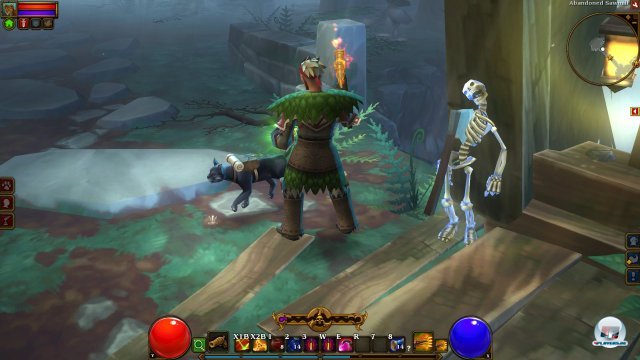 Das letzte Teil findet man in "Cacklespit's Realm" im "Sundered Battlefield". Um diesen Dungeon zu betreten, muss man den NPC "Fade (Spectral Ferryman)" ansprechen. Einmal angekommen, muss man im ersten Abschnitt (vor dem Portal innerhalb des Dungeons) alle Baumstümpfe zerkloppen, damit sich neben dem Portal ein neuer Weg auftut, an dessen Ende man das letzte Stück Roboter findet.
Mehr als nur Baumstümpfe! Diese Dinger sind der Schlüssel zum letzten Roboterteil: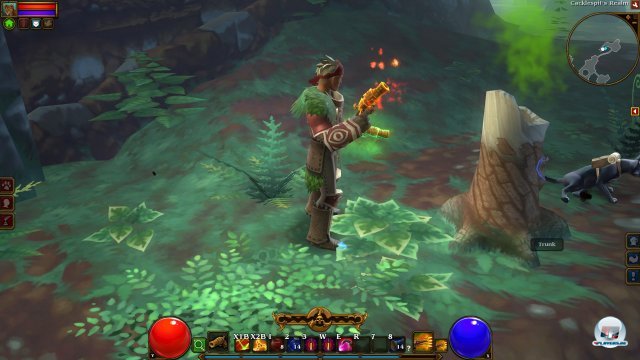 Auf der anderen Seite dieser "Brücke" ist das letzte Teil zu finden: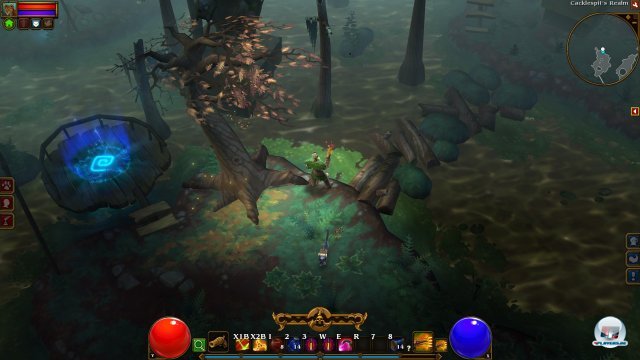 Sobald man nun den vierten Akt, sprich: den Zugang zu den "Broken Mines" freigeschaltet hat, muss man die Einzelteile Professor Stoker im "Imperial Camp" bringen.
Eingesendet von 4P-Tipps-Team