E3 2016: "PC Gaming Show" wird auch in diesem Jahr stattfinden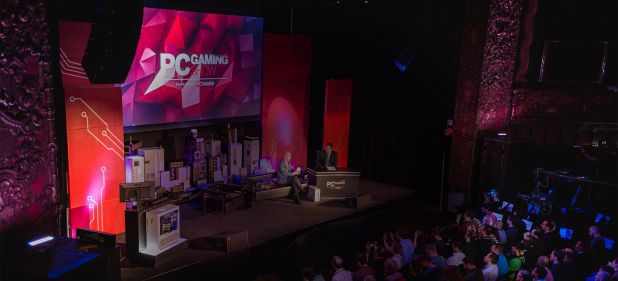 Nach der Premiere im letzten Jahr wird auch in diesem Jahr wieder die "PC Gaming Show" im Vorfeld der E3 2016
stattfinden
. Die Veranstaltung soll am 13. Juni 2016 (um 12 Noon PDT; hierzulande: 21 Uhr) stattfinden. Details zu den Teilnehmern haben die Veranstalter noch nicht verraten, aber die diesjährige Show soll generell "besser" werden als der erste Versuch. Im vergangenen Jahr wurden u.a. die PC-Versionen von
Killer Instinct
sowie
Gears of War: Ultimate Edition
, die Prolog-Kampagne von
StarCraft 2: Legacy of the Void
,
Rising Storm 2: Vietnam
und die zeitgleiche Veröffentlichung von
No Man's Sky
für PC und PS4 angekündigt. Die E3 2016 wird wiederum vom 14. Juni bis zum 16. Juni 2016 stattfinden.
"It's an incredibly exciting era for PC gaming. The tools for developing, modding, and publishing games have never been more accessible, unlocking the creativity of thousands of new game makers. Platforms like Kickstarter, Twitch, and Steam Greenlight help passionate creators find loyal audiences who support them and help them build better experiences. And in parallel, technologies like VR, variable refresh displays, and high-bandwidth memory are allowing developers to create cutting-edge experiences that are only possible on the PC.

We believe PC gaming deserves an event that captures and celebrates the golden age we're playing in. In June 2016 The PC Gaming Show will return for a unique presentation of some of the most exciting new games and technology coming to the PC. With the help of your feedback, we're ramping up to produce an even better show than last year. Stay tuned in the coming weeks for more news about this year's participants."