Unser zweiter Interviewpartner ist Thomas Mahlke: 29 Jahre jung, kommt aus Hamburg und arbeitet »normalerweise« als Creative Director beim Spieleentwickler 49Games (RTL Skispringen 2005). Sein zweiter Name ist allerdings noch bekannter: Als »fiver2« schwingt er schon seit Jahren den Pinsel für die erfolgreiche Demogruppe »Farbrausch«, die u.a. mit den Demos »the product« oder »the popular demo«, dem 96 KiloByte-Shooter »kkrieger« sowie dem Demotool »werkkzeug« Furore machten und machen.
4Sceners: Wie kamst du zur Demoszene?
Thomas Mahlke: Angefangen hat bei mir alles mit einer Projektwoche in der Schule. Thema »Demos mit dem Amiga«. Ich habe dafür ein paar Logos mit Deluxe Paint gepixelt und nicht mehr aufgehört.
4Sceners: Inwiefern hat sich deiner Meinung nach die Demoszene über die Jahre hinweg verändert?
Thomas Mahlke: Eine der für mich wichtigsten Veränderungen ist das Verschwinden des »One Platform«-Prinzips. Früher gab es für mich den Amiga 500. Und später den 1200. Und jeder andere mit diesem Rechner hatte wirklich genau diesen Rechner. Demos waren vergleichbar. Mit heutigen PCs mit unterschiedlichsten CPUs und Grafikkarten ist es im Grunde überhaupt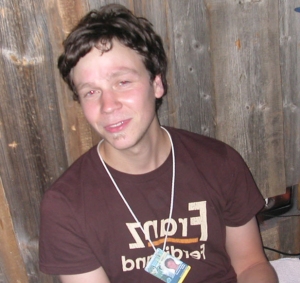 Thomas Mahlke: »Ein bisschen Underground wird die Szene wohl immer bleiben.«

nicht mehr möglich »das Letzte« aus einer Plattform herauszuholen. Dadurch ist für mich eine Menge Feeling verloren gegangen. Eine Entwicklung die mir gefällt ist, dass viele Demos heute mehr als nur reine Technik-Show-Offs sind. Sie sind bessere Unterhaltung, wenn man so will »massenkompatibler« bis hin zu »Pop« geworden. Guter Pop ist gut.

4Sceners: Was ist deiner Meinung nach wichtiger in einer Demo: spektakuläre technische Tricks oder gutes Design, basierend auf soliden technischen Spielereien?

Thomas Mahlke: Was »wichtiger« ist kann man natürlich nicht einfach beantworten. Ich selbst versuche die Technik so einzusetzen, dass man sie so wenig wie möglich sieht. Ich mag es, wenn eine Demo funktioniert, ohne dass man die Technik versteht. Wenn dann die technisch Interessierten die Demo sehen und sich fragen »Okay, und wie verdammt nochmal haben die das eigentlich gemacht?«, dann habe ich mit einer Demo alles erreicht.

4Sceners: Was ist deine Lieblingsdemo? Und wieso?

Thomas Mahlke: Eine einzige zu nennen ist unmöglich. Aber zu meinen All time favourites gehören z.B. State of the Art, Friday at eight, Desert Dream, Nexus 7 (alle Amiga), Gerbera, Yellow Rose of Texas und 00101010. Ich liebe gutes Synching, die Verbindung von Bildern und Sound. Ich glaube, das haben sie alle gemeinsam.

4Sceners: Was macht für dich »echten« Scene-Spirit aus?

Thomas Mahlke: Ich mag es, wenn Menschen sich für Dinge (was genau auch immer) interessieren. Das Interesse alleine wäre für mich schon »echter« Spirit. Wenn man dann noch versucht, selbst etwas zu erschaffen, das eigene Ideen umsetzt, einfach aus dem Antrieb heraus, dass man selbst das Ergebnis sehen möchte, dann kommt das meiner Idealvorstellung von »Spirit« schon sehr nahe.

4Sceners: Gibt es jemanden in der Szene, den du bewunderst - und wenn ja, wofür?

Thomas Mahlke: Von den Menschen mit denen ich noch nicht zusammen gearbeitet habe (hust) sind es wohl Ra und Memon (und vielleicht noch Little Bitchard). Sie alle haben etwas geschaffen, einen Stil, Ideen, ein Feeling, das wirklich eigenständig und außergewöhnlich ist. Etwas, das es ohne sie nicht so oder vielleicht gar nicht gegeben hätte.