The fat bunch – overweight in the demo scene

We all have our problem areas, which keep us busy day by day. Scene demos suffering from that problem is rather new: »in.out.side: The Shell«, the preliminary winner of the Imagine Cup 2005 demo competition packs a full 50 Megabyte – rather unusual big for a demo. The work of the Lithuanian demo group Nesnausk! does not only bring you cutting-edge graphics effects (like normal mapping, soft shadows, depth-of-field or ambient occlusion), but also breaks with the well-known »rules« of demo design. Alongside the story-heavy scenery the demo is offering unbelievable animations, which are not only second-to-none in the demo scene but also completely hand drawn – making them all the more impressive. A detailed and very interesting making-of of »in.out.side:The Shell« is to be found under the following link.

»Green Wave«, another participant from the competition, also weighs 30 MB – an explosion in size and something previously deemed impossible within the demo scene. After all, most organizers of demo parties demand contributions to be no bigger than 20 MB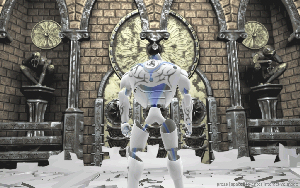 "in.out.side: the shell": This screenshot could have been taken out of a current video game.

. Commercial demos, on the other hand, are a totally different story: Professional productions like the 3Dmark series from Futuremark or the tech demos from nVidia or ATI weigh far more than these limitations allow for.

Nowadays these artificial limitations are no longer bound to exploding online costs or harassingly slow connections. It's rather based on the the technical aspect – programmers do not need to worry about restrictions in size of textures, music or 3d models. However, to get the most out of the least has always been the credo of the demo scene, which is why most of the time the size of the demos is strictly limited and must not be exceeded – simply to challenge the coders and to not make their lives too easy.

The reasons for »in.out.side: The Shell« being such a heavyweight are manifold. We talked to the creators to shed some light on the backgrounds – and to get to know their point of view about the merger of the gaming world and the demo scene.

4Sceners: At first could you please introduce yourself? Who are you exactly? What are you doing?

OneHalf: We are Paulius "OneHalf" Liekis and Aras "NeARAZ" Pranckevicius (the core of Nesnausk! demogroup). We are both finishing our studies this year (master degree), working at "ordinary software" development companies and are developing demos on our free time.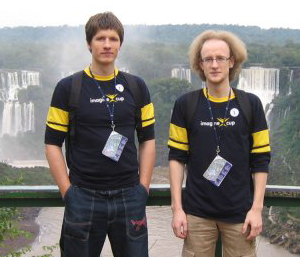 Paulius "OneHalf" Liekis und Aras "NeARAZ" Pranckevicius from Nesnausk!

4Sceners: Do you have any professional background? Are you working for a software company?
NeARAZ: Yes, we are working in software development for more than 4 years. Some time ago we were working for game development company, but it was long time ago and it wasn't a very serious company :) Paulius is also interested not only in programing, but in graphics too (2d, web design, modeling), but has no professional experience (just a hobby).
4Sceners: What kind of tools are you using for creating your demos?
OneHalf: Pencil & paper, Visual C++, GIMP, 3ds Max, Blender, Z-Brush, some specialized ones (NormalMapper, Melody, some custom tools).
4Sceners: How long have you worked on "in.out.side"?
OneHalf: We were working for something like 5 months. The team was made from 1 programmer, 2 artists and 1 musician (sometimes that one programmer was making artwork too :))