Im Zuge der Verlosung wollten wir von euch wissen, welche drei Amiga-Demos für euch die Besten sind. Dabei musste es sich nicht zwangsweise um Werke handeln, die auch auf Mindcandy Vol.2 zu finden sind. Eine interessante Frage wie wir meinen, denn die 30 Produktionen der DVD wurden per Abstimmung im Internet von der Öffentlichkeit gewählt. Sind also wirklich die wichtigsten Amiga-Demos enthalten oder fehlt das ein oder andere gute Stück? Deshalb diese Frage an unsere Leser. In unserem DVD-Review hatten wir uns ja ein ganz klein wenig beschwert, da wir gerne noch zwei, drei andere Demos auf der DVD gesehen hätten.
Jedenfalls hatten wir aufgrund der regen Teilnahme bei der Stimmzählung einiges zu tun. Das Gesamtergebnis zeigt jedenfalls, dass fast alle der von unseren Lesern am häufigsten genannten Titel auch auf Mindcandy Vol.2 enthalten sind, was für die Qualität der Zusammenstellung spricht. Dabei wurde Relic von unseren Besuchern zur absoluten Lieblingsdemo erkoren. Das 3D-Schwergewicht von der Gruppe Nerve Axis gewann mit großem Abstand vor der A500-Demo Arte! von Sanity und dem Tanzmeilenstein State of the Art der Spaceballs. Mit Hardwired, 9 Fingers, Love und Lapsuus tummeln sich außerdem noch vier weitere Demo-Legenden in der Leserauswahl.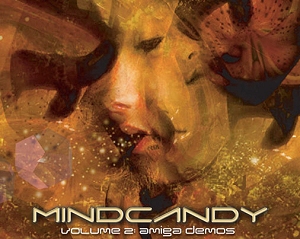 Wer möchte mal probieren? Bei Google-Video gibt es einen toll gemachten Trailer zu Mindcandy Vol. 2 zu bestaunen. Auf Scene.org lässt sich eine Preview-Version als ISO-Image herunterladen, die 5 der 30 Amiga-Demos enthält. Bestellen kann man die DVD bei MAZ-Sound.

Nur drei Kandidaten haben es in die Top 10 geschafft, die nicht vom Mindcandy-Team berücksichtigt wurden. Zum einen wäre da auf Platz 4 die Gewinnerdemo von der Assembly 2006: Starstruck von The Black Lotus, das mit seinen unglaublich detaillierten 3D-Szenen, tollem Design und dem famosen Soundtrack überzeugt und sich deshalb sogar vor den PC-Demos in diesem Wettbewerb platzieren konnte. Dass dieses Meisterwerk auf Mindcandy Vol.2 fehlt liegt aber einzig und allein an der Deadline für die Stimmabgabe, die bereits 2004 war! Dass die Aufnahme und Produktion der Videos so aufwändig und kompliziert wäre und somit noch soviel Zeit verstreichen würde, konnte seinerzeit niemand bei Fusecon ahnen. Oder schieben wir die Schuld lieber auf die Jungs von TBL. Sie hätten ihr Starstruck einfach früher veröffentlichen sollen!

Zwei Plätze dahinter rangiert Cybercinematastic von den Loonies, das zahlreiche bekannte Filmszenen, unter anderem aus Star Wars: Episode 1, in bestechender Qualität und ganz in Echtzeit berechnet wiedergibt. Das Publikum der Mekka & Symposium 2000 war von dieser Demo damals genauso angetan wie wir und wählte Cybercinematastic auf Platz 1 des dortigen Amiga-Demo-Wettbewerbs.


Siegertypen! Je ein Exemplar von Mindcandy Vol. 2 haben gewonnen:
Dennis Trabandt
Marcel Schindler
Paul Kraus




Die Nr. 10 in der Besucher-Hitliste ist eine richtige Überraschung, denn bei 1000% von Scoopex handelt sich nicht um eine Demo, sondern nur um eine 40 Kilobyte große Intro, die seinerzeit den ersten Platz auf der The Party 1998 erreichte. Dass diese Produktion eigentlich nichts auf Mindcandy Vol.2 zu suchen hätte, ist verständlich, denn immerhin wollten die Macher nur ausgewachsene Demos auf der DVD unterbringen. Aber vielleicht werden wir dieses Kleinod auf dem dritten Teil der Mindcandy-Serie wiedersehen. Der soll, so wird gemunkelt, ausschließlich Intros beinhalten. Ob nur für PC oder Amiga, oder ob beide Systeme zusammengefasst werden, wird erst die Zukunft zeigen.