Bei der Show selbst wurden die Erwartungen mal erfüllt, dann gab es zum Teil dicke Überraschungen zu vermelden. Fakt ist: Andromeda Software Development waren die großen Gewinner des Abends. Gleich drei scene.org Awards durften die Griechen für Lifeforce mit nach Hause nehmen, nämlich den Publikumspreis, den Oskar für die besten Effekte und letztendlich auch für die wichtigste Kategorie: der besten Demo 2007. Überglücklich zeigten sich Navis, aMusic, Amoivikos und Gastgrafiker Archmage (Andromeda) auf der Bühne. Navis sprach in seiner Rede vor allem Farbrausch seinen Dank aus, denn ohne ihr beeindruckendes fr-041: debris würde es heute kein Lifeforce geben.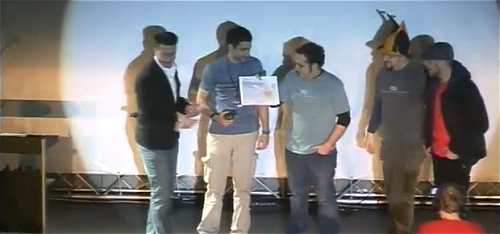 Die Sieger des Abends, zusammen mit Gastgeber Netpoet (links): Navis,
aMusic, Amoivioks und Archmage.
fr-041: debris verlässt den Ring somit leicht angeschlagen. Nur den Oskar für "Best Direction" durften Fiver2, Chaos, Ryg, Wayfinder und Ronny mit nach Hause nehmen. Auch Fairlight, bzw. die UKscene Allstars, deren Coder ebenfalls Smash ist, hätten mehrere Preise mit nach Hause nehmen können. Media Error, Halfsome und Route 1066 waren in vielen Kategorien nominiert, gereicht hat es letztendlich nur für den "Best Graphics"-Award für Media Error. Für Fairlight, respektive Programmierer Hollowman, gab es dennoch noch einmal Grund zum Jubeln. Für Sharp (C-64) schnappten sie sich die begehrte Statue für die beste Oldskool-Demo.
Smash führte als Gastgeber durch die Zeremonie für die 64k Intros und brachte das Zitat der Show vor: "Making a 64k is like making love to a beautiful woman. Size matters." Wie recht er doch hat, und letztendlich waren PlayPsyco mit Mupe diejenigen, die das 2007 am besten konnten. Völlig unerwartet ging die Siegertrophäe für die beste 4k Intro an Minas/Calodox für Polystreptikum. Mit Tracie, Kindernoiser, Stiletto und Candystall waren hier Werke im Rennen, denen man allesamt eher den Gewinn zugetraut hätte. Das Publikum schien ähnlich überrascht über diesen Ausgang, wurden während der Preisübergabe doch Rufe nach Tracie laut.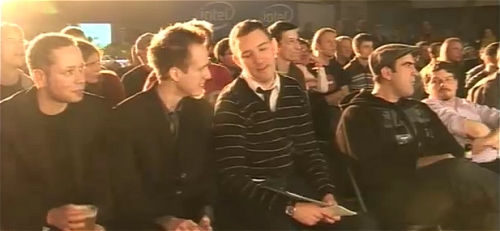 Smash (Fairlight) hier im Gespräch mit Reed. Links außen sitzt Unlock
(Buenzli Main-Organizer & Pain-Chef).
Dass der junge Maxon mit seinem Realtime Demo Wannabe für die "Best Animation" geehrt werden würde, war vorhersehbar. Nicht jedoch, dass Sqny (sprich: Sony with a Q) für ihr abstraktes Chromosphere das "Most Original Concept" abliefern würden. Auch hier hatte man eigentlich mit fr-041: debris auf dem obersten Podestplatz gerechnet. Gleiches gilt für die "Breakthrough Performance", wo sogar ein Game den Titel einstrich, nämlich das nur 96k große Sumotori Dreams von Archee. Eine weitere Überraschung war die Kür des besten Demo-Soundtracks 2007. Mit Irvin machte hier ein Musiker das Rennen, den wir von 4Sceners.de seit langem schätzen, der aber irgendwie noch nicht den Ruf in der Szene erreicht hat, der ihm eigentlich gebührt. Sein Soundtrack für Gamma von den Outracks wird diesen Status hoffentlich demnächst ändern, denn dieses brachial melodische Klangkunstwerk ist der beste Soundtrack 2007!
Die Gewinner im Überblick:
Public Choice: Lifeforce / ASD
Most Original Concept: Chromosphere / Sqny
Best Animation: Realtime Demo Wannabe / Maxon
Best Soundtrack: Gamma / Outracks
Best Graphics: Media Error / Fairlight & CNCD & Orange
Breakthrough Performance: Sumotori Dreams / Archee
Best 64k Intro: Mupe / PlayPsyco
Best Direction: fr-041: debris / Farbrausch
Best Effects: Lifeforce / ASD
Best 4k Intro: Polystreptikum / Calodox
Best Oldskool Demo: Sharp / Fairlight & Instinct
Best Demo: Lifeforce / ASD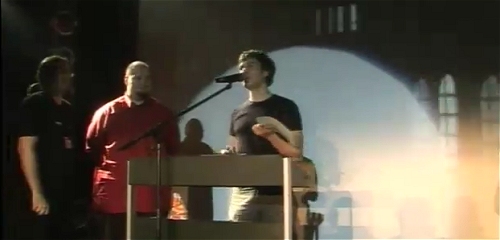 Farbrausch nach der Übergabe des Preises für "Best Direction": Chaos,
Wayfinder und "Director" Fiver2 am Mikrofon.