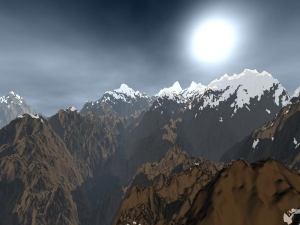 Himalaya, eine Wahnsinns-Bergtour in nur einem einzigen Kilobyte!

Um es kurz zu machen: die Icons 2008 lehrte uns vor allen Dingen, dass Geschmäcker verschieden sind. Die unserer finnischen Freunde wohl ganz besonders. Eigentlich ist es ja gut so, wenn es für jedermann etwas Spannendes, Berauschendes gibt. Somit hat alles seine Daseinsberechtigung. Die Platzierungen auf dieser Demo-Party überraschen jedoch immens und zeigen, dass dort oben in Skandinavien wohl jede Menge Noise-Fetischisten leben. Auch, dass der Minimalismus dort hoch geschätzt wird, Absurdes und Abstraktes hoch im Kurs steht. Wie sonst ist es zu erklären, dass ein so liebevoll gestaltetes Werk, so voller Dynamik und Harmonie, wie Grand Central von der Gruppe Outbreak, nur auf Platz 3 wiederzufinden ist? Wieso ist Amnestys Gabriel, das ein wenig den alten Haujobb-Stil wiedergibt, abgeschlagen auf dem drittletzten, dem 20. Rang? Auch Walk of the Phones, bei dem drei Roboter auf einem Lautsprecher-Plaza ihre Runden drehen, ist mit Platz 19 etwas unterbewertet. Immerhin erkämpfte die Australian Drug Foundation mit ihrem Effekt-Potpurri Galways den sechsten Rang, was völlig in Ordnung geht.

Bizarres on top!
Vorne tummeln sich hingegen fit-039: boy, hergestellt von den Demomachern namens Fit, die bislang durch richtig gute 4k Intros und der ungeheuren Vielfalt der unterstützten Plattformen (Windows, Linux, Mac OS, FreeBSD, Amiga und und und) von sich Reden gemacht haben. Die boy-Demo hat durchaus was, mit ihren Scherenschnittmodellen, dem groovigen Sound. Ganz im Gegensatz zu Ajatuksiani kauniista maailmastamme von Jumalauta. Die Demo mit dem - für Nicht-Finnen - unaussprechbaren Namen wirkt einfach nur trist, leer und konfus, regiert aber dennoch auf Platz 2! Auch von Flo kam wieder etwas Abstraktes. In Osa 1 schicken sie uns auf einen psychedelischen Motion-Blur-Trip. Alles in allem ebenfalls reichlich grotesk. Gedankt wurde es mit der vierten Platzierung in der Demo-Competition.

Den Stab über diese Umstände zu brechen, wäre aber natürlich Unrecht. Freie Meinungsäußerung gehört nun mal zum täglichen Geschäft, genauso wie die Möglichkeit der Stimmabgabe auf Demo-Parties. Vielen Leuten haben diese seltsamen Werke gefallen. Ebenso haben viele von ihnen viel Arbeit in die Erstellung eben jener gesteckt. Für Leute wie uns zeigt sich dadurch einfach nur wieder, wie vielschichtig und abwechslungsreich die Demoszene ist. Einige (nicht alle!) auf der Icons 2008 gezeigten Demos haben wir unserem Archiv einverleibt. Einfach auch aus dem Grund, damit man sich jeder ein eigenes Bild machen kann.

Wild und klein
Doch Moment, wir sind noch nicht am Ende angelangt! Das finnische Szenefestival hatte noch einiges mehr zu bieten. Nämlich die erste, uns bekannte 1k-Intro-Competition auf einer Demo-Party bisher! Und dort hatte es der Gewinner wirklich in sich! Wer sonst außer TBC hätte sich hier den Hauptpreis sichern sollen? Mit Tracie und Atrium haben sie uns bereits gezeigt, wieviel sie in diese superwinzige Dateigröße hinein pressen können. Nun schieben sie Himalaya hinterher, und erklimmen erneut den Gipfel der Intro-Kunst. Schneebedeckte, zerklüftete Hügelketten zeigen sie uns, eingetaucht in gleißendes Sonnenlicht, umschmeichelt von zarten Wölkchen und beeindruckender Schattenwürfe. Ganz in Echtzeit versteht sich. Alles in einer Größe von 1k! Da staunt der Zuschauer. Mit Recht, denn TBC liefern hier wieder einmal ein sensationelles Technikfeuerwerk ab.

Und dann waren da noch die Wild Demos. Hier schlug Maxon (Realtime Demo Wannabe, Donuts) wieder zu und hat sich Unterstützung von MatureFurk (in Person von Eetu von den 3DMark-Machern der Futuremark Corporation) geholt. Ihre Bullet Time stellt das durchschlagende Geschoss ins Rampenlicht. Abgefeuert aus einer toll modellierten Pistole rast die Kugel durch einen Tunnel und grinst sich dabei einen! Denn das vordere Ende morpht zu einem menschlichen Gesicht. Danach wird noch ein bisschen was verdreht und durcheinander gewirbelt, dann ist der Schuss auch schon wieder vorbei. Was bleibt ist ein beeindruckendes Schauspiel der Modellierkunst, tollem Farbgespür und - ganz HBC like - grooviger Musik.

Zu guter letzt wollen wir dann doch noch einmal zu den Demos zurück kommen. Allerdings auf eine, die auf einem ungewöhnlichen Gerüst basiert, nämlich dem Macromedia Director. Jugi/Komplex verwendete dieses Programm um sein The Thief zu erstellen, einem ruhigen, entspannenden Werk, das hervorragende Musik von Blamstraim enthält und dazu ein Wirrwarr aus Linien rhythmisch herumschlängeln lässt. Am Ende blieb Platz 12 für den Altmeister übrig.