Ein starker Start

Die Musik zu The Witcher 2 beginnt stark: Streicher, Hörner, Schlagwerk und Gesang heben mit "Assassins of Kings" so kraftvoll an, als wollten sie das Abenteuer in eine Schlacht hieven. "The Path of a Kingslayer" trägt den Schwung ins dritte Stück, das mit Unterstützung von E-Gitarre und Percussion noch entschlossener den Kampf sucht.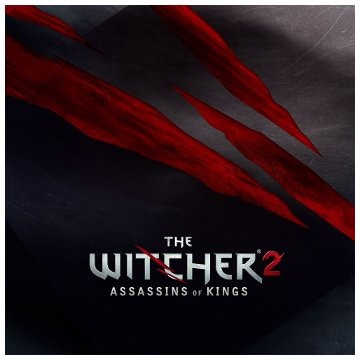 Auf allzu offensichtliche Trommelwirbel verzichten beide Titel zum Glück: Die Musik ist eindringlich, aber selbst in ihren lauten Momenten nie aufdringlich.

Doch schon bald verstummen die Kriegstrommeln und machen Platz für akustische Gemälde, die den prägenden Teil des Albums ausmachen. In "Dwarven Stone upon Dwarven Stone" träumen Gitarre und Flöte lange, bis sie in den Gesang eines leisen Chors münden. Auch das nachdenkliche "A Quiet Corner" wird von Flöte und der Stimme von Sängerin Iwona Malczewskas getragen. "Into the Fields" baut hingegen mit einem tiefen Chor und gezupften Bässen eine brodelnde Spannung auf. Während sich die Anzahl spannungsgeladener und ruhiger Stücke in etwa gleicht, spielen die leisen Melodien meist länger und bilden so den stilistischen Schwerpunkt.

Ohne den Hexer

Ein markantes Thema fehlt The Witcher 2 allerdings. Es gibt zwar die im Vorgänger eingeführte Musik - doch wer die nicht kennt, könnte sie glatt überhören. Viel zu zaghaft wird das Thema gelegentlich nur angedeutet, anstatt es spätestens im Finale voll auszuspielen. Hier verschenkt Skorupa leichtfertig ein eigentlich sicheres Ass. Liegt es vielleicht daran, dass er den Soundtrack nicht alleine komponiert hat? Denn während schon die Musik zu The Witcher von verschiedenen Federn geschrieben wurde, stammt diesmal mehr als die Hälfte der Stücke von Krzysztof Wierzynkiewicz. An vielen Titeln arbeiteten die Musiker auch gemeinsam.

Brennende Gitarren

Interessant ist, wie wenig sich die Arbeiten der Musiker voneinander unterscheiden. Zwar setzt Skorupa oft mit Solisten Akzente, wo sich Wierzynkiewicz vor allem auf gewöhnliche Violinenflächen stützt.
Übrigens

Auch der Soundtrack zu The Witcher 2 folgt der gängigen Praxis und bietet unterschiedliche Inhalte für verschiedene Versionen an. So liegt der Collector's Edition zwar eine CD bei - wer das Spiel über GOG.com kauft, erhält allerdings vier Bonustitel. Mit diesen hört man zwar wenig Neues, hört insgesamt aber eben 27 statt 23 Stücke.
Meist spiegelt sich die enge Zusammenarbeit der Kollegen aber auch in der Musik wider. In Wierzynkiewiczs Titeln kommt immer wieder eine E-Gitarre zum Einsatz, die die Fantasy erdet und ihr einen bodenständigen Anstrich gibt. Am stärksten brennen die Saiten nach dem traurigen "Regicide" - wie nach einem Schicksalsschlag rafft sich die Musik mit "The Wild Hunt" plötzlich auf und stürmt einem fast rockigen Höhepunkt entgegen.

Leider setzen die Komponisten zu selten solche Akzente. Der Großteil des Soundtracks plätschert souverän, aber sehr unauffällig vorüber. Skorupa und Wierzynkiewicz haben stimmungsvolle Ideen, orchestrieren sie aber zu gewöhnlich. U.a. ist es einmal mehr das Schlagwerk, das in The Witcher 2 einen Pop-Song betrommelt, anstatt das klassische Orchester zu begleiten. Das fröhliche Kneipenstück "A Watering Hole in the Harbor" könnte zudem in den Spelunken jedes beliebigen Fantasy-Abenteuers spielen und die Kombination aus Chor und Soli im bedeutungsschwangeren "Sorceresses" in jeder Hollywood-Kirche auftreten.

The Witcher 2 gehört zu jenen Abenteuern, die den Moment ungemein harmonisch untermalen - die man am nächsten Tag allerdings schon vergessen hat. Der Soundtrack erzählt von einer ebenso fremden wie vertrauten Welt, ihm fehlt aber die Ausarbeitung eines markanten Themas, das den Hexer als starken Charakter hervorhebt. Die unauffällige, sehr gewöhnliche Orchestrierung tut ihr Übriges - selbst in stimmungsvollen Augenblicken zieht der Soundtrack zu unmerklich vorüber. Was bleibt, sind viele kleine Ideen: Solisten begleiten mal verträumte, mal melancholische, mal aufregende Momente. Gitarren setzen einzigartige Akzente. Das ist genug für eine stimmungsvolle Atmosphäre, für das ganz große Abenteuer aber zu wenig.

Einschätzung: gut