Game-Development:




Safety First! / JCO (1st @ Revision 2015 Game Development, Windows)
Ausnahmekünstler wie JCO einer ist, sind rar gesät. Der gute Mann fühlt sich nicht nur in den Klangwelten pudelwohl, wie er es zuletzt mit der unglaublichen Soundkulisse für die STILL-Demo Coronoid bewiesen hat. Auch auf dem Videosektor, bei Szenedemos oder Games hat er sein vielfältiges Talent bereits gezeigt. Dass ihm die kreativen Ideen noch lange nicht ausgehen beweist sein neuestes Spiel Safety First!. Gebaut mit Unity, auf den ersten Blick an die legendären Stickman Fights und das Treppenschubser-Game Porrasturvat erinnernd, erregt dieser physikalische Geschicklichkeitstest vom ersten Moment an Aufmerksamkeit.

Es ist ein Strichmännchen, das man hier per Zwei-Stick-Steuerung kontrolliert, was einfacher klingt als es wirklich ist. Gesteuert werden die Beine nämlich seperat voneinander. Das führt schon nach den ersten Einführungslevels zu abstrusen Szenarien, angefangen vom Marionettenartigen Tänzeln und Wackeln, über abgerissene Gliedmaßen und spektakuläre, unvorhersehbare Hampeleien. Denn was die tolle Physik hier anrichtet, ist nicht immer zu erahnen. Jedenfalls muss bei diesem raffinierten Spaß unser Protagonist gebrochene Kabelstellen schließen. Das macht er nicht auf herkömmliche Weise mit einem Werkzeug, sondern mit dem Teil, das zwischen seinen Beinen hängt. Damit kann er, je nach Vorgabe, eine bestimmte Anzahl an gelben Geschossen abfeuern, die genau in der Mitte der Bruchstellen landen müssen. Einfach zu Beginn, sauschwer in höheren Abschnitten, wenn Hindernisse, Treppenstufen und vieles mehr für verknotete Finger sorgen.



Demoscene Battle Cards / Danish Underpants Brigade (2nd @ Revision 2015 Game Development, Kartenspiel)
Eigentlich waren wir uns schon immer sicher, dass die total spinnen (im positiven Sinn), die Dänen von der Danish Underground Brigade, kurz DUB. Nun haben wir die Bestätigung bekommen. Auf der gerade laufenden Revision 2015 in Saarbrücken haben sie am dortigen Game Development Wettbewerb teilgenommen. Nicht etwa mit einem digitalen Game für irgendwelche Prozessor-betriebenen Maschinen. Nein, sie kommen mit einem Kartenspiel ins dortige E-Werk geflogen. Wer jetzt an ein Spiel in der Machart von Blizzards Hearthstone denkt, liegt schon wieder falsch. Das dort vorgestellte Demosecne Battle Cards Game ist ein echtes Kartenspiel. Eines aus Fleisch... Moment! Kartonage und Druckerschwärze. Und es strotz vor schwarzem Humor, vor Anspielungen, die Kennern der Demoszene das Wasser in die Augen treiben wird. Denn hier sind die Macher der Demos die auf den Karten gezeigten Helden. Egal ob Smash / Fairlight, Blueberry / Loonies, Okkie oder Truck, die Jungs von DUB haben sie alle in diesem Spiel verewigt.

Die Demoscen Battle Cards erinnern an die gute, alte Zeit, als wir uns noch mit Quartettspielen die Zeit vertrieben. Hier hat jede "Heldenfigur" verschiedene Werte und Sonderfähigkeiten, angefangen von Programmier-, Grafik-, oder Musikkünsten, über den Verrücktheitsfaktor bis hin zum Schmuselevel. Je nach ausgespielter Karte gewinnt der höhere Wert. Eine völlig schräge Idee, liebevoll umgesetzt. Die Demoscene Battle Cards sind zum Preis von 6,- Euro über die offizielle Website zu beziehen. Versandkosten sollten natürlich zusätzlich beachtet werden.



Majesty of Sprites / Bauknecht (4th @ Revision 2015 Game Development, Commodore Plus/4)
Den Plus/4 haben Bauknecht erst im letzten Jahr mit der Echtzeitdemo Rocket Science gerockt. Mit Majesty of Sprites schieben sie nun einen wunderschönen, süchtigmachenden Plattformer hinterher. Das grafisch ansehnliche Spiel erinnert aufgrund der Diamentensammlerei an den Klassiker Giana Sisters, verwirrt allerdings ein wenig aufgrund des nicht scrollenden Bildschirms. Bildweise werden die einzelnen Screens umgeblättert. Aufgrund des stimmigen Designs greift man jedoch immer wieder gerne zum Joystick.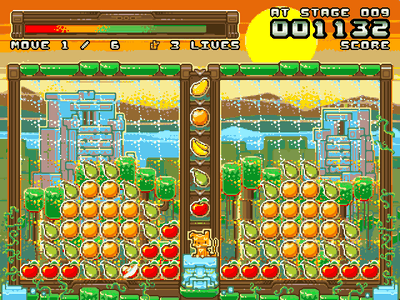 Fruit'Y / Retroguru (5th @ Revision 2015 Game Development, GamePark GP2X)
Retroguru waren auch dieses Jahr wieder mit einem frischen Spiel im Gepäck nach Saarbrücken gereist. Das sie dieses Mal aber keinen Bock auf Jump 'n' Run hatten, ist Fruit'Y eine mehr als respektvolle Hommage an den Kaiko-Klassiker Gem'X geworden. Fruit'y setzt  auf ein klassische Spielprinzip bei dem Objekte in einer bestimmten Reihenfolge, inklusive der angrenzenden Teile, umgewandelt werden um so das auf der rechten Seite zu sehende Muster nachzubauen. Bewährt und gut, kann man nicht viel falsch machen. Da auch die Präsentation mit ihrem Obstsalat anstelle der damaligen Diamenten passt, freuen wir uns schon auf die hoffentlich bald kommende Windows-Version.