Das war wirklich eine Überraschung. Die deutsche Demogruppe STILL konnte ihren Titel verteidigen und nach 2007 erneut die Intel Demo Competition für sich entscheiden. Ihr The Seeker bekam die meisten Stimmen, noch vor der TBL/Fairlight-Demo Only One Wish und Cocoon's Nazca. Das abstrakte Inflorescence von MFX und Inque mit ihrer ersten richtigen Demo namens Seiryoku landeten auf Platz vier und fünf.
Wieso hat wieder STILL gewonnen? Das fragten sich so einige der Besucher der Evoke 2008. Auf der Kölner Demo-Party wurde der Sieger der Intel Demo Competition 2008 von Veranstalter Tobias "XXX" Heim und einem Intel-Verantwortlichen bekannnt gegeben. Nich Alle waren mit dem Endergebnis einverstanden, witterten gar eine Verschwörung. Ganz so seltsam mag das Ergebnis aber gar nicht wirken, denn The Seeker entfaltet erst nach mehrmaligem Betrachten seinen vollen Reiz. Ob der Sieg in Ordnung geht, sollte dennoch jeder für sich selbst entscheiden. Fraglich ist, ob illustre Namen wie Fairlight oder MFX sich noch einmal dazu aufraffen können, an diesem Wettbewerb teilzunehmen. Immerhin wurden beide Gruppen nun schon zum zweiten Mal geschlagen. Wir werden sehen, was die Zukunft bringt.
Link:
- Die Demos der Intel Demo Competition 2008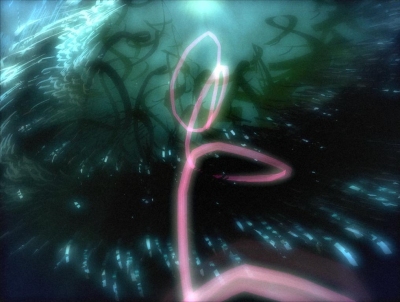 The Seeker heißt der Gewinner der Intel Demo Compo'08.