Satte vier Jahre wurde daran gearbeitet, nun ist eines der besten Amiga-PDF-Magazine endlich zurück. Die dritte Ausgabe von Amiga Point of View (kurz APoV) wurde am 09.11.2008 veröffentlicht. Satte 124 Seiten dick ist das aktuelle "Heft", das sich in Sachen Layout wieder sehr stylisch präsentiert und an die UK-Amiga-Printmags der 1990er erinnert.
Nicht nur Amiga-Freaks, sondern alle Liebhaber von Retro-Spielen und auch der Demoszene kommen beim Lesen des komplett Englischsprachigen Magazins auf ihre Kosten. Denn neben der schicken Optik stimmt auch der Inhalt. Über ein Dutzend Amiga-Spieleklassiker wie Disposable Hero oder Barbarian II mussten sich den kritischen Augen der Tester stellen, die mit ihren toll geschriebenen Reviews alte Erinnerungen aufleben lassen. Berichte über Fußballspiele, zahlreiche witzige News und Reports oder Lösungshinweise zu Zak McKracken oder dem Elvira Arcade Game sorgen außerdem für Unterhaltung. Die Highlights der aktuellen Ausgabe sind jedoch ein Special über die Amiga-Demoszene auf satten 11 Seiten, für welches auch wir interviewt wurden, sowie die Geschichte Großbritanniens, welche anhand von Amiga-Spielen auf geniale Art und Weise augenzwinkernd beschrieben wird. Ein witziger Werbeeinfall über Crysis auf dem Amiga rundet den hervorragenden Gesamteindruck des äußerst professionell wirkenden Hobbyprojekts ab.
Es lohnt sich also, mehr als nur einen Blick in den APoV-Blätterwald zu werfen! Der Download der 20MB großen Zeitschrift kann aufgrund begrenzter Serverkapazitäten der offiziellen Website jedoch ein wenig Zeit in Anspruch nehmen.
Link:
- Amiga Point of View #3 (PDF-Magazin)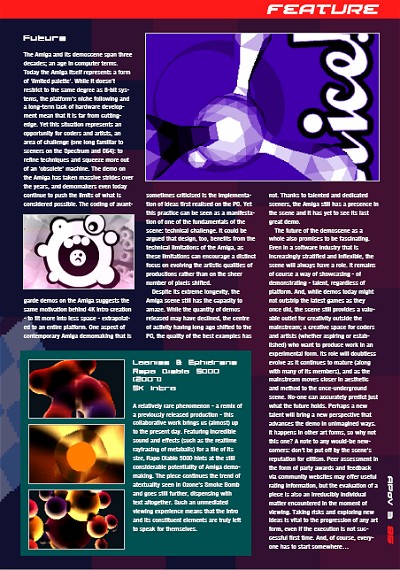 Die Retrospektive über die Amiga-Demoszene ist eines der
vielen Highlights von APoV Issue #3.