Im Dezember 2008 fand die 11. Ausgabe der Textmode Demo Competition statt. Fünf Releases wurden beim Internet-Wettbewerb eingereicht, die coole Text-Renderer aufweisen und die Ascii-Zeichen in Schwingung bringen. Die drei besten davon möchten wir euch an dieser Stelle präsentieren.
In Trauma's The Turing Machines Didn't Care erleben wir, dass die Ribbons nun auch schon in der Textmode-Welt Einzug gehalten haben. Rote Bänder schlängeln sich durch bläuliche Wolkenkratzer, was, dank coolem Ascii-Renderer, sehr stylisch aussieht. Zuvor beschränken sich Sol (Code) und !Cube (hervorragender Track!) auf Oldskool-Effekte, die ebenfalls viel hermachen. Rasterbars, ein Tunnel und das Innere einer Sphäre sind die altbekannten Szenen.
Cube 2008, der Beitrag von den Textmode-Spezialisten von Crimson Shine, ist leider etwas kurz. Sie liefern hier nämlich wieder einmal spektakuläre Ascii-Kost ab, lassen Würfel rotieren, bauen damit ganze Mauern auf, nur um diese postwendend in sich zusammenbrechen zu lassen. Physikalisch korrekt, versteht sich. Dazu gibt's nette Musik und einen herrlichen Farb-Overkill. Superb, aber eben leider zu kurz.
Alpha Design gehen mit ihrer Ascii-Demo Cookiedough altmodische, aber dennoch hübsche Wege. Donuts, Würfel, Tunnel - das kennt man, das mag man, das gehört zur Demoszene wie das Amen in die Kirche. Dank tollem Textmode-Renderer sieht das sehr stylisch und freakig aus, bietet dazu noch hervorragende, mehrere Bildschirm große Grafiken, die ebenfalls in diesem Stil gehalten sind. Nur die Musik reißt keine Tasten aus dem Keyboard.
Demos:
- Cookiedough / Alpha Design (for TMDC 11)
- Cube 2008 / Crimson Shine (for TMDC 11)
- The Turing Machines Didn't Care / Trauma (for TMDC 11)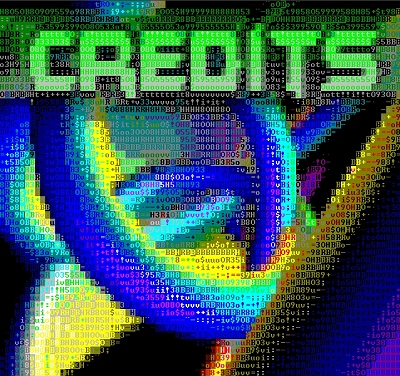 Kurz, aber richtig gut: Cube 2008, Ascii-Demo von Crimson Shine.