Erst vor kurzem haben wir über die wunderbare Welt der Endlos-Zoomer berichtet, also von Bildern, die immer größer auf dem Bildschirm werden und fließend in andere Grafiken übergehen. Das fordert besonders von den Künstlern, die hinter diesen Bildern stecken, ein Höchstmaß an grafischer Präzision und natürlich auch kreativem Gespür, damit ein flüssiger Übergang gewährleistet ist. Das Kunstprojekt Zoomquilt II, über das wir erst kürzlich berichtet hatten, war ein solches Musterbeispiel. Nun gibt es ein weiteres Projekt das sich dem Enlos-Zoom verschrieben hat und sich am Kinderbuch "Der Zauberer von Oz" von Lyman Frank Baum orientiert, sich aber auch von oben genannten Zoomquilt II inspiriert zeigt.
The Infinite Oz heißt das Werk, dessen Grafikpracht selbst die hübschen Bilder des Vorbilds in den Schatten stellt. Gleich neun bekannte, internationale Künstler haben den Zeichenstift geschwungen und hauchen den Bildern des Romans Leben ein. Wie The Zoomquilt, so ist auch The Infinite Oz in Flash programmiert, wirkt durch zahlreiche kleine Animationen aber deutlich lebendiger. Da fliegen Gesteinsbrocken umher, Regen prasselt auf die Straße oder ein Heißluftballon fliegt aus dem Bild. Sehr schick! Im übrigen dient das kleine Kunstwerk als Appetitanreger zur TV-Mini-Serie Tin Man, welche den Baum'schen Roman filmisch wiedergibt. Bislang jedoch nur im englischsprachigen Sci Fi Channel.
Link:
- The Infinite Oz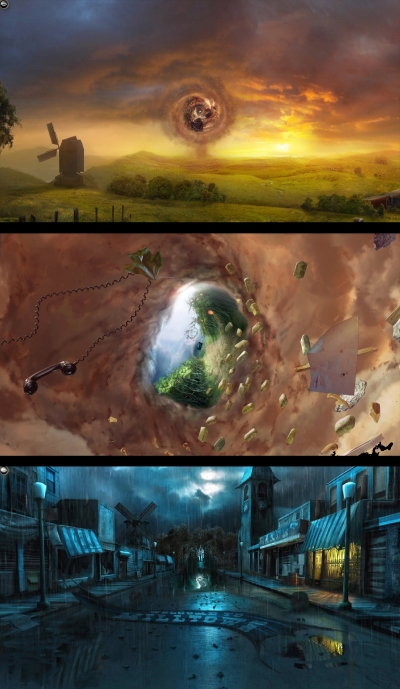 Einen wunderschönen Bilderzoom in Flash, inkl. Animationen
& Musik bietet The Infinite Oz.