Auch wenn's komplett in Englisch und "Retro" ist, in das PDF-Magazin Amiga Point of View kann man sich einfach nur verlieben. Zum mittlerweile vierten Male begeistert uns die Mannnschaft rund um Chefredakteur Adrian Simpson mit ihrer kostenlosen, digitalen Zeitschrift. Auf satten 120 Seiten präsentieren sie uns Reviews zu Amiga-Spieleklassikern (Leander, Pinball Fantasies) und solchen, die es gerne wären (Akira, Cabal, uvm.). Sie wissen uns mit interessanten Themen zu fesseln, etwa der Übersicht über Doom-ähnliche Spiele, die einst für den Amiga veröffentlicht wurden oder nie fertiggestellt wurden.
Da liest man etwa von Ambermoon, einem der besten Rollenspiele aller Zeiten, welches zugleich das erste kommerzielle Spiel auf dem Amiga war, das auf eine 3D-Texture-Mapping-Engine setzte. Zugleich bedeutete dieses Spiel das Ende der renommierten deutschen Spieleschmiede Thalion. Auch über Doom selbst liest man, welches dank freigegeben Source-Code längst auf den alten Commodore-Rechnern läuft. Genauso wie übrigens Quake. Oder aber man wird an Genetic Species erinnert, den fantastischen "Denk"-Shooter von Marble Eyes, sowie die beiden Teile von Alien Breed 3D, die letzten ruhmreichen Spiele von Team 17 für die "Freundin". Ebenfalls interessant, wenn auch äußerst knapp umrissen, ist die Vorstellung einiger Szenedemos, die eine Doom-ähnliche Engine benutzen. Zwar sind Klassiker wie Full Moon oder Motion: Origin 2 genannt, andere Killer-Demos wie etwas Shaft7 oder Alien 2 fehlen in der Auflistung. Neben diesen Schmöker-Leckerbissen warten zahlreiche weitere interessante Specials auf den Leser.
Amiga Point of View #4 zeigt wieder einmal auf, zu welch tollen Leistungen ein engagiertes Team in ihrer Freizeit fähig ist. Tolle Berichte, eine gelungene Themenauswahl, sowie ein perfektes Layout, das an die alten Amiga-Magazine aus den 1990er Jahren erinnert, und welches immer wieder durch alte Werbe-Scans aufgelockert wird, erwärmen unser Retro-Herz. Hier steckt in jedem Pixel wahre Liebe!
Link:
- Amiga Point of View Issue 4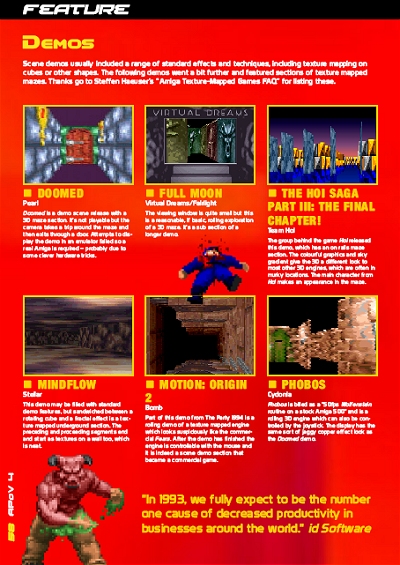 Etwas mager, aber durchaus interessant ist die Übersicht in APoV #4
über Amiga-Demos, die auf eine Doom-ähnliche Engine setzen.