Nutzer des Xbox Game Pass kennen das Problem: Microsofts Spiele-Abo bietet einfach zu viele interessante Titel, um sie endlich mal alle auszuprobieren (insgesamt über 100). Bevor sie vorm Anzocken komplett aus dem Gedächtnis verschwinden, hilft neuerdings eine frische Funktion weiter, die mit dem Juli-Update der Konsole ab dem 8. Juli nachgepatcht wurde: Mit "Play later" verschiebt man den persönlichen "Pile of Shame" einfach aus dem schlechten Gewissen auf eine Liste.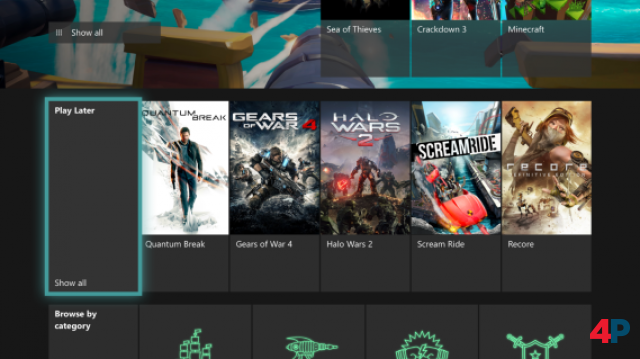 Die "Play-later"-Liste lässt sich laut
Microsofts US-Auftritt Majornelson.com
auf auch von der Mobil-App aus organisieren. Des Weiteren werden einige Skills und weitere unterstützte Länder für Alexa nachgereicht:


"Xbox Skill for Alexa – More countries and new voice commands
Last fall, we expanded voice control support by introducing the Xbox Skill for Alexa, which enables you to navigate and interact with Xbox One using voice commands through your Alexa-enabled devices. Today we are adding more supported countries and new Alexa voice commands to see what's happening on Xbox Game Pass and check in with your Xbox Live friends.

*More countries – We heard our fans around the world loud and clear that they wanted Xbox Skill for Alexa support in their country. Today, we are excited to be adding support for customers in Australia, Canada, France, Germany, Italy, Mexico, and Spain. Click here to learn how to set up the Xbox Skill for Alexa.

*New Alexa voice commands for Xbox Game Pass and more – Have you always wanted to be able to use your voice to find out the latest games in Xbox Game Pass? Good news, so have we! The July 2019 Xbox Update introduces the ability to find out what's new to Xbox Game Pass, what the popular games are, what's leaving the catalog, and more; simply by asking Alexa. Try saying, "Alexa, ask Xbox what's new on Game Pass?"

Want to stay up-to-date with what your friends are doing on Xbox? You can ask Alexa who's online, what your friends are playing, and more. Try saying, "Alexa, ask Xbox what are my friends playing?"

Finally, you are now able to start pairing your controller with your Xbox from the convenience of your couch. Just say, "Alexa, ask Xbox to pair my controller." to put your console into pairing mode!

For a full list of what you can say, check out this link.

These updates are based on feedback from our Xbox Insiders who have helped to shape these features. A huge thank you to all our Xbox Insiders for your valuable input and continued participation. If you'd like to help define the future of Xbox and get access to early features, download the Xbox Insider Hub app on your Xbox One or Windows 10 PC today and share your ideas at the Xbox Ideas Hub. You can also visit the Xbox Insider Blog here for the latest release notes and to learn more. Enjoy the July Update and happy gaming!"
Letztes aktuelles Video: Xbox Weekly Neue Spiele der Woche 8 - 14 Juli 2019