Von den Anfängen bis heute
Mit staunenden Augen saßen wir 2001 vor dem Bildschirm und scheuchten einen knuddeligen Affen über betörend schöne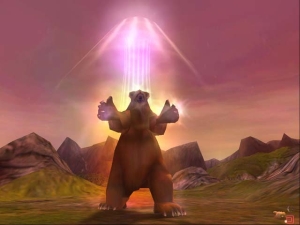 Black & White: Die beeindruckenden 3D-Routinen entspringen Demo-Know-How.

Inselwelten. Black and White hieß das Werk, das ein visuell beeindruckendes Schauspiel zelebrierte, spielerisch jedoch etwas unausgereift wirkte. Maßgeblich verantwortlich für die aufwändigen 3D-Routinen des Spiels war ein gewisser Alex Evans. Black and White war Alex' erstes Projekt in der Games-Branche. Dass er das Strategiegenre gleich mit seinem Erstlingswerk in gänzlich neue technische Dimensionen führen würde, verdankte er seiner jahrelangen Tätigkeit in der Demoszene, wo er sich das nötige Know-how selbst aneignete. Unter dem Namen "Statix" programmierte Alex zahlreiche Demos, die in dieser Szene für Aufsehen sorgten.

Digitale Wundertüte
Szenedemos stellt man sich am besten als eine Art digitalen Videoclip vor. Etwas, das sowohl optisch als auch audiovisuell beeindruckt. Denn Szenedemos sind digitale Kunst in Reinkultur, Werke aus dem Computer-Underground und ein Fest für die Sinne. Sie entführen in eine andere Welt, begeistern mit atemberaubenden Effekten und in Echtzeit berechneten 3D-Szenen, bieten grandiose Licht- und Farbspielereien und punkten mit abgefahrenem Design.

Produziert werden solche Demos von talentierten Nachwuchskräften, die in ihrer Freizeit der Kreativität freien Lauf lassen. Programmierer können sich dort austoben, dürfen Effekte zeigen, die in Spielen niemals Verwendung finden würden. Immer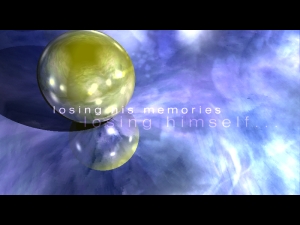 Heaven Seven wirkt mit eleganten Bildern und chilliger Musik fast schon hypnotisch.

wieder experimentieren sie mit neuen Routinen, verbinden diverse Effekte, treiben die Hardware an ihre Grenzen und erschaffen so ein beeindruckendes Effektfeuerwerk. 2D-Grafiker pixeln wunderschöne Bilder und detailreiche Texturen, während 3D-Studio- und Lightwave-Spezialisten abstrakte Objekte und aufwändige 3D-Szenen gestalten. Eine wichtige Rolle nehmen auch die Musiker ein. Nur wenn der Soundtrack thematisch zum gezeigten passt und mit den Effekten harmoniert, entfalten Szenedemos ihr ganz besonderes Flair.

Im siebten Himmel
Ein Musterbeispiel für perfektes Demo-Design ist Heaven Seven. Das nur 64 Kilobyte große Werk enthält Realtime Raytracing und Rendering, grandiose Lichteffekte und einen brillanten Soundtrack im Ambient-Stil - alles in der Größe einer Textdatei! Diese so genannte 64k Intro entführt in eine unglaubliche Welt der Poesie. Man muss dieses Werk selbst gesehen haben, um das perfekte Zusammenspiel der Farben, der Effekte und insbesondere der Musik zu begreifen. Die momentan bekanntesten 64k Intros kommen von der deutschen Gruppe Farbrausch. Hauptberuflich arbeiten die Jungs bei 49Games an Titeln wie RTL Skispringen 2005 und Ski Alpin 2005. Nebenbei tüftelt man jedoch an Kunstwerken wie fr-08: The Product oder fr-030: Candytron. Verantwortlich für die technische Brillanz dieser Effektshows in Miniaturgröße sind Dierk "Chaos" Ohlerich und Thomas "Fiver2" Mahlke. Die Ursprünge von Ohlerich in der Szene lassen sich bis ins Jahr 1990 zurückverfolgen, wo er für die Gruppe Sanity aktiv war. Mahlke stieß kurze Zeit später hinzu.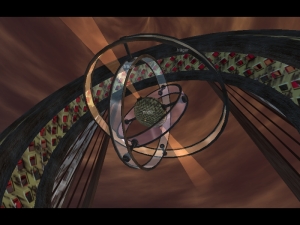 The Product packte unerhörte Datenmengen in lächerliche 64 Kilobyte.

Für fr-08: The Product entwickelten die beiden ein System, bei dem sie Texturen mithilfe bestimmter Befehle erzeugen konnten. Dank spezieller Packroutinen und trickreicher Effekterzeugung schafften sie es, rund 1.2GB an Daten in nur 64 Kilobyte unterzubringen. Mit ihrem System führten sie die 64k Intros in gänzlich neue Dimensionen. Mittlerweile kopieren auch andere Gruppen erfolgreich diese Technik. Allen voran die ungarische Gruppe Conspiracy, die mit Project Genesis und The Prophecy sogar Farbrausch auf die Plätze verwies. Die Farbrausch-Leute optimieren permanent ihre Programmierumgebung namens .werkkzeug. Dass sich nicht nur Demos mit diesem Tool erstellen lassen, bewiesen sie 2004, als sie einen eigenen 3D-Shooter damit erstellten. KKrieger erreicht fast das Niveau moderner 3D-Engines, bietet schnörkellosen Ballerspaß und ist gerade einmal 96 Kilobyte groß!

Fette Datenpakete
64k Intros sind jedoch nur eine Art der Demoszene, ihre technischen Fähigkeiten zu demonstrieren. Natürlich sind es die "echten" Demos, bei denen sich die Macher austoben dürfen und an keinerlei Beschränkungen gebunden sind. Bis zu 20MB sind diese ausgewachsenen Demos groß, enthalten detaillierte Polygonobjekte, hochauflösende Grafiken und natürlich MP3-Musik.