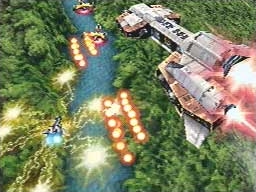 Nanostray rocks. It's a masterpiece from the technical point of view and also makes fun to play. Watch these videos (11MB) to see the game in action.
Years with the Amiga
The Shin'en team is not unknown In the demoscene. They called themselves Abyss and released plenty of demos, intro and music disks - mainly for the Amiga but later on, also for the PC. And if you own a website with the URL the-leaders-of-the-eighties.de, you surely are among the most glorious sceners there are [- or you have a thing for hyperbole ;-) /ed]. Demos like "High Anxiety," "Drugstore," or "Wildlife" are visible proof, as well as their tribute to Captain Future, "Startrail to Glory," released in 1998 on PC. The last release from Abyss was the atmospheric music disk "Disissid 4" in the year 2000.
Most of the Abyss-fame comes from their musician "Pink" who's called Manfred Linzner in real life. He has claims to being one of the best scene musicians there is. He has created monumental works with his terrific demo soundtracks and chip-tunes. He also knows how to code. In the beginning, he was only developing programs related to music - the AHX-engine. A heavily modified version is also available for the Nintendo GBA and DS, and provides those consoles with perfect sound and music quality. Since 1997, Manfred has also been interested in game programming. This started with puzzle games such as "Rise of the Rabbits 1 + 2" and the action game "A-Type." Those three titles were created on Amiga and fit neatly within 32kb, while maintaining good looks and fun gameplay.
Four guys from Munich in handheld heaven
It was only a question of time until Abyss decided to invest their collected knowledge from the demoscene into commercial game. In the beginning, they had chosen the GBC as their platform because this was most comparable with Amiga. Later they moved to the GBA where they finally had their breaktrough with the impressive Shot'em Ups "Iridion 3D" and "Iridion II". Also the cuddly Jump'n Run game "Biene Maja - Süßes Gold" (Biene Maja - Sweet Gold) was created by "Shin'en", their new name. "Nanostray" will soon be released - which is why we wanted to talk to Bartman and Pink. But of course, we also wanted to know how it was in the demoscene, back then.
Bobic: Could you introduce yourself with a few words?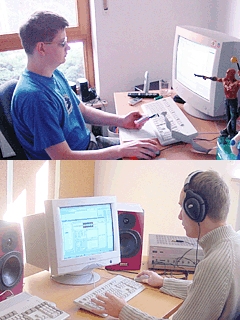 Bernhard "Bartman" Wodok (top) and Manfred "Pink" Linzner (bottom) from Shin'en.

Bartman: Shin'en consists of the following persons: Bernhard Wodok (Bartman/Abyss), coder, 29 / Manfred Linzner(Pink/Abyss), coder/musician, 30 / Florian Freisleder (Wintermute/Abyss), gfx artist, 30 / Martin Sauter (Fade1/TRSI), gfx artis, 31.
Bobic: How did you get your attention towards the demoscene?
Bartman: That was somewhen around 1991/1992. Together with a friend, I found a hardware programming lesson in the "Amiga-Magazin" and I joined in. Of course I'd seen a few crack intros before, and then I tried to them on my own. When I was looking for a musician, I stumbled upon Pink and we founded the demogroup "Pyrodex". 1994, we got contacted by Abyss, because many of the Abyss members have been living around us in Munich. They planned to do something together and since the members of Abyss didn't want to join Pyrodex, we did it the other way round.
Bobic: And as "Abyss" you did plenty of demos for the Amiga. What was your best experience in that time? And of course: What was the worst?
Bartman: Of course, the best thing you can get, were the demoparties - where we also won something. I think we got most of the prizes at The Party 97/98 and at Mekka&Symposium 98. That was very cool. Of coruse we also had flops, like the Saturne Party 97, when there was no power for 10 hours and all competitions were cancelled. That was quite a disappointment after the long trip to Paris.