Aufwändiger, komplexer und wesentlich facettenreicher ist Musik für Computerspiele inzwischen geworden. Pompöse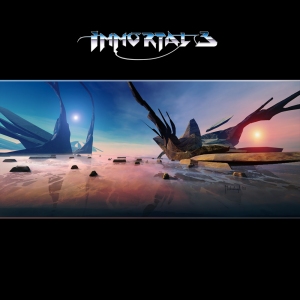 Das Cover-Artwork von Immortal 3 ist im Stil der Amiga-Spieleverpackungen von Psygnosis gehalten.

Arrangements wechseln sich mit ruhigen Passagen ab, müssen dabei die jeweilige Spielsituation perfekt untermalen. Kaum ein Spiel kommt heutzutage ohne wuchtige Orchestermusik oder einem lizenzierten Soundtrack aus. Doch hat die musikalische Begleitung im XXL-Hollywood-Format auch einen Nachteil: sie ist austauschbar geworden. Die Musik eines Call of Duty 2 könnte ohne weiteres auch in jedem beliebig anderen Kriegsspiel eingesetzt werden. Nicht mehr aus dem Kopf wollende Melodien sind rar geworden.

Ansammlung der Stars
Vor etwas mehr als 15 Jahren sah dies noch gänzlich anders aus. Zu Zeiten des 16-bit Computers Amiga produzierten Musikkünstler wie Chris Hülsbeck, Richard Joseph, Jason Page und viele andere reihenweise Ohrwürmer, die nicht nur ihnen selbst, sondern auch den dazugehörigen Spielen unvergesslichen Kultstatus einbrachten. Oft summte man die Melodien daraus tagelang nach oder kaufte eine Neuerscheinung nur deswegen, weil der Lieblingsmusiker daran beteiligt war. Der kürzlich erschienene Sampler Immortal 3 katapultiert nun die Klangorgien der Vergangenheit in die Moderne. Zu 35, teils unvergesslichen Amiga-Spielen finden sich die dazugehörigen Soundtracks in deutlich aufpoliertem Gewand auf den beiden CDs. Zum größten Teil neu abgemischt und arrangiert von den Originalkomponisten! Denn Produzent Jan Zottmann hat sie fast alle zurück ins Studio geholt. Nicht nur die drei vorher genannten, auch ein Olof Gustafsson, Allister Brimble, Tim Wright oder gar Jochen Hippel geben sich hier ein Stelldichein.

CD1:
01. Apidya "Suite" (Hülsbeck)
02. Gods "Into the Wonderful" (Nation 12)
03. Theatre of Death (Clarke)
04. Ghouls'n Ghosts (Follin)
05. Turrican 2 (Hülsbeck)
06. Turrican 3 (Hülsbeck)
07. Fire and Ice (Page)
08. Pinball Dreams (Gustafsson)
09. Disposable Hero (Hoekman & Holt)
10. The Chaos Engine (Joseph)
11. Agony (Wright)
12. Death Mask "Something Evil" (Owens)
13. Defender of the Crown (Cuomo)
14. Lotus 3: The Ultimate Challenge (Phelan)
15. The Plague (Klaren)
16. Alien Breed (Brimble)
17. Aquaventura (Wright)
18. Ambermoon (Steinwachs)

CD2:
01. Wings of Death (Hippel)
02. No Second Prize (Steinwachs)
03. Speedball 2 "Brutal Deluxe" (Nation 12)
04. Brat (Lynne)
05. Amberstar (Hippel)
06. Shadow of the Beast 2 (Wright)
07. Uridium 2 (Page)
08. Cardiaxx (Simmonds)
09. Pinball Fantasies (Gustafsson)
10. Elfmania (Eeben)
11. Overdrive (Brimble)
12. Ork (Bartlett)
13. Leander (Simmonds)
14. Obsession "Desert Run" (Almered)
15. Katakis (Zendeh)
16. Super Cars 2 (Leitch)
17. Trolls (Nixon)

Silberscheibe Nr. 1
Bereits die erste der beiden Audio-CDs beginnt mit einem Paukenschlag. Chris Hülsbecks Apidya Suite zelebriert ein klanggewaltiges Hörspiel, dessen Bann sich niemand entziehen kann. Eingespielt von einem echten Orchester, das an jeder Stelle das nötige Gefühl walten lässt, vermittelt dieses Meisterwerk eine sensationelle Atmosphäre und stimmt perfekt auf die nachfolgenden Titel ein. Ebenso grandios ist der Medley zu Pinball Dreams ausgefallen, dem sich Olof Gustafsson persönlich gewidmet hat. Kenner der Orignalversion finden viele bekannte Elemente und Samples wieder, die jedoch gehörig aufgewertet wurden und nun wesentlich moderner klingen. Hülsbeck selbst setzt mit seiner Musik aus dem zweiten und dritten Turrican weitere Akzente. Diese sind zwar bereits auf seiner brillanten Turrican-Soundtrack-CD, bzw. einem anderen Sampler zu finden und man durfte annehmen, dass sie kaum noch besser inszeniert werden können, doch wiederum hat es der Maestro geschafft den Stücken eine besondere Note zu verleihen.

Relativ unverändert, aber nach wie vor grandios, klingt das Titelthemen aus Agony, das mit seinen wundervollen Pianoklängen verzaubert. Andere hingegen erkennt man beim ersten Hören kaum wieder. Darunter fällt beispielsweise Ghouls'n Ghosts, das in jedem Irish Pub für prächtige Stimmung sorgen würde. Auch das Castlekeep-Thema aus Defender of the Crown, bei dem Jim Cuomo selbst die Woodwinds spielt, ist mit seiner jazzigen Neuinterpretation eines der ungewöhnlichsten, hierauf enthaltenen Stücke, klingt jedoch stark gewöhnungsbedürftig.
Immortal 3 gönnt sich leider auch die ein oder andere Schwächephase. So fehlt dem Remix zum Bitmap-Brothers-Klassiker Gods etwas Pepp. Vor allem die Vocals wirken viel zu soft - ein aggressiveres Organ und vor allem kräftigere Beats hätten hier Wunder gewirkt. Ein echter Ohrwurm war auch die Titelmusik zu Disposable Hero noch nie, da eine durchgehende Melodie fehlt. Der Remix selbst klingt demnach ebenfalls mehr nach Technikspielerei als echter Musik, hat aber dennoch ein paar atmosphärische Momente aufzuweisen. Ebenso erstaunt ist man beim Remix zu Fire & Ice, dem nicht nur Cool Coyotes lustiges Bellen fehlt, sondern der deutlich schwächer als die Originalversion vom Amiga 500 klingt!

Zu den wirklichen Überraschungen zählen die Pianoversion von Ambermoon, eingespielt von Matthias Steinwachs persönlich, sowie Mike Clarkes Theatre of War, ein eher unbekannter Vertreter im Klangparadies des Amigas. In die letztgenannte Sparte gesellt sich auch der Soundtrack aus Death Mask, eines der variantenreichsten, aber auch besten Stücke dieses Samplers. Ebenfalls noch auf der ersten CD enthalten sind durchaus hörenswerte Remixe aus Alien Breed, The Chaos Engine, Aquaventura, Lotus 3 und The Plague, die allesamt recht gut klingen.