Plastikkult
Die erste Version von Flash erschien 1997, damals noch unter den Fittichen von Macromedia, die 2005 von Adobe übernommen wurden. Aufgrund der eingeschränkten Möglichkeiten der ersten Programmversionen war Java zum damaligen Zeitpunkt die weitaus bessere Programmierumgebung für die Szene, was in imposanten Werken wie Godog (Komplex, 1998), Flow (Digital Nerds, 1998) oder [I] (Yodel, 1999) gipfelte. Erst drei Jahre später kam der Durchbruch für die Gattung der Flashdemos. Haujobb schufen mit Plastik Wrap den ersten würdigen Vertreter, der alle Merkmale einer guten Demo in sich vereinte: nette Optik, tolle Effekte und stylisches Design, garniert mit einem treibenden Drum'n Bass Soundtrack. Die eigentliche Überraschung war jedoch, dass Plastik Wrap vom bislang nur durch seine wummernden Sounds aufgefallenen Musiker Raytrayza stammte, der damit erstmals in anderen Bereichen sein Talent zeigte. Mit modernen Flashdemos kann Plastik Wrap natürlich nicht mehr konkurrieren, da es hauptsächlich auf alten Effekten wie rotierenden Würfeln sowie diversen Vektorobjekten basiert. Bezüglich des Stils spielt das Haujobb-Werk jedoch nach wie vor in der Königsklasse mit.
Der Weg ins Flash-Paradies war also für die Demoszene geebnet. Viele Gruppen sprangen auf den Zug auf, denn die Verlockung war einfach zu groß, ohne aufwändige Portierungsarbeiten ihre Kreativität zeitgleich unter Windows, Linux, Mac OS und anderen Systemen zur Schau zu stellen. Bereits ein Jahr später zeigten Omega Interactive mit ihrer gleichnamigen Demo die vielfältigen Möglichkeiten von Flash auf der Takeover 2001. Die, leider etwas zu kurz ausgefallen Präsentation überzeugt mit schnellen Schnitten, wechselnden Bildformaten und perfekt getimter Effektfolge. Einziges Manko ist der kommerzielle Movie-Soundtrack, der hier jedoch wie die Faust aufs Auge passt.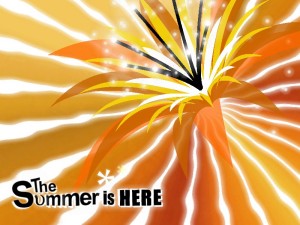 Zeigt eindrucksvoll die Möglichkeiten von Adobe Flash - The Summer is here von Kellari & Inapt.
Neue Möglichkeiten
In den darauf folgenden Jahren verbesserte Macromedia natürlich ihre erfolgreiche Software. Die interne Programmiersprache ActionScript wurde stark erweitert, ein Videocodec eingebaut und das Gesamtpaket um umfangreiche Programmbibliotheken erweitert. Bereits 2004 erblickten einige Werke das Licht der Welt, die sich hinter normalen Demos in Sachen Aussehen, Machart und den Möglichkeiten kaum noch zu verstecken brauchten. The The Summer is here ist ein hervorragendes Beispiel dafür, denn es erklärt die neu hinzugekommen Features von Flash perfekt. Outline Particles, Wireframes, Glenz Vectors und vieles mehr findet sich hier wieder. Wesentlich stylischer geht es in Orions $21 zu, das vor Kreativität geradezu birst. Mithilfe des ungewöhnlichen Grafikstils verbindet es schicke Effekte mit New-Media-Content und einem fetzigen Soundtrack. Unbedingt ansehen!
Aufwändigere und sogar animierte 3D-Modelle entdeckte man ab 2005. In Pyrotechs I,Mofo, das sich etwas vom Film I,Robot inspiriert zeigt, wandern ein paar Dutzend Androiden umher, während das Asteroidenfeld gegen Ende der Vorführung mit netten Bump-Maps glänzt. Wunderschöne Fraktalzoomer und diverse, aus Direct-X bekannte Shader-Spezialitäten finden sich hingegen in Drop von Komplex wieder. Das ist allerdings ein wenig arg monoton gestaltet.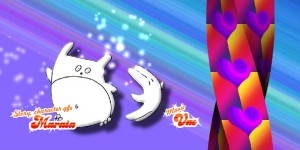 Schrill, poppig, einfach groovy! Who killed Travolta? ist das Demo-Highlight 2006 der Flash-Szene.

Was brauche ich, um Flash-Demos ansehen zu können?
Einfach die Adobe-Website besuchen und sich die aktuelle Version des Flash Players für das verwendete Betriebssystem herunterladen. Nach erfolgter Installation lassen sich die hier vorgestellten Flash-Demos ohne Probleme wiedergeben.

Spätestens seit dem vergangenen Jahr haben sich die Flash-Demos auf den großen Demo-Partys etabliert. So genannte Browser-Demo-Wettbewerbe finden sich immer häufiger auf dem Veranstaltungskalender wieder, wobei die Vertreter der JavaScript-Kategorie den Flash-basierten Werken bezüglich der Anzahl inzwischen klar unterlegen sind. Die beste Flash-Produktion des vergangenen Jahres hört auf den Titel Who killed Travolta? und bietet einen frechen Comic-Look, poppig bunte Farben, groovige Musik und einen ganzen Schwung gelungener Effekte, inklusive Multitexturing, Voxel und Partikel, verfeinert mit einer Prise Oldskool-Charme.

Ausblick
Kürzlich erst zu Ende gegangen ist die Flashscene.org 32k Competition, die mit einigen guten Beiträgen aufwarten konnte. Die wirklichen Hochkaräter dürften jedoch erst wieder zur Assembly 2007 eintrudeln. Bis es soweit ist, bietet das Flash-Archive auf Pouet.net noch einige interessante Demos. Und dann gibt's da immer noch Leute wie Doc Snyder, der nach wie vor fleißig C64-Cracktros in Flash nachprogrammiert. Man sieht es einfach überall - Flash und die Demoszene, das passt einfach!