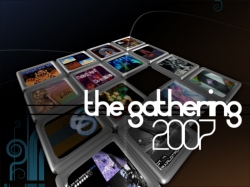 Die The Gathering in Hamar, Norwegen, ist inzwischen zu 80% eine Veranstaltung für Spieler, inklusive E-Sports-Turnieren. Trotzdem ist sie für die Demoszene ein wichtiges Event und förderte schon im Vorfeld mit der Invitation-Demo Still Puzzled ein wunderschönes, harmonisches Werk zu Tage.
Vergleicht man die The Gathering mit der Breakpoint, wäre das in etwa als ob man Hintertupfing mit München gleichsetzen würde. In Norwegen tummeln sich 5000 Leute, während die Breakpoint nur von 1000 (positiv) Verrückten gestürmt wird. Dort wurde aus der einstigen Demo-Party ein Festival für Spiele, mit zahlreichen E-Sports Turnieren und fetten Preisgeldern, bei denen Demos nur noch einen kleinen Randbereich stellen. In Bingen wird jedoch der Geist der Demoszene hoch gehalten. Gamer müssen draußen bleiben. Demokunst, Freundschaft und Spaß stehen ganz oben auf der Liste. Zu guter letzt war zahlreiche Spieleprominenz in Hamar anwesend, allen voran Luis Castle, Urgestein der Spielebranche, Mitbegründer von Westwood und Produzent der Command & Conquer Reihe, der zum aktuellen Teil der Reihe ein Seminar abhielt. Hier in Deutschland musste man sich mit Filmemacher Dr. Uwe Boll zufrieden geben, dessen Spielverfilmungen mehr berüchtigt als berühmt sind. Aber gut, wir hatten mit Chaos/Farbrausch ja auch einen der bekanntesten Spieleprogrammierer Deutschlands als Redner.
Väterliche Freuden
Das alles soll jedoch nur Notiz am Rande bleiben, denn selbstverständlich interessieren uns in erster Instanz die auf der The Gathering vorgestellten Demos und Intros. Dabei durfte man gespannt sein, ob das hohe Niveau des Vorjahres gehalten werden konnte. Die letztjährige Siegerdemo, Animal Attraction von ASD, war definitiv eines der Meisterwerke des Demojahrgangs 2006. Auch die auf den Plätzen folgenden Genesis von den Outracks und PlayPsycos Treble and Bass waren sehr gute Releases.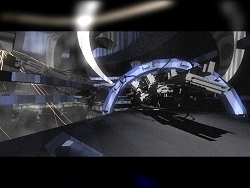 Die beste Produktion der TG'07 war die 64k Intro Mupe von PlayPsyco. Ein Meisterwerk!

Best of The Gathering 2007:
PC-Demos:
01) Gamma (Outracks)
02) Zenit (Nesnausk)
03) Interphaze (Nazareht Creations)
04) Sensible Shoes (Yaphan)

64k Intros:
01) Mupe (PlayPsyco)
03) Pocket Rocket (Boozing Kupoz)

Die Veröffentlichungen von 2007 konnten den hohen Qualitätsstandard leider nicht halten. Vielleicht lag es auch daran, weil ASD selbst wegen Abwesenheit ihren Titel nicht verteidigen konnten. Chef-Coder Navis zog es verständlicherweise vor, seine frisch geborene Tochter im Arm zu halten, anstelle mögliche Preise von den Organisatoren entgegen zu nehmen. An dieser Stelle auch von uns die besten Glückwünsche und hoffentlich ein paar ruhige Nächte, um die angekündigte Demo für die Assembly rechtzeitig fertig stellen zu können.

Die Erben von Animal Attraction
In die Fußstapfen der Griechen trat stattdessen die Gruppe Outracks. Bereits mit der stimmungsvollen Invitation-Demo Still Puzzled hatten sie im Vorfeld die Herzen der Demoszene erobert, nun durften sie mit ihrem neuesten Werk Gamma den Sieg bei der Demo-Competition feiern. Programmierer Duckers folgt seiner Tradition und hat die Effekte perfekt auf Irvins typischen Sound abgestimmt. Dieser ist wieder geprägt von heftigsten Beats, die sich mit melodischen Passagen abwechseln. Gezeigt werden allerlei schicke Shader-Effekte, die jedoch leider zu oft von einem nervigen schwarz/weiß Filter unterbrochen werden.

Zenit von Nesnausk erreichte den zweiten Rang. Es handelt sich hierbei zwar um die bislang schwächste Demo der Litauer, beeindruckt jedoch, wenn man die Hintergründe kennt. Eigentlich sieht es nur danach aus, dass eine bis ins kleinste Detail nachmodellierte Fotokamera Schritt für Schritt in ihre Einzelteile zerlegt wird. Das Interessante daran ist, dass Kamerawinkel und -perspektive zufallsgeneriert sind und im Rhythmus der Musik wechseln. Die Demo bietet außerdem die Möglichkeit, per interaktiven Modus selbst Hand anzulegen und physikalisch korrekt erst die Schrauben zu lösen, bevor man am Innenleben operieren darf.
Wirbelte beim Demo-Wettbewerb auf den ersten Platz: Gamma von Outracks bietet schicke Shader-Effekte und wie immer fetzige Musik.

Über Platz 3 durften sich die Newcomer von Nazareth Creations freuen. Interphaze bietet nicht nur tolle Musik von Flipside, auch die Tunnelszene begeistert mit schicken Schattenwürfen. Genügen Raum für Verbesserungen bleibt trotzdem. So sieht insbesondere das fliegende Schiff reichlich kitschig aus. Demo Nr. 4 setzt hingegen ganz auf Software-Rendering. Yaphans Sensible Shoes sieht man das an vielen Stellen an, trotzdem wirkt die Demo recht hübsch und bietet gute Musik. Alles in allem kann sich jedoch keine dieser vier Demos mit dem Vorjahressieger Animal Attraction messen.

Demokunst in 64k
Ein absolutes Highlight hatte jedoch der 64k Intro Wettbewerb vorzuweisen. Mupe von PlayPsyco hätte locker auch den Wettbewerb auf der Breakpoint gewonnen, denn mit dieser Intro wagen die Norweger einen Angriff auf Introgrößen wie Conspiracy, Fairlight oder Farbrausch! Mupe ist ein Wahnsinnsteil mit Unmengen an hochdetaillierten Models, fetten Effekten, schön ausgeleuchtet und texturiert und dabei auch noch recht lang. Das ist in der Tat überraschend und katapultiert die Norweger definitiv in die Spitzengruppe der 64k-Intromacher. Ebenfalls gelungen ist der melodische Elektroniksound, der äußerst sparsam mit Basstönen umgeht und so eine tolle Stimmung mit aufbaut. Weiterhin hat uns Pocket Rocket von den Boozing Kudoz gefallen, das die dritte Position erklimmen konnte. Diese 64k Intro stellt die sieben Regeln des Intro-Makings visuell dar und regt zum Schmunzeln an.

Fazit
Die The Gathering 2007 fiel qualitätsmäßig gegenüber dem Vorjahr also ein klein wenig zurück. Mit den tollen Releases der Breakpoint konnte bis auf die 64k Intro Mupe, und mit Abstrichen der Gewinnerdemo Gamma, kein Beitrag konkurrieren. Trotzdem hat es Spaß gemacht durchs Archiv zu stöbern und wir freuen uns auf jeden Fall auf nächstes Jahr, zur nächsten Ausgabe der norwegischen Party. Dann kann vielleicht auch Navis wieder vor Ort sein - egal ob mit oder ohny Baby auf dem Arm.