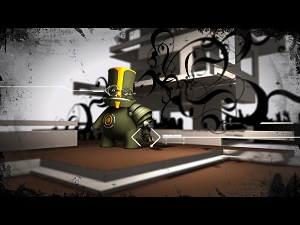 Können Fairlight den Sieg aus dem Vorjahr wiederholen? Mit dem technisch beeindruckenden Halfsome haben sie gute Chancen.

Vor etwas mehr als acht Wochen hat eine Fachjury, bestehend aus Presse- und Firmenvertretern sowie Kennern der Demoszene, die fünf Teilnehmer bestimmt. Neben Vorjahressieger Fairlight dürfen nun Synesthetics, Andromeda Software Development, STILL (vormals LKCC) und XPLSV am Prestige-trächtigen Wettbewerb teilnehmen. Den Zeitraum bis zum 1. Juli konnten die Teams nutzen um eine 3-minütige Präsentation auf die Beine zu stellen. Ohne jegliche Einschränkungen wie im Jahr zuvor, als man etwa einen Remix von Turntable-Gott DJ Hell als Soundtrack verwenden musste. Damit den Jungs, die aus ganz Europa und den USA kommen, ihr Unternehmen auch gelingt, sponsorte Intel Notebooks, die mit neuester Intel Core 2 Quad Prozessoren ausgerüstet sind.

Diese künstlerische Freiheit hat den Demo-Machern sichtlich gut getan. Jede der fünf eingereichten Demos ist für sich genommen ein kleines Meisterwerk geworden. Keine gleicht der anderen, die Kreavität, Technik und Design, die in die Beiträge geflossen sind, ist erstaunlich. Schon jetzt könnte die Intel Demo Competition 2007 als eine DER wichtigsten Szeneveranstaltungen in die Geschichtsbücher eingehen, dabei steht der Gewinner noch gar nicht fest. Denn letztendlich liegt es an euch, welches Meisterwerk den ersten Platz erklimmen wird. Auf der offiziellen Website könnt ihr für eure favorisierten Demo stimmen. In wenigen Wochen wird dann der Gewinner bekannt gegeben. Wir wollen euch an dieser Stelle die einzelnen Kandidaten vorstellen.

Beyond the Walls of Eryx / Andromeda Software Development
Unterhalb der Mauern von Eryx erinnert die Welt an Shoot'em Up-Klassiker wie 'Zaxxon' oder 'Viewpoint' - allerdings im 'Geometry Wars'-Look. Eine Wireframe-Welt, gezeigt aus isometrischer Perspektive, wird in extrem cooler Manier aufgebaut. Wir sehen Unmengen an Würfeln, aber auch Zahnräder, die von Menschenhänden in Gang gesetzt werden. Gegen Ende tauchen dann gigantisch große Lebewesen auf, die an Endgegner aus Videospielen erinnern. Und da sind wir wieder bei unseren anfangs geäußerten Erinnerungen. ASD-typisch hat aMusic wieder einen grandiosen Soundtrack beigesteuert, der mit elektronisch kühlem Klang für Atmosphäre sorgt während eine metallisch klingende Frauenstimme eine mythische Geschichte erzählt, die zugleich einen der ungewöhnlichsten Greetings-Part überhaupt darstellt! Sehr cool, aber einfach anders und definitiv keine rauschende Farb- und Bilderflut vom Kaliber eines Iconoclast.



Halfsome / Fairlight & CNCD
Als Vorjahressieger lagen die Erwartungen bei Fairlight natürlich besonders hoch. Enttäuscht haben sie nicht, liefern sie uns doch, in Kooperation mit den legendären CNCD, ein Schwergewicht des 3D-Modelling. Eingebettet in den für FLT mittlerweile so berühmten Grafikstil präsentieren sie uns Szenen, die von allen Demos der Intel Demo Compo 2007 am ehesten an ein Spiel erinnern. Rhytmisch zur Beat-lastigen Musik schwenkt da ein Bagger seinen Schaufelarm, hübsch detailliert dargestellt versteht sich. Später ist es dann ein kleiner Roboter, der mit seinem Arm die Schwenkbewegungen des Nutzfahrzeuges nachahmt, bevor die gelben Ungetüme ihn letztendlich umkreisen. Natürlich fehlt auch der beliebte Wachstumseffekt nicht, den Coder Smash erneut optimiert hat und mit diesem nun ganze Räume aufklappen lässt. Grafisch sensationell, cooler Style und ein ganz heißer Anwärter auf den ersten Platz des Wettbewerbs.



Hofn / XPLSV
Was uns XPLSV mit dem seltsamen Titel sagen wollen, wissen wir nicht. Doch so kryptisch der Titel auch anmutet, Hofn stellt die normalste Demo dar, die für die Intel Demo Compo 2007 eingereicht wurde. Ähnlich ihrer bislang besten Demo 'Tokyo' beschränken sie sich im Groben auf ein einzges Element: Wasser. Schön dargestelltes Wasser! In diesem schwimmen Eisblöcke, die ein wenig überbelichtet sind und entfernt an Zähne erinnern. Und so kreist die Kamera zu jazzigen Klängen um das eisig kalte Gebiss, taucht auch mal unter und erhebt sich danach in die Lüfte, womit sie es den Kariesfreien Beißern gleich tut. Ein Werk, das im wahrsten Sinne des Wortes so dahin plätschert, dennoch ein wenig erfrischt, wobei die Sinne jedoch nur kurzzeitig angeregt werden.



ISO9241 / STILL
Einer der kreativsten Köpfe der Demoszene zeigt hier wieder einmal sein ganzes Potential. Pixtur, schon verantwortlich für Meisterwerke wie 'Trocken', 'Perfect Love' oder 'Above' beschreitet erneut abgefahrene Pfade. Iso9241 liegt visuell irgendwo zwischen Björks 'All is full of love' und totalem Demo-Chaos. Erst topediert er uns mit klassischen Demo-Effekten wie der 3DS-Duck, einem Torus und Partikeleffekten, dann durchbrechen Brückenteile das Szenario und leiten über in die Moderne, bevor die Farbgebung ins Grelle wechselt und klinisch saubere Gerätschaften und Robot-Schlangen zum finalen Schlussakkord ansetzen. Völlig abstrus, völlig abgefahren, mit zahlreichen Stilbrüchen versehen, die dennoch wunderbar ins abstrakte Gesamtbild passen. Genau wie die Musik, denn die wechselt und endet genauso chaotisch und abprubt, wie das visuelle Erlebnis. Grandiose, harte Kost für Demo-Feinschmecker und Liebhaber der Abstraktion!



STS-05: Royal Temple Ball / Synesthetics
Kann eine 'Kugel' als zentrales Element einer Demo begeistern? Wenn das Werk von Synesthetics kommt auf jeden Fall! Zu Beginn sehen wir eine Art Planet, der mit seiner dichten Klotz-Vegetation irgendwie entfernt an Legosteine erinnert, während eine Mischung aus ruhigem Reggae und spirituellen Klängen aus den Lautsprechern schallt. Natürlich perfekt synchron zu den Effekten, wie es sich für eine Demo der Finnen gehört. Doch Synesthetics wären nicht Synesthetics wenn die Demo nicht noch ordentlich Drive bekäme. Die Musik wird hektischer, treibt den Planeten in ein heftiges technoides Inferno in dem allerlei schicke Effekte heranwachsen und so ganz das zeigen, weshalb wir die Szene so lieben: perfekten Demo-Style!