Nein, niemals hätten wir mit einem solchen Erlebnis gerechnet. An alles haben wir geglaubt, etwa dass vielleicht TBL eine neue Amiga-Demo in Helsinki veröffentlichen würden und den Erfolg des Vorjahres wiederholen. Oder dass die XBox-360-Szene den PC Demos ihre Grenzen aufzeigen könnte. Bereits im Vorfeld war die Ankündigung erfolgt, dass der diesjährigen Assembly-Demo-Wettbewerb sowohl Releases für Windows, als auch für die XBox 360 enthalten wird. Ein kluger Marketing-Schachzug von Microsoft, denn die Redmonder hatten einige namhafte Gruppen für ihre Programmierumgebung XNA gewinnen können.
XBox 360 vs. Windows
Arm an Highlights war der Demo-Wettbewerb keinesfalls. Ein Highlight jagte das nächste - auf beiden Plattformen! Auf Seiten des PCs kämpften etwa Adapt mit The Inner Flame um die Pole Position, das etwas inspiriert von ASD schien, mit tollen Effekten und Ideen die bislang beste Demo dieser Gruppe darstellt. TiVi von der Gruppe Dope erinnerte ein wenig an das Popular Demo, nur dass hier der Tänzer einen Fernseher anstelle des Kopfes trägt. The Chasm erinnert an eine digital gewordene Rockoper, während die Buenzli-Invitation The Sky ist the Limit die Schmunzler auf seiner Seite hatte. Leider wurden fast alle diese Demos unter Wert geschlagen, da die Konkurrenz so unglaublich stark war. Beispielsweise mit der alten Garde von CNCD, Fairlight und Orange. Ihre Gemeinschaftsproduktion Media Error kann völlig zu Recht den Titel als die Demo einheimsen, die den höchsten Detailgrad und die meisten 3D-Modelle pro Pixel bietet. Hier waren eindeutig Profis aus der Spielebranche am Werk.
Für Microsofts Konsolen-Monster gingen vier Demos ins Rennen, wobei das chillige The Stellarea (Video-Download) von MFX nur am Rande erwähnt sein soll. Den Takt gaben wieder einmal Synesthetics vor, die mit STS-06: Microdots (Video) ihren typisch psychedelischen Hardcore-Stil zeigen, nur dass sie der Hardware der XBox 360 dieses Mal Unmengen von Objekten gleichzeitig entlocken. Evoid Droid (Video) von Excess und Portal Process liefert gestochen scharfe Bilder, dieses Mal nicht nur von Roboterwesen, sondern auch von Szenen, die fast von TBL stammen können. Perfekte Farbwahl, großartiges Design und den bislang vielleicht besten Demo-Soundtrack 2007 gibts hingegen bei der Function 2007 Invitation (Win32-Port) von Conspiracy. Hiervon existiert sogar bereits ein Windows-Port, welcher hoffentlich von den anderen drei Demos für die 360 auch noch kommen wird.
Vom anderen Stern
Dennoch sicherte sich die Siegestrophäe eine andere Gruppe. Als 15. und letzten Beitrag wurde LifeForce von Andromeda Software Development gezeigt, und nachdem die Show vorbei war, brandete tosender Applaus und Jubelgesänge in der Hartwall Areena auf, während sich die Internet-Community die Finger mit Lobpreisungen wund schrieb. Acht Monate haben Andromeda Software Development an ihrem LifeForce gearbeitet, was sich definitiv gelohnt hat. In Worten zu beschreiben, was hier geboten wird, ist schier unmöglich. Es folgt dem typischen ASD-Design, mit seinen Millionen verschiedener Effekte, den flüssigen Übergängen, sowie der variantenreichen und verschiedenen Musikstile abdeckenden Musik. Und dennoch ist es gänzlich anders. Es ist Polygon-Overkill, abstraktes Machwerk am Rande des Wahnsinns, poetische Erzählung und visueller Bilderrausch in einem. Flüssig, aber gefährlich; mal poppig bunt, dann wieder düster deprimierend um nur kurze Zeit später eine schillernde Auferstehung zu feiern. Das ist die Kunst der Demoszene, ein Traum in Echtzeit!
Eigentlich muss dieses Meisterwerk für Intel wie ein Schlag ins Gesicht sein. Zwar haben ASD mit Beyond the walls of Eryx kürzlich für die Intel Demo Compo ein äußerst kreatives Werk abgeliefert, doch optisch wirkte es recht nüchtern. Dabei hatte der Chip-Hersteller im Vorfeld extra damit geworben, dass Szendemos perfekt sind um die beeindruckenden Fähigkeiten ihrer neuen Quad-Core-Prozessoren zu zeigen. Doch ausgerechnet jetzt veröffentlichen die Griechen die optisch und künstlerisch beste Demo des Jahres in einem anderen Wettbewerb. Uns kann das natürlich egal sein, denn wir haben was wir wollen: eine Demo wie vom anderen Stern, in dem, sofern man die letzte Szene aus LifeForce symbolisch deutet, ASD die eigene Hand empor streckt, alles bisher Gesehene vom Firmament holt, nur um es dann spektakulär zu entsorgen.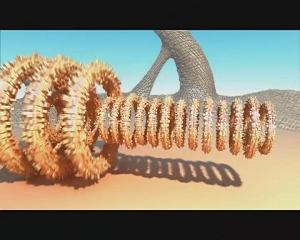 Gewinner der "Shortfilm"-Competition: Realtime Demo Wannabe, ein Supermodel unter den Computeranimationen.

4k ja, 64k nein
So beeindruckend die Qualität der Demos war, so deprimierend gestaltete sich der 64k-Intro-Wettbewerb. Gerade einmal drei Produktionen wurden eingereicht. Keine davon muss man wirklich gesehen haben. Eine Nummer kleiner, aber dennoch viel interessanter, ging es bei den 4k Intros zu. Gleich 13 Stück wurden eingereicht, die meisten davon in überragender Qualität. Candystall, der Sieger der 4k-Competition, erinnert oftmals an das großartige STS-05. So sieht es auch dementsprechend poppig aus, zeigt sensationelle Effekte und liefert auch noch einen treibenden Soundtrack mit. Mehr für Voyeure ist Stiletto gedacht, dass die untere Körperhälfte einer Frau, grandios animiert zeigt, wobei tüchtig Werbung für Bekleidungsstücke gemacht wird. Technisch ebenfalls astrein sind Retro Pedro, Clusterstorm, Rose shank oder das niedliche Bully.
Zu guter letzt wartete noch der Short-Film-Wettbewerb mit einem wahren Kleinod auf. Im Video Realtime Wannbe Demo werden gekonnt die Echteit-Effkte in Demos auf die Schippe genommen. Sensationell gut sehen die Effekte aus, für deren Darstellung in Echtzeit wohl noch die eine oder andere Prozessorgeneration entwickelt werden muss.