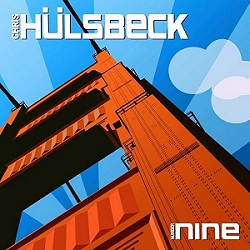 Number Nine - das neueste Album von Chris Hülsbeck. Eine Hörprobe gibt es hier.

Tracklist Number Nine:
1. 6000 Miles From Home
2. Endless Dunes
3. Lombard Street
4. North Beach Night Life
5. Scenic Drive
6. Regatta
7. Germany Calling
8. Tomorrow's Yesterday feat. Nina
9. Solitude
10. Golden Gate
11. Please Leave A Message
12. The Island
13. Remembrance
14. Those Were The Days
15. Stay feat. Raquel Gomez
16. Turrican 3 Piano Suite

Nun liegt also Hülsbecks neuntes Album vor. Liest man sich die Songtitel durch möchte man fast glauben, dass der Mann von starkem Heimweh geplagt ist. "6000 Miles from Home", "Germany calling", "Those were the Days" oder "Solitude" steht da. Was zu Beginn Sinn macht, denn seit 1998 arbeitet er bei Factor 5 in Amerika und kümmert sich dort zusammen mit Rudolf Stember um die Musik- und Soundeffekte, zumeist für Star-Wars-Spiele. Die Titel passen. Ein Blick ins Booklet verrät jedoch, dass er sich inzwischen gut in San Francisco eingelebt hat. Vielleicht sind es also einfach Erinnerungen, die Musiker in melodiöse Formen pressen um mithilfe von Noten und Tönen die Vergangenheit festzuhalten. Schlecht muss es ihnen dabei beileibe nicht gehen.

Dennoch scheint Number Nine eine musikalische Zeitreise für Chris Hülsbeck gewesen zu sein. Angefangen von seinem Weggang aus Deutschland (6000 Miles from Home), den ersten landschaftlichen Eindrücken des großen Amerikas (Endless Dunes) dem Gang durch San Francisco (Lombard Street), bis hin zum nächtlichen Erlebnis (North Beach Night Life). Wir gehen also mit einer Person auf Erkundungstour, saugen anhand der ruhigen, oftmals auch melancholischen Melodien Eindrücke in uns auf. Diese entspannte Stimmung zieht sich nahezu durch das gesamte Album. Die Neugierde auf das fremde Land wird mit einer melodischen Ausgeglichenheit aufgezeigt, die zu Beginn leider ernüchternd wirkt. Auch wenn der typische Hülsbeck-Sound, nach wie vor stark inspiriert von Vince di Cola (Transformers - The Movie, Rocky IV), allgegenwärtig und spürbar ist. Doch wartet man auf einen Ausreißer, auf einen Knalleffekt wie seinerzeit die Musik aus Turrican, die trotz brillanter Melodie immer wieder für Tempo und Rasanz sorgte. Das Warten ist jedoch vergebens. Wenn die Rückkehr nach Deutschland zum zentralen Thema wird (Track 7: Germany Calling), klingt das erneut mehr nach Game Over oder Abspannmusik, als Angst oder Ungewissheit zu vermitteln.

Man muss sich also darauf einstellen und mit anderen Erwartungen an Number Nine herangehen. Wer ein zweites Turrican-Album oder den Abwechslungsreichtum eines Apidya-Soundtracks erwartet, wird enttäuscht. Von vorne bis hinten ist die Silberscheibe mit ruhiger, melodischer, elektronischer Musik gefüllt. Melodien, die sich dennoch ins Gehör brennen, aber erst nach mehrmaligem Hören ihr Potential entfalten. "Those were the days" etwa, der vielleicht beste Track des neuen Albums. Dieser basiert jedoch nur auf Hülsbecks Melodien und wurde von Jan Zottmann und Fabian del Priore komponiert. Auch ein Stück wie "Remembrance" saugt man in sich auf, dessen Traurigkeit sich mithilfe von Piano-Klängen und Streichereinsatz mitten ins Herz gräbt. Dann gibt es doch wieder leicht flottere Ansätze. "The Island" ist so ein Titel, bei dem der Musiker höchstpersönlich zur Ukulele griff und somit abseits der Elektronikklänge auch echten Instrumenten eine Chance gibt. Ganz konnte er dann aber dennoch nicht auf seine spielerische Vergangenheit verzichten. Mit der Turrican 3 Piano Suite ist ein echter Klassiker enthalten, der nun in völlig neuem Klanggewand erscheint. Arrangiert wurde die Klavier-Version von keinem geringeren als Jonne Valtonen, in der Demoszene besser bekannt als Purple Motion / Future Crew.

Nach mehrmaligem Hören hat also auch Number Nine seine Existenzberechtigung. Was zu Beginn nur so dahinplätschert entfaltet erst nach einiger Zeit seine melodiöse Kraft. Hülsbecks Neunte, ist also doch ganz Hülsbeck. Vielleicht etwas ruhiger als früher, aber dennoch mit genügend Anleihen an seinem alten Stil (Golden Gate, Regatta). Einzig die beiden Stücke mit Gesang (Tomorrow's Yesterday, Stay) wirken deplaziert. Ersteres klingt zu sehr nach Mainstream-Dance-Music und würde besser in die Zeit von 1995 passen. Stay hingegen weist eine schöne orchestrale Inszenierung auf, doch so ganz mag die Stimme von Raquel Gomez nicht zur Musik passen.

Chris Hülsbeck - Number Nine
Erhältich bei: 4Players.de, Synsoniq Records


Über den Autor:
Jürgen Beck sagt von sich selbst, weltgrößter Fan der Musik von Chris Hülsbeck zu sein. Schon im zarten Alter von 14 Jahren stöpselte er seinen Amiga an die Stereoanlage an, um die Musik aus Spielen wie Turrican, Apidya, R-Type oder Gem'X auf Kassette aufzunehmen. Hülsbeck ist für ihn ein musikalischer Gott, dessen Arbeit er über all die Jahre hinweg bis zum heutigen Tag aufmerksam verfolgt hat. Es gibt keine CD mit irgendeinem Stück von Hülsbeck, die nicht sein CD-Regal ziert. Die Turrican 2-Titelmusik ist außerdem für ihn der beste je geschriebene Spielesoundtrack, der er auch heute noch auswendig nachpfeifen kann. Jürgen meinte einmal, falls Sony jemals eine Art "Pfeifstar" mit Musik aus alten Retro-Spielen veröffentlichen würde, niemand eine Chance gegen ihn hätte. Nun hat er sich das neunte Album von Chris Hülsbeck vorgenommen. Ist der Fan-Boy überhaupt der geeignete Mann für so etwas? Aber natürlich, denn er wird als echter Fan wohl weitaus kritischer an das Thema herangehen als so manch anderer.