Was haben wir von den letzten vier Tagen mitgenommen? Dass ein Bigscreen niemals groß genug sein kann. So mancher Besucher haust wohl auf kleinerem Raum, als die Leinwand mit ihren 70qm an Fläche bot. Auch wissen wir jetzt, dass Würfel noch immer das Sexsymbol Numero Uno der Szene sind, bezirzen sie doch nach wie vor in vielen neuen Werken. Immer ausgefeilter, gigantischer und künstlerisch wertvoller werden die Demos aus dem Untergrund. Wir sahen aber auch ungewöhnliche Konsolen-Hacks und stellten fest, dass die 64k Intros wohl endgültig tot sind und sich bald in Frieden neben die Slideshows betten werden. Dafür protzen die nur vier Kilobyte großen Intros umso mehr und rissen uns mit unglaublichen Effekten und Musik regelrecht von den Beinen. Nicht vergessen sollte man auch die grandiosen Live-Konzerte. Zum einen von Romeo Knight und Xerxes, zum anderen von C64-Urgestein und Spielekomponist Reyn Ouwehand. Der Mann ist ein Entertainer allererster Güte, spielte Schlagzeug, Gitarre, Bass und Keyboard alleine und lieferte eine brillante Show ab.
Demos @ Breakpoint
Was bei der Demo-Competition abging, passte auf keine Kuhhaut mehr. 24 Produktionen wurden gezeigt, wovon gerade einmal sieben von eher unterdurschnittlicher Qualität waren. Der Rest war gut bis spektakulär! Solch hohe Standards hatte bislang keine andere Party gesetzt.
Das erste richtig dicke Ausrufezeichen setzten Cocoon mit ihrem schon im Vorfeld angekündigten Shad 3. Während die einen aufgrund der Berichterstattung hier auf 4Sceners.de voller Vorfreude auf den dritten Teil der großartigen Horror-Saga waren, regten sich ein paar so genannte Elitescener mächtig über diesen Publicity-Akt auf. Von einem langweiligen Rundflug in 3D war die Rede, obwohl man nicht mehr als ein paar frühe Screenshots gesehen hat. Doch die Spieleprofis um Guille (Coder von Silverfall), Tenshu (arbeitet bei Ubisoft Montreal), Nytrik, Zaac und Willbe schlugen mit voller Wucht zurück, straften alle Gegner lügen, knallten ihnen mit ihrer Demo dermaßen eine vor den Latz, dass man den Revoluzzern einfach nur eines bescheinigen kann: Sie hatten wohl panische Angst vor diesem Tornado in 3D. Shad 3 ist einfach nur bombastisch. Es fegt mit Karacho durch die Demoszene, reißt in Sachen Detailgrad und 3D alles mit sich, lässt harte Gitarrenriffs auf Breakbeats schmettern und lehrt uns zum dritten Mal das Fürchten. Brachial, dämonisch, wild!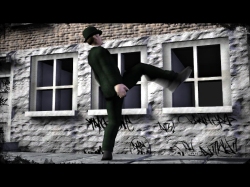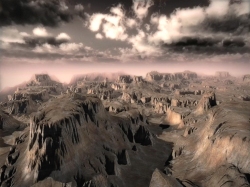 Killer-Demos: Falling Down (UKscene Allstars, links), theBeauty (einklang.net, rechts).
Danach ging es Schlag auf Schlag. Erst zeigten Farbrausch und Neuro das ungewöhnliche aber extrem stylische Masagin, das von der unglaublichen Kreativität der Demoszene zeugt und zugleich die Invation-Demo zu NVIDIAs NVscene-Event stellt.. Dann zogen die UKscene Allstars rund um Meisterprogrammierer Smash/Fairlight feinsten TripHop und geniale Moves aus dem Ärmel. Natürlich nicht selbst, aber in modellierter Form eines Mann mit Melone, der sich gar köstlich die Gelenke verbog. In Route 1066 monierten noch viele, dass der Hutträger nur ein 2D-Sprite sei. Als er in Falling Down dann erneut erschien, ließ sich erahnen dass er dieses Mal in feinstem 3D geschmeidig tanzen würde.
Eine echte Überraschung folgte mit der Demo von einklang.net, die eigentlich niemand auf der Rechnung hatte. Die Jungs um Pet (Ex-Sanity!) zogen mit theBeauty einige Technikregister. Wunderschöne Blüten und ein Flug durch einen vor Details geradezu berstenden Canyon waren brachiale Kinnladenbomber.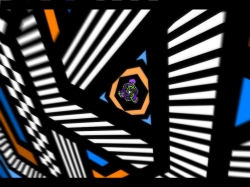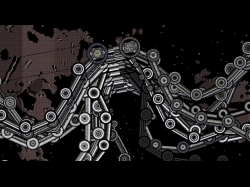 Abstrakt, kreativ, genial: Masagin (FR) und Metamorphosis (ASD).
Der krönende Abschluss gebührte Andromeda Software Development. Was konnte man erwarten? Erneut ein monumentales Werk im Stil eines Lifeforce, oder mal wieder etwas Experimentelles? Nun, Metamorphosis ist eher ein Mittelding geworden. Wir müssen nicht verstehen, was in Sachen Story-Telling und Kunst im Kopf von Navis vorgeht. Wir sollten es einfach nur genießen, mit welch außergewöhnlichen Werken er uns beschenkt. Metamorphosis ist anders, als andere Demos von ASD. Anders als alles, was wir bislang in der Szene gesehen haben. Es liegt irgendwo zwischen einem Scherenschnitt mit schrägem 70er-Jahre Muster und dem durchgeknallten Zeichenstil von Monty Python. Gänzlich zweidimensional, erst von unten nach oben in einem Ameisenbau mit faszinierend animierten Krabbeltier beginnend, setzt sich die Reise zur Oberfläche fort. Hier sehen wir schattenhafte Gestalten herumlaufen, während sich der technische Fortschrit in Form von Zahnrädern und schwenkbaren Armen bemerkbar macht. Dann folgt der Schnitt - stilecht per Schere - und die Reise setzt sich in horizontaler Richtung fort, nur um gegen Ende wieder nach oben hin umzuschwenken und ein Flattervieh zu gebären, das uns noch ein letztes Mal zublinzelt um dann in der Unendlichkeit zu verschwinden. Ergibt das einen Sinn? Für Navis bestimmt, uns hat's jedenfalls völlig fasziniert.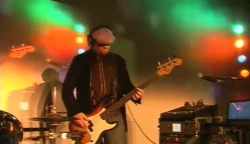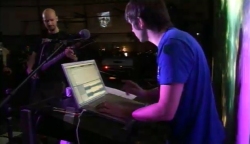 Links: Reyn Ouwehand, C64-Urgestein und Spielekomponist (Last Ninja 3!)
live at BP! Rechts: Romeo Knight (Cream of the Earth) und Xerxes.
Beileibe waren dies nicht alle Highlights dieser Demo-Compo, doch alles einzeln aufzuzählen, würde den Rahmen deutlich sprengen. Gute Demos kamen unter anderem auch von Anadune, Black Maiden, SQNY, Excess, Adapt und Nuance. Brainstorm waren gleich mit zwei feinen Produktionen vertreten, zum einen mit Chill City, zum anderen mit Challenger Deep, einer Co-Op Demo mit Traction. Wo waren Andromeda? Wir wissen es nicht. Vielleicht bringt die Assembly 2008 die Antwort.
Welche von den fünf erstplatzierten Demos gewonnen hat, ist letztlich zweitrangig. Egal ob Cocoon, Einklang.net, Farbrausch, ASD oder die UKscene Allstars, ihre Demos sind allesamt wahre Killer. Eine jede hat begeistert auf ganz eigene Art und Weise, mal mit Technik, dann wieder mit Design oder Musik. Es sind Meilensteine der Demogeschichte, die noch lange für Gesprächsstoff sorgen werden. Fünf Sieger, fünf Mal Extraklasse!