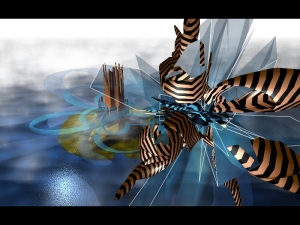 Jazz & Breakbeats plus Abstraktion im Wasser: die 64k Intro Kaivo von Clrsrc und 4Players.de kam auf Platz 2.

Wie ein Damokles-Schwert hängt NVIDIA's NVision/NVscene Event über den kleineren Parties, die kurz im Vorfeld des amerikanischen Megaspektakels stattfinden. Nahezu alle Demogruppen scheinen etwas dafür vorzubereiten, während die restlichen Veranstaltungen unter akutem Release-Mangel zu leiden haben. Die Evoke 2008 war hierfür das beste Beispiel. Magere drei Demos, die noch dazu relativ unspektakulär waren, wurden dort veröffentlicht. Selbst auf der gigantisch großen Assembly 2008 waren es derer nur sechs. Die Buenzli schien das selbe Schicksal zu ereilen, weshalb die Veranstalter im Vorfeld auch Remote-Entries zuließen. Diese durften per E-Mail eingereicht werden, mussten im Falle des Erfolges jedoch auf die Geld- und Sachpreise verzichten. Nur wer vor Ort anwesend war, durfte Preise entgegen nehmen. Eine faire Geschichte!

Tschüss NVision!
Einige wenige Produktionen wurden dann tatsächlich auf diesem Weg eingereicht, was ein nettes Zubrot zu den einzelnen Wettbewerben war. Dennoch stand es um die Anzahl der Releases ohnehin nicht so schlecht, da bei manchen Szenegruppen ein Umdenken stattgefunden hat. Nuance waren hierfür das beste Beispiel. Ihre Demo Ungol war ursprünglich für die NVision geplant, doch war es ihnen wichtiger eine kleine Party zu unterstützen, als dem großen US-Event noch mehr Futter zu geben. So opferte Pro, der Programmierer von Ungol, die Woche vor der Buenzli und selbst auf der Party noch seine Zeit, um die Demo fertig zu stellen und in die richtigen Bahnen zu lenken. Ganz konnte das geplante Konzept zwar nicht mehr verfolgt werden, denn dafür war die Zeit einfach zu knapp, aber das Resultat kann sich dennoch sehen, und vor allem hören lassen. Gesteinsbrocken, die wie eine Büffelherde durchs Gras preschen, sich zu einer Hand formen, explodieren und einem schlängelnden Gewächs Platz machen, dazu krachende Musik - ein Konzept das den Besuchern der Buenzli gefallen hat. Ungol gewann nicht nur die Demo-Competition, sondern auch den mit 300,- Euro dotierten Jury-Preis. Eine Entscheidung, die sich ausgezahlt hat. Das Preisgeld will Nuance jedoch nicht für sich nutzen. Vielmehr hat man angekündigt auf der TUM'08 Ende Dezember ein Barbecue zu geben, auf dem alle Besucher kostenlos speisen dürfen. Das nennt man Scene-Spirit!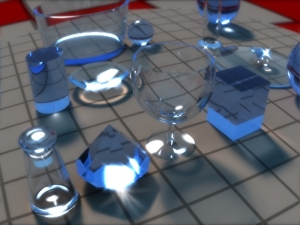 Noch ist Photon Race nur ein Bild, das per Code als 4k Procedural Graphic berechnet wurde. Für die NVision wird Programmierer Archee jedoch Bewegung ins Stillleben bringen - ebenfalls in 4k!

Apropos Jury-Preis: auf den zweiten Platz hievte die siebenköpfige Jury ein Bild, nämlich Photon Race von Archee. Hierbei handelt es sich um ein Bild der Kategorie "4k Procedural Graphics", also eine Grafik, die mithilfe von Code gerendert wird. Das Ergebnis sieht umwerfend aus, wobei dies erst der Anfang ist. Archee arbeitet nämlich bereits an einer 4k Intro, die eben jenes Bild in bewegter Form zeigt. Der bei Keen Games beschäftigte Programmierer arbeitete während der Buenzli emsig an diesem Wahnsinns-Werk, das er auf der NVision präsentieren möchte. Besucher, die ihm einen Blick über die Schulter warfen, konnten kaum glauben, was sie da sahen. Wir sind gespannt.

Wasserspiele
Um bei den kleinen Werken zu bleiben. Mit Kaivo hatten Clrscr und 4Players.de eine 64k Intro im Gepäck, die bei der kombinierten 4k/64k Compo den zweiten Platz eroberte. Dessen Highlight ist ganz klar der Soundtrack, dessen jazzige Elemente mit Breakbeats gemixt werden. Abstrakte Szenen, die sich zumeist um das Wasserelement drehen, setzen hier visuelle Reize. Kaivo wird auf der diesjährigen Games Convention öfters am Stand von 4Players.de zu sehen sein und für ordentlichen Kawumms sorgen.
Gewonnen wurde der Wettbewerb von einem Rückkehrer. Abyss meldeten sich nach jahrelanger Abstinenz mit einem Paukenschlag zurück in der Szene. Octane heißt das Comeback-Werk, eine 4k Intro die vor allem mit Tentakeln spielt und diese schick inszeniert. Nach all den großartigen Spielen, die uns Abyss unter dem Namen Shin'en für GBA und DS schon gebracht haben, ist dies ein weiteres Qualitätsprodukt der Münchner, von denen wir hoffentlich bald wieder eine Demo oder Intro sehen werden.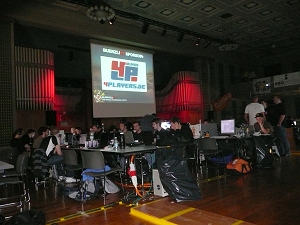 Das Kirchgemeindehaus, in welchem die Buenzli-Party zuletzt immer stattfand, enthält sogar eine echte Kirchenorgel.

Buenzli gone Wild!
Der stärkste Wettbewerb der Buenzli war die Wild Demo Competition. Speziell Freunde von Render-Filmen kamen auf ihre Kosten, wobei der 1-minütige, schwermütige Zeichentrickfilm The beginning of the end von b-art-lett mit seinen bunten Bildern optisch deutlich herausstach. Die beiden erstplatzierten Wild-Demo-Videos setzten nämlich ganz auf ein gräuliche Umgebung. Octillion von Nuance legt einen Roboter in Ketten, der das Logo der Gruppe ziehen muss. Idee, Schnitt und Inszenierung sind der Hammer, werden von Noisefever's hämmernden Soundtrack sogar noch getoppt. Ein bisschen Farbe hätten wir uns aber schon im Film gewünscht, auch wenn das Grau in Grau für tolle Atmosphäre sorgt.
Angsteinflößend geht es in Null zu, das ebenfalls fast ausschließlich auf dieselbe Farbgebung wie Octillion setzt. Würfelmassen sind hier wieder einmal das Hauptthema, werden aber stylisch präsentiert und mit unheimlichen Tönen angereichert. Gegen Ende hin zeigt dieser Scary Movie dann ein dämonisches Gesicht, aus dessen Mund sich Bänder schlängeln. Zum Fürchten - im positiven Sinne, denn Null ist wirklich gut gemacht und beileibe keine Null!
Gut gefallen haben uns auch Godspeed, ebenfalls ein 4k Procedural Graphics Entry, der jedoch als Remote-Beitrag eingereicht wurde und deshalb, trotz Platz 1, keinen Geld- und Sachpreis gewinnen konnte. Chicken Race 3(D) wurde bei den Demos auf Platz 2 gewählt, gefällt vor allem musikalisch und aufgrund der tollen Schattenwürfe beim Hühnertanz. Mit A Minor Impact on Productivity zeigte die Gruppe Fulcrum erneut Sinn für einen ungewöhnlich, visuellen Stil, den man bislang noch nicht gesehen hat. Die Demo zu Ehren des Nachwuchses ihres Musikers sieht ein bisschen nach Ringelreihen mit Ampelmännchen aus. Süß!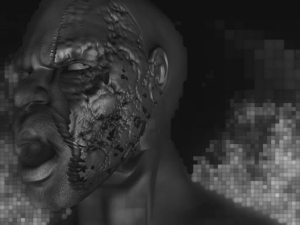 An Ketten gefesselt, brachial in Szene gesetzt. Im Render-Video Octillion zieht ein Roboter ein riesiges Logo.

Buenzliebe
Das war es von der Release-Front, die durchaus einige schmackhafte Spezialitäten im Angebot hatte. Genau wie übrigens der Catering-Service, der die Gäste der Party mit kostenlosem Popcorn und leckeren Pizzen, sowie anderen Gaumenfreuden versorgte - zu vernünftigen Preisen, was fast schon einem Unikat in der Schweiz gleich kommt. Rund 150 Besucher fanden ihren Weg in das Kirchgemeindehaus, dem Veranstaltungsort. Im gemütlichen Ambiente wurde fleißig getratscht, gearbeitet, getrunken und den gezeigten Werken zugejubelt. Schade nur, dass auch dieses Jahr die Kirchenorgel, die sich im stilvoll gestalteten Saal befindet, erneut nicht genutzt wurde. Hauptorganisator Andry "Unlock" Joos stellte jedoch bereits in Aussicht, dass sich dieser Zustand im nächsten Jahr ändern könnte. Eine Eröffnungszeremonie, begleitet von Orgelklängen? Das gab es bislang noch auf keiner Party und könnte den außergewöhnlichen Stellenwert der Buenzli in der Szene noch vertiefen. Die kreativen Köpfe der Veranstalter haben ja bereits in der Vergangenheit ihre verrückten Ideen in Form neuartiger Competitions ausgelebt. Zum einen war es die Buenzli, welche die 4k Procedural Graphics salonfähig machten und die jetzt von anderen Parties übernommen wurden. Einzigartig ist jedoch nach wie vor die OHP-Demo-Competition, auf dem Demos mit Hilfe von Folien und allen möglichen Utensilien auf einem Tageslichtprojektor "gespielt" werden. Drifters und Cortex hatten mit Toxic Cocktail und Interferenz (Videos auf Demoscene.tv) ganz außergewöhnliche Werke im Gepäck, die zu tosendem Applaus in der Szene führten. Da freuen wir uns doch auf nächstes Jahr, denn auch da wird es wieder eine Buenzli geben!