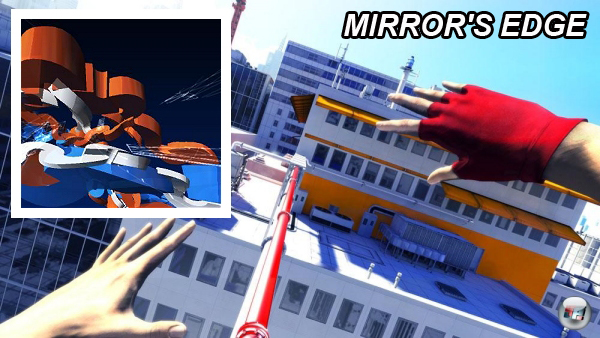 Titel: Mirror's Edge
Plattform: PS3, 360, PC
Hersteller: Digital Illusions
Jahr: 2008
Erklärung: Kühl und klinisch sauber zeigt sich die Welt, in der Faith als Freerunner aktiv ist. Akrobatisch hetzt sie durch die Häuserschluchten, über Dächer hinweg und nutzt dabei jeden kleinen Vorsprung, ja gar Rohre und Geländer zur Hilfe. Eben jene werden in der farblich hellen Umgebung in knalligem Rot angezeigt, stechen somit aus dem tristen Einheitsbrei hervor. Das bringt so viel Charme mit, wie es Demos von Black Maiden tun (Diego on E, Exospect) oder ein Above von LKCC gezeigt hat, was die Grafik von Mirror's Edge zum personifizierten, spielbaren Szenedemo werden lässt.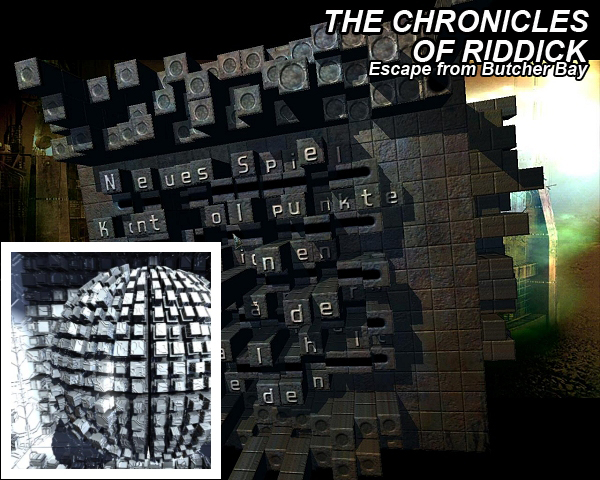 Titel: The Chronicles of Riddick: Escape from Butcher Bay
Plattform: PC, Xbox
Hersteller: Starbreeze
Jahr: 2004
Erklärung: Schon im Optionsmenü endet unsere Reise in die Welt der Demoszene, denn ein stylischeres Menüsystem ist uns bislang nicht untergekommen. Anhand eines rotierenden Würfels werden die einzelnen Punkte und Optionen präsentiert, einzelne Merkmale daraus sogar dreidimensional hervorgehoben. Damit huldigen die Starbreezler dem beliebtesten Objekt in der Geschichte der Demoszene auf beeindruckende, abgefahrene Art und Weise. Verständlich, wenn man bedenkt, dass die Starbreeze-Mitbegründer Gustaf Grefberg (Lizardking) und Magnus Högdahl (Vogue) einst selbst mit den Würfeln spielten. Unter dem Gruppennamen Triton veröffentlichten sie Anfang der 1990er hervorragende Szenedemos. Am ehesten erinnert dieser Effekt jedoch an die Demo Realtime Generation, nur dass es dort ein wenig runder zur Sache geht.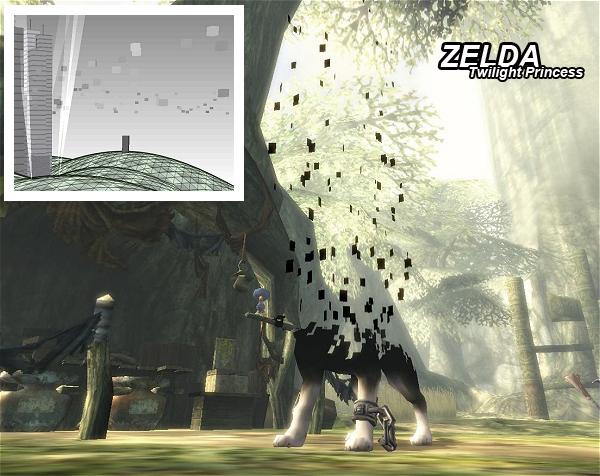 Titel: The Legend of Zelda: Twilight Princess
Plattform: Wii, GameCube
Hersteller: Nintendo
Jahr: 2006
Erklärung: Das bislang einzige Wii-Abenteuer von Link riecht stark nach Mainstream, wäre da nicht die Dunkelheit, die in Hyrule um sich greift. In schwarze Partikel lösen sich Monster und Wolf auf, Kampfarenen werden mit transparenten, rötlichen Linienformen umzäunt. Das sieht nicht nur cool aus, man fühlt sich irgendwie in eines dieser minimalistischen Werke der Gruppe Traction versetzt. Grüße an Fiat Homo, Eight Scenes of Human Life, oder SSRI.