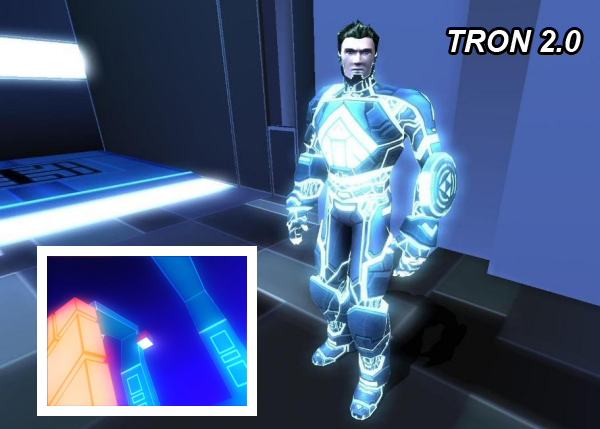 Titel: Tron 2.0
Plattform: PC
Hersteller: Monolith
Jahr: 2003
Erklärung: Neben Cubes und Ribbons gibt es einen Effekt, den die Demoszene bis zum letzten Tropfen ausgequetscht hat: den Hypnoglow. Tron 2.0, ein faszinierender, toll designter Shooter, der leider etwas untergegangen ist, wirkt wie eine Liebeserklärung an diesen Effekt. Überall leuchtet und schimmert es in der bewusst auf Minimalismus getrimmten Umgebung. Nur wenige Texturen füllen die Umgebungen. Vielmehr sind es die Linien, die hier leuchten und Atmosphäre bringen. Das war schon in Moral Hard Candy so. Noch mehr aber in der Block Party 2007 Invitation oder Chromosphere. Nicht vergessen sollte man Matt Current und somit ihre Demos Dishes, Ham, Ketchup and Kittens, sowie Elektronimusiikkia.

Titel: Patapon
Plattform: PSP
Hersteller: Sony
Jahr: 2008
Erklärung: Munteres Trommeln im Papierschnitt-Land, liebenswerte Protagonisten, die sich in einer ungewöhnlich gestalteten Welt bewegen. Selten war ein Spiel so ungewöhnlich - und sah ebenso aus. Der Scherenschnitt-Stil und das gekonnte Zusammenspiel zwischen Pastellfarben und seltsamen Formen sprühten geradezu vor Innovation. Womit wir auch schon bei Andromeda Software Development landen. Die Griechen griffen für ihre beiden 2008er Demos diesen mutigen Zeichenstil auf, verfeinerten ihn sogar für ihre abstrakten Meisterwerke Metemorphosis und Midnight Run. Oder fühlte sich letztendlich doch Sonys Designteam inspiriert, denn ein ähnliches Gewächs wie der Mater-Baum fand sich schon in LifeForce wieder, was natürlich ebenfalls von ASD stammt.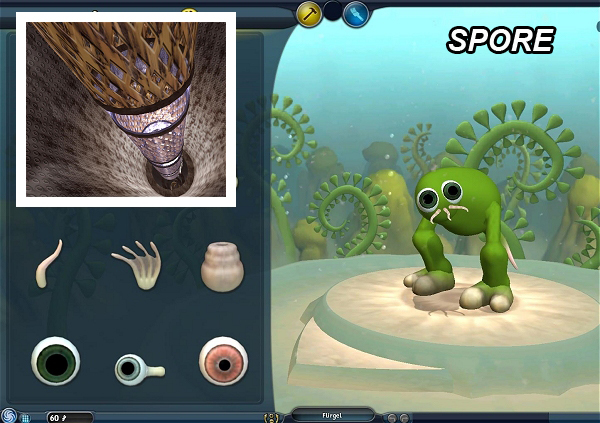 Titel: Spore
Plattform: PC
Hersteller: Maxis / EA
Jahr: 2008
Erklärung: Will Wright hat sich selbst einmal als Liebhaber der Demoszene geoutet. Beeindruckt von deren technischen Spielereien und Ideen lieferte sie nämlich das Technikgrundgerüst für seinen massentauglichen Evolutions-Baukasten Spore. Procedural Texture Generation heißt das Zauberwort, um die Datenpakete, welche die Kreaturen und die Spielwelt erzeugen, so klein wie möglich zu halten. Die Technik, die schon seit vielen Jahren in den nur 64 Kilobyte großen Intros der Demoszene verwendet wird, erlaubt es, Grafiken mithilfe von Programmcode zu erzeugen. Dicke Grafikdateien gehören somit der Vergangenheit an. Unzählige 64k Intros, allen voran die Meisterwerke von Farbrausch (The product, Poem to a horse, Candytron) und Conspiracy (The Prophecy, Beyond, Chaos Theory) beweisen dies.