Über-Demo aus Hamar
Überfliegt man die Namen der Gruppen, die an der Breakpoint Demo-Competition teilgenommen haben, so ist doch offensichtlich, dass einige bekannte Teams nicht am Start waren. Wo waren Fairlight, wo Andromeda oder ihre Namensverwandten von Andromeda Software Development? Zumindest Letztere schickten eine neue Demo ins Rennen. Nicht in Deutschland, dafür aber in Norwegen auf der The Gathering, wo die Griechen schon einige Preise abgestaubt haben. Sie spielten also auf bekanntem Terrain, wollten vermutlich die Enttäuschung ihrer letztjährigen Breakpoint-Demo Metamorphosis verdauen, die nur Zweiter wurde. Vielleicht war das der Ausschlaggebende Aspekt für Hamar und gegen Bingen.
Rupture heißt ihr neues Meisterwerk, das prompt in die Herzen der Party-Meute raste und die bislang beste Demo des Jahres darstellt. Navis, Coder und Ideenschmied von ASD, hat hier einen spektakulären Action-Movie inszeniert, bei dem eine rasante Flucht mit verschiedenen Vehikeln im Mittelpunkt steht. Die Besonderheit von Rupture ist der ungewöhnliche Look. In einer Mischung aus leuchtenden Wireframes und fetten Shader-Massen zerbröseln die Fahrzeuge eine ganze Stadt, lassen die Meere rauschen und die Schienen glühen. LifeForce mag zwar nach wie vor besser sein, doch zeigen ASD hier erneut ihren unendlich erscheinenden, kreativen Wahnsinn. Dagegen verblassen die meisten Demos der Breakpoint, genauso wie die anderen auf der The Gathering gezeigten Produktionen. Die waren zum Teil gar nicht so übel.
Allerdings war dies schon alles, was man aus Norwegen berichten konnte. Da mit rund 5.000 Besuchern die The Gathering zwar rund fünf Mal so groß wie die deutsche Osterparty ist, davon aber rund 95% der Besucher Gamer sind, war die Demo-Compo der einzige Szenewettbewerb, der die Echtzeitkunst repräsentierte. Hamar ist eben inzwischen fast ein reines E-Sport-Event geworden, bei dem bekannte Multiplayer-Games im Rampenlicht stehen.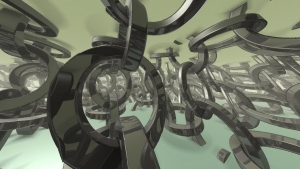 Sult von Loonies zeigt ebenfalls ganz große Demo-Kunst in nur vier Kilobyte.

Killer-Intros
Zurück nach Bingen: So enttäuschend letztendlich der Demo-Wettbewerb war, alleine die 4k Intros waren das Eintrittsgeld wert. Atemberaubend war die verschneite Bergwelt in Elevated, deren knackig scharfe Texturen selbst so manch aktuelles Spiel alt aussehen lassen - obwohl das Gebirge hier nur 4096 Bytes groß ist und auch noch herrliche Musik bietet. Wahnwitzigen Abwechslungsreichtum bot Untraceable, das gar nur ein einziges Kilobyte an Größe veschlingt, mehrere Effekte und sogar eine nette Melodie beinhaltet. Das war aber beileibe nicht das Ende, denn es gab noch viele andere 4k Intros mit Effekten auf absolutem Top-Niveau! Der Kasten auf Seite 1 bringt hier wieder einmal Aufklärung.
Sogar die 64k Intros waren mit acht Vertretern wieder gut im Rennen. Hier wussten vor allem Enigma Sequence, Chelewa und 60659 zu gefallen, die teilweise richtig gute Ideen umsetzen.
Suprise, Surprise!
Neben der überragenden Qualität beim 4k-Wettbewerb, gab es in den anderen Disziplinen noch so manch tolle Überraschung zu entdecken. Superstark waren in diesem Jahr etwa die Amiga-Beiträge. Sowohl in 4k, als auch 64k und bei den Demos waren mächtige Produktionen am Start. Loonies zeigten mit ihrer 4k Intro Luminagia mehr und bessere Effekte, als in so mancher Demo stecken. Superkewl, Gewinner bei den 64k's, zog routiniert alle bekannten Register. Ultracool vs. Megafett hieß das Motto bei den Amiga-Demos. Elude mussten sich mit ihrem epischen, im perfekten TBL-Stil gehaltenen Lightshaft wie im Vorjahr mit Platz 2 zufrieden geben. Traktor und Nature machten mit ihrem verrückten, ultraschnellen Jesus Christ Motocross das Rennen um die Goldmedaille.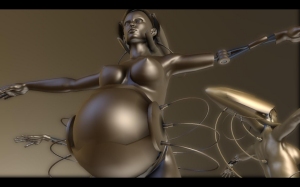 Crush ist gut, aber kein Überflieger und gewann die BP'09 PC-Demo-Compo.

An der Konsolenfront konnte man sich über die erste, wirklich gelungene Demo für den Nintendo DS freuen. Scarab packten in ihr Defcon Zero gute 3D-Modelle und ein paar klassische Demo-Objekte. Außerdem hatte Linus Akesson, alias LFT, wieder eine eigene Demo-Plattform zusammengelötet. Ganz in der Tradition seiner letztjährigen Platine, die auf einem Chip wie er in Waschmaschinen vorkommt, basierte, suchte er sich nun einen etwas leistungsstärkeren Prozessor aus, der erneut von einer 9V Batterie gespeist wird. Die Demo namens Turbulence, die er dafür programmierte, enthielt tolle Effekte auf 8bit-Niveau, sowie wunderschöne Chipmusik. Und dann waren da noch zwei Wild-Demos, die uns begeisterten. Julie von Nuance, welche wie eine Art Werbevideo für barocken Kleidungsstil wirkt, und Minddrop, das atmosphärische Fotografien mit Objekten im Demostil aufwertet und einen hochklassigen Soundtrack besitzt.