"Gut Ding will Weile haben", lautet ein bekanntes Sprichwort. Alexander "Monroe" Scholz, Chefredakteur, Layout-Künstler und treibende Kraft hinter dem Magazin SCEEN kann davon ein Lied singen. Die zweite Ausgabe seines Print-Mags, dessen Inhalt er selbst als "Digital arts and culture between pop and sub, high and low, on and off" beschreibt, also etwas, das sowohl den Mainstream, aber auch den Geek, den Nerd, den Künstler und auch denjenigen anspricht, der im digitalen Untergrund schafft, hat eine fast zweijährige Odyssee hinter sich. Die Erstausgabe erschien seinerzeit im August 2005 auf der Evoke Demo-Party in Köln (wir berichteten). Nummer Zwei war dann für Mitte 2006 angesetzt. Dass es letztendlich bis zum Jahresende 2007 dauern würde, bis man das fast an ein Paperback erinnernde Heft in Händen halten darf, konnte niemand voraussehen. Die Wartezeit hat sich jedoch gelohnt.
Stylisch & hochwertig
SCEEN Issue #2 sieht man die Liebe zum Detail auf den ersten Blick an. Schon die Erstausgabe war ein kleines Kunstwerk. Numero Zwei übertrifft diese jedoch in allen Belangen, sowohl in Bezug auf Verarbeitung, als auch bei der Themenwahl und der prall gefüllten DVD. In erster Linie ist das 100seitige Heft optisch ein echter Hingucker. Schon das Cover-Artwork bringt den modernen, künstlerischen Aspekt gut rüber. Es zeigt ein Portrait von Navis, Programmierer der Demogruppe Andromeda Software Development, dessen Gesicht nur mit Strichen umrissen ist, während Linien, Kreise und zarte Farben eine Abstraktion an den Tag legen, die direkt einer Demo wie Iconoclast oder LifeForce entsprungen scheinen. Blättert man durch die Seiten fallen die klar und übersichtlich strukturierten Texte auf, die oft von großflächigen Bildern und stylischen Portraitaufnahmen aufgelockert werden. In punkto Layout trifft die zweite SCEEN den Nerv der Zeit perfekt, verbindet es doch Lifestyle mit dem Stil des digitalen Untergrunds.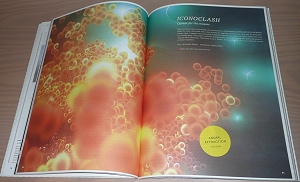 Aus der Demoszene: Der Werdegang von ASD.

Gänzlich in Englisch sind die Texte verfasst, wobei zum besseren Verständnis die eigenen Sprachkenntnisse schon etwas oberhalb des normalen Schulenglisch angesiedelt sein sollten. Alex und seine Crew beweisen auch hier Stil, haben die Texte in ausgezeichnete Wortformen gepresst, driften manchmal sogar in poetische Regionen ab, was die Berichte spannend, interessant und zugleich irgendwie atmosphärisch werden lässt.
Grob lässt sich der Inhalt in vier große Themenbereiche gliedern: Demoszene, Machinima, VJ-ing und Micromusic. Dabei gibt SCEEN #2 einen perfekten Überblick über die vielfältigen Möglichkeiten und kreativen Formen der digitalen Kunst, lässt einen auch über den Tellerrand blicken und erweitert den Horizont.

Visuals vs. Music
Ein eingefleischter Spielehasser entdeckt plötzlich die kreativen Möglichkeiten, welche Editoren für Spiele, etwa von UT2004 oder Halo, offenbaren. Welche teils abstrakten Filme die Freaks damit basteln, die den Echtzeit-Shows der Demoszene nicht unähnlich sind. Oder welche absurde Kunst auf diversen Animatons- und Filmfestivals gezeigt wird, darunter Robert Seidels prämierter Computeranimierter Kurzfilm _grau. Auch erfährt man von positiv Verrückten wie Alex Dragulescu. Der rumänische Grafiker hat etwa ein Programm entwickelt, das die lästigen Spam-Emails analysiert, Schlüsselwörter und Zeichen auswertet und in abstrakte 3D-Gebilden visualisiert. Das Resultat ist beeindruckend und nur eine von vielen Arten moderner Kunst am Computer.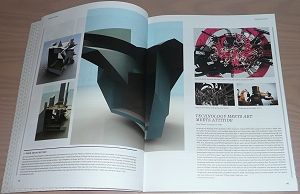 Lästige Spam-Emails können visuell beeindrucken!

Rund ein Viertel des Umfangs ist der Demoszene gewidmet. Hier liest man vom Werdegang der griechischen Demogruppe Andromeda Software Development, was die Motivation von Minas/Calodox ist, 4k Intros zu erstellen, man befragte zehn bekannte Scener zu einzelnen Demos, was in interessanten und zum Teil extrem kontroversen Ansichten endet. Eine Rubrik, die man in jedem Fall regelmäßig beibehalten sollte.

Ein deutlicher Schwerpunkt der aktuellen Ausgabe ist dem Thema VJ-ing gewidmet. Musik passend visuell zu unterlegen ist eine Kunst, die immer populärer wird. Die SCEEN-Redaktion plauderte hierzu mit Addictive TV, den Königen der VJ-Szene. Es gibt Hintergrundinfos über VJ-Tools, man sieht die wahnwitzigen Bilder der jeweiligen Shows und lässt viele andere Künstler zu Wort kommen. Musik ohne dargestellten Bilderrausch ist dennoch nicht unwichtig geworden. Standen in der Erstausgabe noch die Netlabels im Mittelpunkt, ist es nun die Micromusic. Elektronische Klanggebilde schaffen und mit Sounds aus der C64-Ära zu unterlegen. Das macht auch ein Superstar wie Timbaland, wenngleich illegal. Disrupt/Jahtari.org hingegen hat keine Millionenklagen zu fürchten. Er verbindet Chip-Sound mit Reggae, worüber er Auskunft gibt. Auch die Jungs von 1bit wonder haben sich der Micromusic verschrieben, denen ebenfalls ein Artikel gewidmet ist.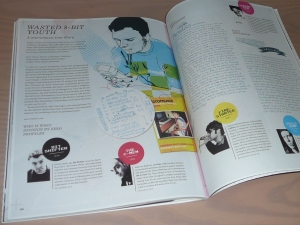 Modernes Layout: übersichtlich, stylisch, faszinierend!

Lesen und Sehen
Das alles, und vieles mehr kann man in SCEEN #2 nachlesen und auch sehen. Die beigefügte DVD enthält alle besprochenen Filme, Demos und Mitschnitte von Gigs der vorgestellten Künstler, sowohl in Dateiform, als auch Videospur auf der Silberscheibe. Somit verkommt SCEEN Issue #2 also zur Pflichtlektüre für alle, die sich für Digitale Kultur interessieren und mehr über deren gesamtes künstlerisches Spektrum erfahren möchten. Bei einigen, wenigen Berichten merkt man dem Heft jedoch die lange Entwicklungszeit von zwei Jahren an, da sich inzwischen etwas in den beschriebenen Bereichen getan hat, was den Lesestoff jedoch nicht minder interessant macht. Für die dritte Ausgabe von SCEEN soll die Wartezeit übrigens deutlich kürzer ausfallen.