Es war die Gruppe Sycini, die uns im Jahr 2004 zum ersten Mal darauf aufmerksam machte, dass auch in Asien eine Demoszene existiert. Mit Werken wie sy03.production und sy06.party eroberten sie unsere Herzen im Sturm. Auch SystemK zählen zu den bekannten Namen aus dem Land der aufgehenden Sonne, nur dass letztere immer noch aktiv sind und auch auf großen Partys Produktionen veröffentlichen. Dazu zählen beispielsweise Tera - Coding your life, welches auf der 2chparty 2006, einem Online-Wettbewerb der japanischen Szene, welcher zuletzt 2009 durchgeführt wurde, den ersten Platz belegte, Life on Air von der NVscene 2008 oder Conscious of blue (Breakpoint 2009). Sie waren es auch, die vor wenigen Wochen die (gute) Invitation-Demo zum Tokyo Demo Fest 2011 veröffentlichten und somit den Startschuss gaben zur ersten richtigen Demo-Party in Japan!
Vier Wände für die Erleuchtung
Organisation ist alles, und die Veranstalter zeigten sich bestens für die kommenden Stunden gerüstet. Dank Live-Stream konnte man von überall aus der Welt den Ablauf mit verfolgen. Remote-Entries, also per E-Mail oder Internet eingereichte Beiträge, waren ebenfalls erlaubt, womit frischer Demo-Nachschub schon im Vorfeld gesichert war. Der Party-Raum selbst fand Platz für ca. 50 Besucher, was nicht nach viel klingt, für ein Land, in dem erst noch Pionierarbeit in Sachen Demoszene geleistet werden muss, aber ausreichend war. So war der Veranstaltungsort auch immer gut gefüllt. Meldungen zufolge wurde auch der ein oder andere Spieleprogrammierer gesichtet, der für eine der großen japanischen Softwarefirmen arbeitet. Man lauschte den Seminaren und Erklärungen zur Arbeit der Demoszene, diskutierte eifrig über die gezeigten Beispieldemos und freute sich sogar über die Nutzung eines echten Commodore Amiga Computers, auf welchem ebenfalls Demos gezeigt wurde.
Die Möglichkeit eigene Produktionen per Internet einzuschicken war es dann auch, welche die europäische Demoszene aufhorchen ließ. Viele Künstler wollten die Chance ergreifen, in einer Megametropole wie Tokio ihr Können zu zeigen. Manche leider vergebens, wie der begnadete Grafik- und 3D-Künstler Nytrik, der seine visuellen Kreationen ohne Programmierer leider nicht zeigen konnte. Dennoch gab es viele Beiträge, die noch dazu aus wirklich allen Kategorien stammten und den Besuchern somit das gesamte Spektrum darbot, in welchen Größenverhältnissen die Demoszene aktiv sein kann. Neben Demos, 4k und 64k Intros gab es auch eine 1k Intro, eine 256 Byte Intro, eine 4k procedural graphic und sogar ein Spiel zu sehen.
Piraten in Nippon
Dass dann sogar eine einheimische Produktion den Demo-Wettbewerb gewann, ist zwar erfreulich, konnte aber so nicht vorhergesehen werden. Psycho von Eldorado bietet solide Demo-Kost mit gutem Design und ansprechendem Unterhaltungswert. Für den Aufstieg in die Top-Liga der Demo-Maker fehlt dennoch ein Stück. Unser persönliches Highlight des Tokyo Demo Fest 2011 stammt von zwei alten Haudegen, nämlich Rez (Code) und 4-mat (Musik), die ihre 80k Intro Pirates of the 777 seas unter dem Logo von Razor 1911 veröffentlichen. Sie zeigen darin, wie perfekt zwei Ausnahmekünstler miteinander harmonieren können und sind für uns das erste Traumpaar der Demoszene im neuen Jahr. Mit prächtigen Farben, perfektem Oldskool-Charme, pfiffigen Effekten und einem wunderschönen Chiptune-Sound erobern sie nicht nur unsere Sinne, sondern auch unser Herz. Platzierung am Ende: nur Rang 3!
Die Silbermedaille ergatterte sich ein Newcomer namens Imerso. Mit der 64k Intro Etherea1 (Teaser) zeigt er einen ganz hübschen Flug ins All und über verschiedene Planeten. Leider mutet die Farbgebung hin und wieder etwas seltsam an und auch die altbekannte Musik aus einem alten Amiga-Crackintro mag so gar nicht zum Geschehen passen. Dafür entschädigen hübsche Oberflächendetails und die gelungene Darstellung der Planetenhorizonte.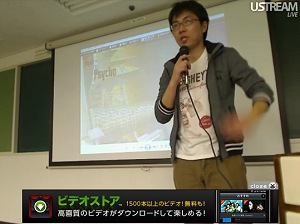 Die Preisverleihung läuft... Impression aus dem Live-Stream.

Gut gefallen haben uns außerdem die 1k Intro Transmission von STILL, welche sogar aus drei einzelnen 1k Intros besteht, die allesamt unterschiedliche Effekte bieten. Tolle Fotos und Grafiken und ein gewohnt guter Soundtrack von Xerxes sind hingegen das Markenzeichen der Coop-Demo Aurum von Loonies und Brainstorm. Während die audiovisuelle Gestaltung pure Entspannung bietet und äußerst gut gefällt, hinkt die technische Seite etwas hinterher. Die spartanischen Effekte und langatmige Inszenierung kostet diesem Werk höhere Wertungsregionen. Zu allem Übel gab es bei der Vorführung von Aurum beim Tokyo Demo Fest Probleme mit der Audioausgabe, weshalb die eigentlich gute Stimmung dieser Produktion nicht an die Zuschauer übermittelt werden konnte.

Und dann war da noch...
- ein pfiffiges 256 Byte Intro namens L.E.D. von N.H.K.
- die kurze, aber cool gemachte 4k Intro Intro-jnik.
- The Impact, 4k procedural graphics Beitrag von Nonoil.
- Tomohiros nette 4k Intro FromPlane2Color.
- sowie das, doch ziemlich trashige Game Tri-Fire - Space-Taxi von Tristar.