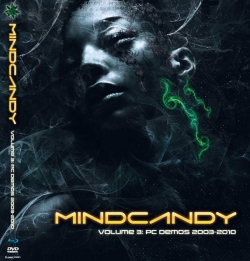 MindCandy Vol. 3 - PC Demos (2003-2010) gibt es bei MAZ-Sound bis zum 31.12.2011 zum Preis von 16,00 Euro zu bestellen. Danach kostet das gute Stücke 19,80 Euro. In der Hülle befinden sich sowohl eine DVD mit allen Demo-Videos, als auch eine Blu-Ray-Disc, auf der alle Videos in 720p vorliegen und die zusätzlich noch weitere Bonus-Inhalte enthält. Wer ein Exemplar von MindCandy Vol. 3 umsonst haben möchte, sollte bei unserem Gewinnspiel vorbeischauen.

Folgende Demos sind auf MindCandy Vol. 3 enthalten:
- The Popular Demo / Farbrausch
- Stargazer / Andromeda & Orb
- 1995 / Kewlers & MFX
- Wir sind Einstein / United Force & DD
- Iconoclast / ASD
- Masagin / Farbrausch & Neuro
- IX / Moppi Productions
- Track One / Fairlight
- LifeForce / ASD
- Final Audition / Plastic
- Size Antimatters / ASD
- Electric Kool-Aid / Synesthetics
- Theta / Farbrausch
- Deities / MFX
- Passing / STILL
- Only One Wish / Fairlight & TBL
- Bombman / Matt Current
- Nazca / Cocoon
- You Should / Haujobb
- We Cell / Kewlers
- Faded Memories / Farbrausch
- Instant Zen / Synesthetics
- Onwards / Traction
- Metamorphosis / ASD
- Midnight Run / ASD
- Route 1066 / UK Allstars
- Agenda Circling Forth / Fairlight & CNCD
- Aether / MFX
- Ferner / STILL
- The Beauty / Einklang.net
- Inflorescence / MFX
- Vokawardoai / Satori
- Chromosphere / SQNY
- Debris / Farbrausch
- Rupture / ASD
- Frameranger / CNCD, Fairlight & Orange
- Shad 3 / Cocoon
- Into the Pink / Plastic
- Happiness is around the bend / ASD
- Rove / Farbrausch

Nun muss ich gestehen, dass ich zu den Menschen gehöre, an denen das Thema Blu-Ray bislang völlig vorbeigegangen ist. Ich konnte immer gut mit der Qualität einer DVD leben. Doch wer mich kennt, der weiß wie sehr mein Herzblut für die Demoszene schlägt. Dass ich die kunstvollen Effektarrangements liebe und mich in diesem wundervollen Zusammenspiel von visueller Technikpracht und großartiger (elektronischer) Musik verlieren kann. Liefert vielleicht MindCandy Vol. 3 das für mich nötige Argument, um mir endlich einen Blu-Ray Player zuzulegen? So wie ich mir einst extra einen GameBoy Advance gekauft habe, weil ich unbedingt Iridion 3D spielen wollte, das Shoot ´em Up von Shin'en, die ja bekanntlich viele Jahre in der Demoszene unter dem Namen Abyss für Furore sorgten.

Vor mir liegt also nun meine erste blaue Hülle. Bewunderung und Anerkennung überkommen mich. Allerdings weniger aufgrund des eigentlich sehr hübschen Covers, das ich bereits von der offiziellen Website her kenne, das in der gedruckten Version jedoch viel zu dunkel erscheint und die Details rund um den Kopf verschluckt. Das gut gemachte, achtseitige Booklet wirkt in Sachen Kontrast wesentlich frischer. Was ich einfach klasse finde ist die Tatsache, dass die dritte MindCandy tatsächlich auf zwei Silberscheiben, nämlich einer DVD und einer Blu-Ray, geliefert wird - und das ohne Aufpreis! Der Hauptfilm, der aus insgesamt 40 PC-Demos der letzten Jahre besteht, befindet sich auf beiden Discs. Zusätzliches Material gibt es nur auf der Blu-Ray, die ich noch nicht ansehen kann.

Bei der Auswahl der 40, auf MindCandy 3 enthaltenen Demos, hatten die Mitglieder der Demoszene ein Mitspracherecht. Ich wundere mich deshalb nicht, dass die Top-Demos der letzten Jahre auf den Discs versammelt sind. Kultwerke wie das Popular Demo, Debris, LifeForce, We Cell, Masagin oder Stargazer sind ebenso darauf zu finden, wie aktuelle Killer-Demos, angefangen von Agenda Circling Forth, über Rove, bis hin zu Happiness is around the bend. Einige Geheimtipps haben es auch ins Paket geschafft, etwa The Beauty von Einklang.net, Wir sind Einstein von United Force und Digital Dynamite, oder Satoris Vokawardoai.

In Zeiten von YouTube und Internet-fähigen Fernsehgeräten hat die DVD ihren Stellenwert ein wenig eingebüßt. Warum soll man also heutzutage noch eine DVD (beziehungsweise eine Blu-Ray) mit Aufnahmen von Szenedemos in den Player legen? Weil alle Videos stark optimiert wurden. Auf der Blu-Ray erstrahlen die Filme in 720p und wurden mit 60 Vollbildern/s aufgenommen. Die DVD schafft es immerhin auf 60 Halbbilder/s und eine Auflösung von 720x480 Bildpunkten. Einige Werke wurde zur Aufnahme sogar ein wenig umprogrammiert, damit sie in gestochen scharfer Optik auf dem Fernseher erstrahlen.

Das sind in der Tat leckere Fakten, die mir allein schon die DVD schmackhaft machen. Zumal es sich bei den Demos wirklich um eine erstklassige Auswahl handelt. Den ein oder anderen persönlichen Favoriten vermisse ich jedoch (etwa Finally Inside aus dem Agenda-Jahrgang oder Fairytale, das schon ein paar Jährchen auf dem Buckel hat). Im Übrigen rate ich allen Käufern von MindCandy 3, auf jeden Fall die gesprochenen Kommentare der Demo-Macher zu ihren Demos zumindest einmal zuzuschalten. Während die Sprache grundsätzlich in Englisch ist, gibt es hinzu schaltbare Untertitel in vier Sprachen, darunter auch Deutsch. Die Kommentare gibt es auch auf der DVD-Fassung und sie geben viele interessanten Infos zur Herstellung der jeweiligen Demo preis. Neben den Erklärungen im typischen Beschreibungsstil sind hier einige Überraschungen versteckt. Beispielsweise erzählen die Macher von Einklang.net zu ihrem The Beauty eine ziemlich lange Hintergrundgeschichte, während die geheimnisumwitterten Leute von Synesthetics ihr Electric Kool-Aid mit einer völlig durchgeknallten Roboter-Stimme begleiten. So manche Erklärung birgt sogar so viel Hintergrundwissen, dass man sie problemlos in Wikipedia einbinden könnte.

Was den fehlenden Blu-Ray-Player in meinem Haushalt betrifft, so konnte ich mir am darauffolgenden Tag ein Leihgerät von einem Freund besorgen. Endlich war es also auch mir möglich, den Bonus-Inhalt abzurufen. Zumindest anfangs wurde meine Erwartungshaltung nicht enttäuscht. Fünf sensationell gute Intros, nämlich Frameskool, Heaven Seven, Chaos Theory, Panic Room und Elevated, gibt es ausschließlich auf der blauen Disc. Natürlich in derselben spitzen Qualität, wie die Hauptdemos. Der Bericht über das Produzieren einer Blu-Ray-Disc mit relativ wenig Geld ist ganz nett anzuschauen. Dass die Seminare von der bislang medienträchtigsten Demo-Party, der NVScene 2008 von nVidia, auch auf den Silberling gepresst wurden, finde ich jedoch eher überflüssig. Natürlich sind die Seminare interessant, aber ich denke, dass hier der Download der Filme über das Archiv von Scene.org ausreicht.

Auch MindCandy Vol. 3 - PC Demos (2003-2010) hat es nicht geschafft, mich vom Kauf eines Blu-Ray-Players zu überzeugen. Klar ist die Bildqualität der Demos auf Blu-Ray der DVD-Fassung weit überlegen. Aber wie ich eingangs schon sagte, sind meine Ansprüche hier eher bescheiden. Von den nur auf Blu-Ray enthaltenen Bonus-Inhalten hatte ich mir mehr versprochen, denn eigentlich haben mich nur die fünf Intros wirklich aus den Socken gehauen. Die dritte MindCandy ist aber selbstverständlich, wie ihre Vorgänger auch, ein Pflichtkauf für alle Demo-Fans und an künstlerisch ansprechender Computergrafik interessierten Personen. Zumal der Preis mit gerade einmal 16,00 Euro (Preis gilt noch bis 31.12.2011), und danach dann ebenfalls noch günstigen 19,80 Euro, unschlagbar ist. Zumal man ja zwei Discs (DVD und Blu-Ray-Disc) in ein und derselben Hülle erhält.


Ein Überblick über die Menüstruktur von MindCandy Vol. 3 - PC Demos (2003-2010).