Dark Side / Rebels (PC Demo, 1. Platz @ qbparty 2017)

Beginnen wollen wir mit einer typischen Szenedemo, einer, der man die Handschrift der Rebels sofort ansieht. Es gibt wieder einmal viele Partikel, viel Tiefenunschärfe und hübsche Licheffekte. Aber auch einen feschen, schimmernden Anstrich, der das Standardgewusel erfrischender wirken lässt, sowie gute Musikuntermalung, die alles in einen stilvollen Rahmen schnürt und interessanter macht.
Ducks and Cubes / Teszkó Gazdaságos Demócsapat (PC Demo, 2. Platz @ qbparty 2017)
Eine Spaßproduktion kann man charmant verpacken. So, dass sie nicht nervt. Genau das ist hier der Fall. Zu richtig cooler Musik werden Würfel und Enten gegenübergestellt, sodass die Mundwinkel das ein oder andere Mal durchaus zu zucken vermögen. Unterhaltung pur!
The Void Stared Into Me Waiting To Be Paid Its Dues / Ümlaüt Design (PC Demo, 3. Platz 2017)
Ein wunderbares Beispiel, wieviel Atmosphäre durch den Verzicht auf Farbe generiert werden kann, liegt hier vor. Ganze Häuser und Hausteile werden hier in gediegenem Schwarz/Weiß gezeigt und mit sanften Kameraschwenks eingefangen. Die Texturen sind knackig, Kameraeinstellung und -position maßgeblich dafür verantwortlich, dass einem unheimlich wird. Genau wie die Soundkulisse, die einen erschauern lässt. Ungewöhnlich, atmosphärisch, seltsam und dennoch faszinierend. Wenn ein Werk dafür prädestiniert ist unterschiedliche Adjektive zu sammeln, dann dieses hier.
Crystalline Lord / Tifeco (PC 4k Intro, 1. Platz @ qbparty 2017)
Mit dieser 4k Intro hat sich Tifeco endgültig in der Demoszene etabliert. Sein Crystalline Lord hat ein bisschen was von Shadow of Colossus, mit seinem wandelnden Stab-Titanen. Er fängt ihn immer wieder gekonnt mit der Kamera ein um ihn in seiner ganzen Pracht zu zeigen. Ein würdiger Sieger einer sehr guten Competition.
Overflip / Dilemma (PC 4k Intro, 2. Platz @ qbparty 2017)
Glas und rotierende Platten, ein gelungener Mix der dank guter Schnitte und passender Musik zu keiner Sekunde langweilt.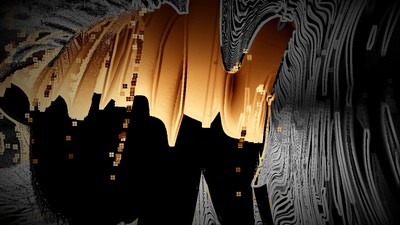 The Specification / Hardread (PC 4k Intro, 3. Platz @ qbparty 2017)
The Specification zeigt einen der ungewöhnlichsten Shader-Effekte seit langem Es sind keine klaren Konturen ersichtlich. Immer wenn man meint, dass es hässlich wird, dreht Coder Pohar wieder am Schieberegler und lässt neue Formen entstehen, andere miteinander verschmelzen. Das wirkt sehr gut und wird durch die tolle Klangbegleitung noch verstärkt.
Density / Shift.State (PC 4k Intro, 4. Platz @ qbparty 2017)
Density mag die schwächste 4k Intro im qbparty 2017 4k Intro-Feld sein, hat aber mit der tollen Musik und den interessant gestalteteten, Flat-Shaded Visuals einige Argumente auf der Habenseite. Und es hat Würfel! Bekanntermaßen mit eine Eintrittsgarantie in den Szene-Olymp.