Moron / Holon (PC Demo, JavaScript, 1. Platz)
Mit ganz viel Wumms und neon-pinken Outline-Visuals ballern Pandur und Ronny ein wahres Design-Monster in unser Gehirn. Letzteres wird hervorragend stimuliert durch die extravaganten, stylischen Laser-Visuals, während das brachiale, technoide Klangkonstrukt mit auf Anschlag gedrehter Lautstärke laut 'Ich will Tanzen' schreit und den heimischen Computerraum am liebsten sofort in ein Disco-Inferno verwandeln würde. Was für ein Erlebnis, dieses Fratzengeballer live auf der Deadline zu erleben. Denn, so abstrakt es auf den Screenshots wirkt, genau DAS ist es, was die Demoszene ausmacht. Geile Visuals und Hammer-Musik vermischt zu einer atemberaubenden Sinneserfahrung. Sooo FETT!
Transient / LJ & Virgill (PC 4k Intro, 1. Platz)
Bunt muss nicht sein. Aufwändiges 3D genauso wenig. Die Geschichte der Demoszene hat uns gelernt, dass sie mit ihrer Vielfalt und Kreativität punkten kann und optischer Bombast nicht immer das Nonplusultra darstellt. Genau darauf besinnt sich LJ in seiner neuesten 4k Intro Transient. Ganz in Schwarz/Weiß sind seine Linien und Geometrien geformt. Ein bisschen Glitch, gegen Ende auch mal Kaleidoskop, drumherum stimmungsvoller Sound von Virgill. Das reicht schon, um Aufzufallen. Um zu zeigen, dass man auch anders und mutig sein kann, um eine Atmosphäre-Bombe zu zünden. Well done!
Lemonade / Lemon (Amiga Demo, 1. Platz)
Diese Geschichte hier, ist ein klein wenig wie Hollywood. Man stelle sich mal vor wenn ein verdienter, mit Preisen überhäufter Star plötzlich im eigenen Wohnzimmer auftauchen würde... Genau so ist es gewesen, auf der Deadline 2018! Nicht dass Brad Pitt kam! Nicht doch! Es war viel besser! Denn niemand geringerer als Dan Scott gab sich die Ehre. Wer das ist? Nun, vielleicht kennt ihr ihn noch von früher, als Dan von Anarchy. Legendäre Amiga-Demos hat er ab 1990 programmiert, darunter beispielsweise
Seeing is Believing
oder
Groovy
. Hauptberuflich war er beim Kultstudio Core Design und schuf dort tolle Amiga-Games wie
Heimdall
,
Premiere
oder
Chuck Rock II
. Auch beim letzten Spiel von Core Design,
Tomb Raider: The Angel of Darkness
, mischte er mit. Seit zwei Jahren nun ist er wieder zurück im Geschäft, dort wo seine Karriere einst begann: Beim Coden von Amiga-Demos. Mit Lemonade hat er nun sein Geschenk nach Berlin gebracht. Eine herrliche Demo die genau so ist, wie Demos früher nun mal waren. Mit hübschen Effekten (dieser Gummizylinder!), tollen Grafiken (Made, Facet) und grooviger Musik (Virgill). Wirklich toll wenn man sieht, was an aus ein paar Zeilen altem, unveröffentlichten Code noch so alles zaubern kann, wenn die Flamme immer noch lodert, man mit Motivation dabei ist und viel Neues hinzufügt. Klasse, alter Mann!
Lifeline / Deluxe & Premium (PC 64k Intro, 2. Platz)
Ganze Partikelozeane wurden von der Demoszene schon in Bewegung versetzt. Deluxe und Premium machen in der 64k Intro Lifeline nichts anderes. Mit dem kleinen, aber feinen Unterschied, dass ihr Meer aus richtigen Kugeln besteht. Diese schimmern immer wieder einmal in gleißendem Licht, stets illuminiert von rötlichen und blauen Farbtönen. Weil die Musik stimmungsvoll ausfällt und die Wellen variantenreich daher kommen, ein durchaus unterhaltsames Spiel im virtuellen Pool.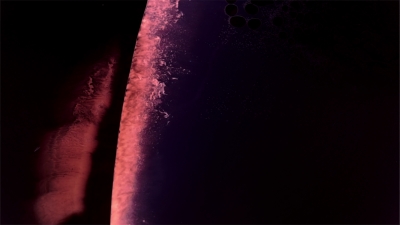 Liquids / MacLeon (Video, 1. Platz)
Spielerei mit Flüssigkeit, das gab's schon Dutzende Mal. Auch bei den ganz Großen. Mal in Echtzeit (Ja, Fairlight! Wir schauen auf euch!), als auch auf Film gebannt (Servus, Gaspode!). Wozu also nochmals mit den Augen plantschen gehen? Nun, weil dieses Liquids zum einen das erste Werk auf der großen Bühne der Demoszene für MacLeon ist, zum anderen genial gesynct ist und so facettenreich daher kommt. Alles wabert, zappelt, verschmilzt und verfärbt sich auf großartig inszenierte Weise, sodass wir gerne noch eine weitere Runde mitschwimmen.