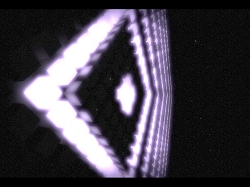 Kurzer, lichtgewaltiger und heftiger Big-Beat-Quicke: Die Invitation-Demo
Easter Guardians
von Excess.
Gestern haben wir über die zum Osterfest 2011 stattfindende, neue Demo-Party Eastergarden 2011 berichtet und unbeabsichtigt für viel Verwirrung innerhalb und außerhalb der Demoszene gesorgt. Fälschlicherweise hatten wir angenommen, dass die norwegische Party das Erbe der beliebten Veranstaltung Breakpoint antreten wird und in direkter Konkurrenz zur, ebenfalls in Hamar, Norwegen, steigenden The Gathering 2011 stehen würde. Nun, Asche auf unser Haupt, die uns bekannten und wiedergegebenen Informationen waren leider falsch. Die Eastergarden 2011 wird und soll auch nicht in die Fußstapfen der Breakpoint treten. Vielmehr, so wurde uns mitgeteilt, wird dieses Event vom selben Team veranstaltet, welches sich für die Kindergarden verantwortlich zeigt und sich ausschließlich an Szener richten.
Von Interesse für den Standort Deutschland ist allerdings eine Meldung, die von Scamp, dem Main-Organizer der Breakpoint, stammt. Er teilt mit, dass es definitiv einen Breakpoint-Nachfolger geben wird, und der wird im Südwesten Deutschlands stattfinden. Und hier finden sich auch zahlreiche BP-Organisatoren im Team wieder. Weiterhin soll die neue Veranstaltung in etwa dem Rahmen entsprechen, den man von der Breakpoint her kennt. Weitere Infos werden zu gegebener Zeit bekanntgegeben.
Aufatmen ist also angesagt - und wir möchten uns noch einmal in aller Form für die Unannehmlichkeiten entschuldigen.
Originalmeldung: Die Nachricht war damals wie ein Schlag mitten ins Gesicht. Ostern 2010 sollte die letzte Breakpoint stattfinden, immerhin die größte reine Party der Demoszene. Mit die wichtigsten Demos, Intros und sonstigen kreativen Ergüsse dieser Computerbewegung wurden jedes Jahr in Bingen am Rhein veröffentlicht. Seit 2003, um genau zu sein. Und die Jahre zuvor war auch unser Mutterland Deutschland zentrale Anlaufstelle für Scener aus aller Welt (Mekka & Symposium). Doch die Fakten ließen sich nicht vom Tisch wischen. Die Organisatoren hatten mit zu vielen anderen Problemen bei der Ausrichtung dieses Events zu kämpfen. Es musste also eine andere Lösung her.
Nun wurde auf der Demo-Party Kindergarden 2010 der Vorhang gelüftet. Es wird auch 2011 eine reine Veranstaltung für die Demoszene geben. Und: Man wird nicht auf die The Gathering 2011 ausweichen, die ebenfalls zur Osterzeit in Norwegen stattfindet, ihren Fokus jedoch schon lange auf LAN-Gefechte und Gamer-Beherbergung gelegt hat. Das, was noch kommen mag, klingt jedoch im ersten Augenblick mehr als wahnwitzig!
Das Eastergarden 2011 genannte Event wird nicht in Deutschland stattfinden, sondern - und hier kommt es zu ersten Stirnrunzlern - in Norwegen. Gut, das kann akzeptieren, immerhin spielt das an der nördlichen Grenze Skandinaviens gelegene Königreich eine bedeutende Rolle in der Demoszene. Überraschender ist hingegen die Tatsache, dass exakt zum selben Termin, dem Osterfest, besagte The Gathering stattfindet. Ebenfalls in Norwegen und noch dazu in der selben Stadt Hamar. Wo also liegt der Sinn eine Gamer-Party mit Demo-Ecke und diversen Demo-Compos quasi als Nachbar-Event zu einer reinen Demo-Party abzuhalten?
Fragen, die uns in den nächsten Wochen hoffentlich beantwortet werden. Die Organisatoren haben bereits versprochen, in Kürze weitere Informationen kundzutun. In der Zwischenzeit bleibt nur der Blick auf die (gut gemachte) Invitation-Demo Easter Guardians von Excess zu werfen. Die ist zwar ein wenig kurz geraten, bietet aber eine coole, perfekt gesyncte Lichtshow und astreinen Big-Beat-Soundtrack.