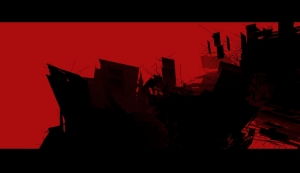 Geburtsstunde der Noise-Demos: Chimera

Die Bilder haben sich fest in meinem Gedächtnis verankert, auch wenn es bereits im August 2006 passierte. Famou$, Spielejournalist bei 4Players.de und begeisterter Freizeit-Demo-Gucker, startete auf seinem Arbeits-PC die Demo 1995 der Kewlers/MFX und drehte den Lautstärkeregler auf. Little Bitchards prämierter Soundtrack wummerte aus den Boxen und schickte seine Melodie in Richtung der Kollegen - die sich dessen Bann einfach nicht entziehen konnte. Während der eine, beschwingt von der Musik, durch das Büro tanzte, hatte sich innerhalb kurzer Zeit eine kleine Menschtraube um den Demo-Rechner versammelt um zu sehen, was da so tolle Melodien verursacht.

Geräusche statt Musik
Ein ganz anderes Bild zeigte sich in den ersten Wochen des Jahres 2007. Ein Trend schien zu entstehen, der sich zuletzt schon abgezeichnet hatte. Statt spritziger Melodien oder elektronischer Musik tönte plötzlich vermehrt ein Kratzen, ein Rauschen oder wabernde Sounds aus den Lautsprechern. Eine Art von Soundtrack, die bekannte Scener wie PS oder Nosfe schon seit langer Zeit bevorzugen. Die Noise-Demos waren plötzlich ganz dick im Geschäft. Die Tanzbeine mussten still halten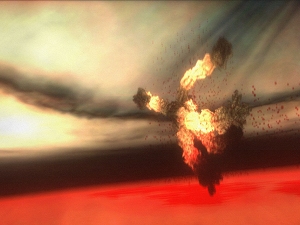 Brachial, abstrakt, verstörend und gänzlich anders: MFX' The Ballet Dancer erhitzt die Gemüter.

.
Den Anfang machten Farbrausch mit ihrem aufwändigen fr-055: 828 (the drone experience), das den Demo-Wettbewerb der Icons 2007 gewann. Kurz darauf legten die Lords of Liquor Crypton nach, das ebenfalls in die gleiche Sound-Kerbe schlug. Später entdeckte man dann auch noch das extreme Asmodai von MFX, die schon lange ein Faible für solch ungewöhnliche Shows haben, wie etwas Golem, arise oder das brachiale The Ballet Dancer zeigen. Farbrausch, erneut in Person von Extremkünstler Visualice, packten noch fr-056: Gravity of the moon drauf. Und das war beileibe nicht alles, was das Demojahr 2007 an schaurigen Klängen und verstörenden Bildern zu bieten hatte. Der Ausstoß der "Scary Movies" stieg gegenüber den Jahren zuvor deutlich an.

Aufholjagd
Fast scheint es also, dass die Noise-Demos fünf Jahre nach Chimera in der Szene angekommen sind, einer Bewegung, die schon immer offen für Andersartiges, künstlerisch wertvolles war, abseits des Mainstreams. Doch wie die auf Hochglanz polierten Echtzeitwerke, die mit normaleren Soundtracks aufwarten, so erzeugen auch die Geräuschdemos kontroverse Diskussionen. Wohl sogar etwas mehr als die anderen

.
Schon den Organisatoren der Assembly 2002 blieb die Kunst und Faszination von Chimera verborgen, zeigten sie diese Demo nicht einmal während der offiziellen Demo-Competition. Dennoch genießt sie heute Kultstatus, weil Halcyon damit etwas Einzigartiges geschaffen haben, etwas so Ungewöhnliches, an das man sich erst nach einiger Zeit gewöhnt. Der Mensch bricht nun mal nur schwer mit ihm lieb gewonnenen Traditionen.

Liebe und Hass
Diese These kann D-Funk nur bestätigen. Ihm gefällt dieser Trend nicht sonderlich, denn für ihn geht nichts über einen guten, abwechslungsreichen Soundtrack. Nema schlägt in dieselbe Richtung, sieht die Verwendung von Geräuschen jedoch im Mangel an guten Musikern. "Wo sind die Skavens und Purple Motions von heute?", fragt er mit Wehklang in der Stimme. Ein echter Anhänger der Noise-Shows ist hingegen Tomek, der sich schon lange für die Demoszene interessiert, jedoch nur als Konsument. "Ich finde diesen Trend interessant", erzählt er uns. "Endlich gibt es etwas Neues! So wie es Chill-out-Demos gibt, kommen nun eben die Scare-out-Demos." Die Langeweile aufgrund zu vieler, ähnlicher Demos, die ihn für einige Zeit gepackt hatte, ist nun verflogen. Die perfekte Symbiose aus Noise-, bzw. Scare-Demo und bekannten Echtzeitshows sieht Independent hingegen in Chromosphere von Sqny. Für ihn hat dieses Werk nicht nur die nötige Abstraktion um ein mulmiges Gefühl zu erzeugen, vielmehr vermittelt es mit seinem minimalistischen Soundtrack, der dennoch die musikalischen Einflüsse nicht verbergen kann und perfekt auf die Effekte abgestimmt ist, genau den richtigen Mittelweg aus beiden Demo-Welten. "Darauf lässt sich aufbauen!", merkt er an.

Was die Zukunft bringen wird ist natürlich ungewiss. Bestimmt werden wir auch 2008 wieder viele unterschiedliche Demostile sehen, die von den einen umjubelt, und von den anderen verdammt werden. Doch genau das ist das Schöne an der Demoszene: sie ist kreativ in allen Bereichen, überspringt gerne Grenzen, polarisiert und begeistert. Und wie sagt ein Sprichwort so schön: "Allen Menschen Recht getan, ist eine Kunst die niemand kann." Genau das trifft auch auf die Demomacher zu. Sowohl den Noise-Experten, als auch dem ganzen Rest.