BeamNG.drive: Neuer Crash-Trailer zum Steam-Greenlight-Debüt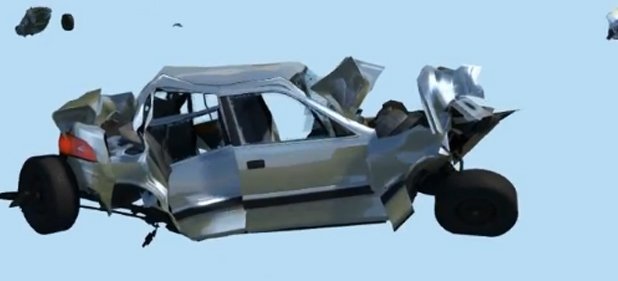 Wer Autos schrotten will. muss nicht allein auf
Next Car Game
setzen. Nachdem BeamNG Mitte 2013 in einer Tech-Demo ein Fahrzeug
eine Megaklippe runterpurzeln ließ
, um die hauseigene Physik-Engine zu zeigen, meldet sich das Team jetzt mit einem weiteren Trailer zurück.
Der Anlass: Neuerdings wirbt das Team
auf Greenlight
um Stimmen für einen Steam-Launch von
BeamNG.drive
. Wer einen reinen Crashtest-Simulator dahinter vermutet, irrt - die Entwickler werkeln an einer Simulation mit einer großen offenen Spielwelt, in der man allerlei Events vom Drag Racing über Rally bis hin zum Destruction Derby allerlei fahrtechnischen Vergnüglichkeiten nachgehen können soll.
Die Fahrzeuge sollen sich dabei sehr individuell gestalten und tunen lassen, da man zahlreiche Komponenten hinzufügen, entfernen bzw. modifizieren können soll - mit entsprechenden Auswirkungen auf die Fahreigenschaften natürlich.
Das Spiel soll über
die Alpha
hinaus nach und nach ausgebaut werden. Derzeit könne ein fixer Quadcore-Prozessor vier bis sechs Fahrzeuge gleichzeitig stemmen. Das Ziel seien bis zu acht Fahrzeuge, die auch auf einem Mittelklasse-Prozessor flüssig simuliert werden können. Derzeit wird die Physik noch komplett auf der CPU berechnet - mit OpenCL soll in kommenden Versionen der Grafikchip eingebunden werden.
"Alpha Access Features
All future updates to BeamNG.drive included for free (alpha, beta), also including the final game
Soft-body physics sandbox
7 detailed, customizable, destructible vehicles
7 terrains to explore and drive across
Frequent free updates adding terrains, vehicles, features, gameplay, and bug fixes
Full modding and content creation capabilities - make maps and vehicles, and script gameplay
Use the built-in terrain editor and any 3D modeling, image editing, and text editing software
Your purchase of BeamNG.drive Alpha Access grants you a serial key with which you can download the game and update it to the latest version.
Online authentication is only necessary to update; the game itself does not need an internet connection to run.
You also get exclusive access to a section of the forum where you can talk directly to the devs and report bugs, suggest features, etc.
The exclusive forum section also contains 3rd-party content, including vehicles and terrains.
In addition, you get a little BeamNG.drive logo under your avatar.
System Requirements
High End Requirements
CPU: recent Quad-core processor (Intel) or recent Eight-core processor (AMD)
RAM: 8GB DDR3
GPU: GTX 670 or Radeon HD 7950 or better (>1GB Video RAM)
Windows 7/8 (32bit or 64bit)
 
Moderate Requirements
CPU: Dual-core processor (Intel) or Quad-core processor (AMD)
RAM: 4GB DDR3
GPU: GTX 560, Radeon HD 7790 or equivalent and above (>1GB Video RAM)
Windows 7/8 (32bit or 64bit)
Minimum Requirements
CPU: Dual-core processor
RAM: 4GB
GPU: Something better than integrated graphics (at least 512MB Video RAM)
Windows 7/8 (32bit or 64bit)"