Das Tracking für SteamVR soll weiter verbessert werden:
Auf Steam
wurde angekündigt, dass Valve die bislang von
HTC Vive
genutzten Tracking-Würfel überarbeitet hat und eine eigene, neue Variante produzieren wird. Die kommenden Basis-Stationen sind Teil des Konzepts "Tracking 2.0", welches eine kleinere, verlässlichere, leisere, energiesparende und günstigere Technik mit weniger beweglichen Teilen mit sich bringe. Erreicht werde das vor allem durch das Weglassen eines Bauteils - dem so genannten "Sync-Blinker". Valve nennt die neue Vorgehensweise "Sync-on-beam". Welche neuen Headsets oder Hardware die neue Technik unterstützen werden, ist noch nicht klar - die Mitteilung wendet sich vornehmlich an Hardware-Partner.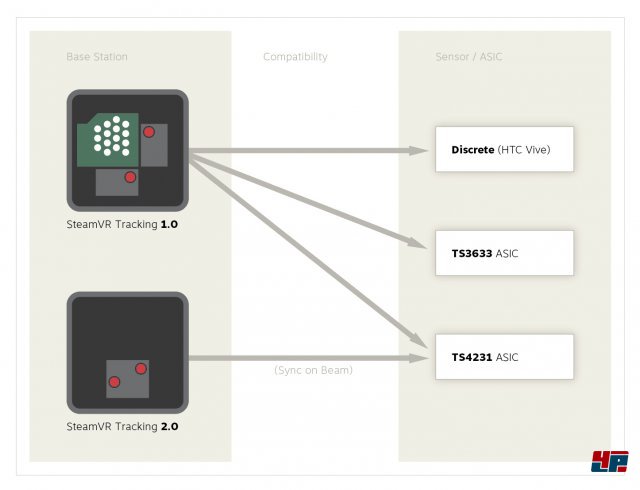 Ein weiterer Vorteil sei, dass sich mehr als zwei Basisstationen gleichzeitig nutzen lassen. Im Gegensatz zum aktuellen System von HTC Vive sei daher ein Einsatz in weit größeren Räumen möglich, zumal der nicht mehr nötige "Sync Blinker" eine geringere Reichweite besaß und zudem eine der häufigsten Fehlerquellen darstellte. Probleme wie plötzliches Wackeln des Bildes könnten bald also deutlich seltener auftreten. Die ab November in größeren Mengen verfügbaren Basis-Stationen sollen sich allerdings nur eingeschränkt mit alten Exemplaren kombinieren lassen, was Valve im offiziellen Post etwas missverständlich erläutert:
"Valve-built base stations will not work with older 1.0 devices. The older 1.0 base stations will continue to work with new devices, just without any of the new features."

Auf folgendem Foto einer alten Basis-Station der HTC Vive erkennt man gut das alte "Snyc-Blinker"-Bauteil, welches in Valves neuen Exemplaren fehlen wird, also das obere wabenartige Feld: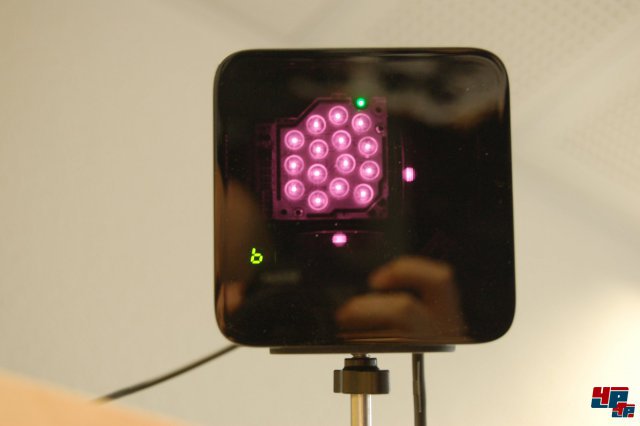 "Sensor ASIC Roadmap
As you are probably aware, all licensees have access to the TS3633 part from Triad Semiconductor to use in your products. This ASIC uses 11 components per sensor and produces a single "envelope" pulse per laser or sync blinker hit. That hit allows the Watchman module in the device to time the difference between the sync and the laser hit and compute angle from that difference. Up until this point, use of this sensor is required to receive tracking signals in your SteamVR Tracking device.

In late June we will make another option available, assuming testing of first silicon continues to go well. The TS4231 part uses 5 components per sensor, so it is cheaper to place at each sensor. More importantly, though, it provides a burst of data per laser or sync hit. Using that data allows information to be transmitted on the laser itself, which we can use to learn about the source of that laser.

This new capability to encode information in the laser is significant for two reasons:

It allows support for more than two base stations, and thus larger tracking volumes.
It allows a base station to function without including a sync blinker, which is the source of most of the interference between base stations (and is also a significant driver of base station cost.) We call this technology sync-on-beam.

Because of the significance of this new capability we recommend that all designs that will ship after TS4231 is available use this new ASIC instead of the older TS3633. The datasheet for TS4231 is available from Triad


SteamVR Tracking 2.0
This new sensor technology is part of what we call SteamVR Tracking 2.0. The main features of 2.0 are:

Support for more than two base stations
Base stations that are smaller, quieter, lower power, more reliable, and less expensive than their 1.0 counterparts
Better performance by reducing the number of moving parts and sources of manufacturing variation.

Because the new Valve-built base stations don't include a sync blinker, one side-effect of the sync-on-beam technology in tracking 2.0 is that those base stations will only work with TS4231-based devices. Valve-built base stations will not work with older 1.0 devices. The older 1.0 base stations will continue to work with new devices, just without any of the new features. Valve will have base stations available in production quantities starting in November 2017. If you would like engineering samples of those base stations, let us know. Those will be available in June.

The following diagram describes the compatibility breakdown of 1.0 vs. 2.0 base stations and devices.


Summary
That is all a fair amount of detail on our roadmap for SteamVR Tracking. If you want your devices to support more than two base stations, you need to switch to TS4231.

Those TS4231-based devices will work with both 1.0 and 2.0 bases, and when they are tracking with 2.0 bases they will support all of the SteamVR Tracking 2.0 features. TS3633-based devices will only work with 1.0 bases.

We will have more details about TS4231 (and our roadmap) to share around the end of June when the verification tests are complete."
Letztes aktuelles Video: Vive Tracker und Deluxe Audio Strap
Letztes aktuelles Video: Trailer KwikVR