Wir befürchteten viel Noise-Kram auf der finnischen Party Stream Six zu sehen. Die Realität belieferte uns dann aber gleich mit mehreren fetten Effektfeuerwerken! Einige davon weisen jedoch einen zwar innovativen, erfrischend anderen Stil auf, der jedoch nicht jedermanns Geschmack treffen dürfte. So etwa der Ballad of a cluster bomb - Director's Cut von Kooma, ein wahrlich brillant gestaltetes Meisterwerk der Demokunst. Zum melancholischen Gesang und Gitarrenspiel von David Rovics werden Videosequenzen eingespielt, welche die Bombardierung durch Flugzeuge zeigen. Ein abstrakter Grafikfilter, der alles wie in Wachs gemalen zeigt, verwandelt die Szenen in erschreckend atmosphärische Bilder, deren Stimmung in Zusammenspiel mit der Musik schockierend, zugleich aber auch faszinierend wirken. Ein ungewöhnliches Werk das zum Nachdenken anregt, aufgrund seiner andersartigen Machart aber auch zu einem Höhepunkt in der Geschichte der Demoszene gezählt werden muss. Einzigartig!
Normaler zeigte sich die Siegerdemo der Stream Six, Matt Currents Father of the Great Nation Remix. Es ist eine dieser typischen, hämmernden Techno-Demos, die man entweder liebt oder hasst. Starke Kontraste, überzeichnete Konturen und grelle Farben prägen die schnell wechselnden Bilder, die mit einigen hübschen Effekten und Grafiken aufwarten. Sehr stylisch, aber aufgrund der monotonen, harten Beats auch gewöhnungsbedürftig. Fans dieser Art von Show werden auf jeden Fall begeistert sein.
Unheimlich viel Atmosphäre verbreiteten MFX mit ihrem Werk Kyklop. Trotz eigentlich nur einer einzigen Szene, ist diese Demo ein perfektes Beispiel dafür, welch atemberaubende Stimmung man mithilfe eines grandiosen Soundtracks und der richtigen Farbwahl und Beleuchtung erzeugen kann.
Pod-Racer-Fans kamen bei Smugglers on Acid auf ihre Kosten. Hier rasen drohnenähnliche Flugkörper über eine Wüstenlandschaft, während um sie herum schicke Würfel vom Himmel fallen. Das fetzt richtig, zumal die Musik mit ihren E-Gitarren hervorragend zum rasanten Geschehen passt und immer wieder schicke Kamerazooms dem Treiben zusätzlichen Pepp verleihen.
Viel Glow und Blur, ein bisschen Transparenz geschmückt mit Partikeln, tolle Farben und ein ruhiger, aber zugleich doch antreibender Soundtrack waren die Zutaten für Fr003 Protrackt von Friction. Minimalistisch, aber schön.
Etwas altbacken, aber mit netten Grafiken und Rockklängen unterlegt war Paha Kukka von den Altmeistern von Hirmu.
Eine Nummer kleiner war die 64k Intro Ediacara von der Gruppe Traction, die in ihrer Unterwasserwerlt wieder mehr in Richtung 3D-Pop-Art abdriften. Zumindest erinnern die grellen Blau- und Pinktöne daran, die allerlei schlängelndes Meeresgetier hübsch aussehen lassen.
Nur 4k groß ist Moldtype, die Intro die mehr durch ihre fantastische Musik als durch ihre eintönigen Visuals begeistert.
Demos:
- Ballad of a cluster bomb - Director's Cut / Kooma (2nd at Stream 2009)
- Father of the Great Nation Remix / Matt Current (1st at Stream 2009)
- Fr003 Protrackt / Friction (8th at Stream 2009
- Kyklop / MFX (4th at Stream 2009)
- Paha Kukka / Hirmu (3rd at Stream 2009
- Smugglers on Acid / Australian Drug Foundation & Disaster Area (5th at Stream 2009)
64k Intro:
- Ediacara / Traction (6th at Stream 2009)
4k Intro:
- Moldtype / African Khat Federation (1st at Stream 2009)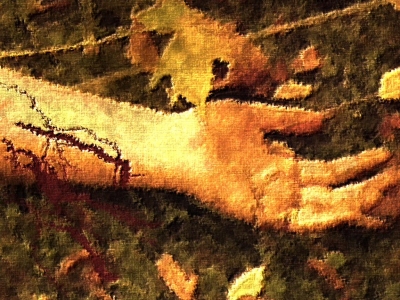 Brillanter Grafikstil, erschütternde Bilder: Koomas
Ballad of cluster Bomb - Director's Cut gilt schon
jetzt als Meisterwerk der Demokunst.