Im Panic Room mit Fairlight
Ostern 2008, direkt nach der Breakpoint war es, da haben wir behauptet, dass die 64k Intros tot wären. Nun möchten wir diese Aussage revidieren, beugen in Demut unser Haupt vor Smash und Reed von Fairlight. Sie haben mit ihrem Panic Room ein Erlebnis geschaffen, wie es Lifeforce und fr-041: debris im Jahr zuvor taten. Dieses Kleinod ist vollgestopft mit imposanter Technik, hochdetaillierten 3D-Kulissen, genialen Wasser-, Rauch- und Schatteneffekten, sowie abgefahrenen Ideen. Smash sperrt uns zuerst in einen Raum ein, lässt diesen voll Wasser laufen und versetzt uns tatsächlich in Panik. Positive Panik, aufgrund des Detailreichtums. Ungläubige Panik, aufgrund der Technik, die fast schon Game-Qualitäten aufweist, hier aber in nur 64 Kilobyte untergebracht wird. Beängstigende Panik, weil dieses Werk solch hohe Standards setzt und eigentlich alle zuletzt veröffentlichten 64k's altbacken aussehen lässt. Nachdem der Raum geflutet ist, geht's ab ins kühle Nass, mit Fischen aus Stahl, explodierenden Stahlkugeln. Im späteren Verlauf verwandeln sich Torpedos in Jagdflugzeuge, die durch ein Treppenhaus jagen und den Panic Room zur anspruchsvollen Kunst werden lassen. Reed's Soundtrack steht dem in nichts nach. Erst spielt er mit harten Gitarrenriffs, die später in träumerischer Klingelei enden. Ganz Lifeforce, aber eben im kleinen Format.
Die Assembly 2008 brachte also die Erkenntnis, dass Fairlight doch wieder kleinere Werke basteln können und wollen. Vor zwei Jahren zogen nämlich düstere Wolken auf, als Smash seinen USB-Stick, der seine gesammelten Intro-Tools enthielt, auf der Assembly 2006 verlor. Seitdem hatte er nur noch ausgewachsene Demos programmiert, sowohl für Fairlight, als auch für die UKscene Allstars, denn zu aufwändig ist es, all die Technik für die 64k- und 4k-Winzlinge von Grund auf Neu zu entwickeln. Nun ist er also wieder am Ziel angelangt, hat seine Werkzeuge verbessert, optimiert, und uns nicht nur den Panic Room als unglaubliches Geschenk mitgebracht. Auch in der 4k-Intro-Ecke war er tätig, schuf mit Deep Science einen Mikroorganismus, der an die Kewlers-Werke Protozoa und Aesterozoa erinnert. Auch diese Produktion bietet unglaubliche Technik und Optik, schaffte es aber im Gegensatz zum Panic Room nicht auf den ersten Platz, sondern landete - unverständlicherweise - nur auf Rang 3 bei den 4k Intros.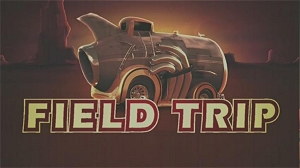 Field Trip, ein Computer-animierter Kurzfilm und eine riesen Gaudi für alle, die Pixar und Co. lieben!

4k vs. 64k Power
Den Platz an der Sonne sicherten sich Portal Process und TBC mit ihrem Nucleophile. Mit Schlangen wickeln sie uns hier ein. Jedoch nicht mit welchen die aus Würfeln bestehen (Debris lässt grüßen). Vielmehr lassen sie hier Blubberblasen in die Tiefen unserer Prozessoren und Grafikkarten schlängeln, mit heftigem Gedöns und Gewackel! Zwei Blasenkreaturen senden sie aus. Sie kreuzen sich, führen über einem spiegelnden Chessboard ein imposantes Liebesspiel auf. Faszinierend, beeindruckend und vom Sound her eine absolute Wuchtbrumme - trotz der Beschränkung auf vier Kilobyte Größe!
Überhaupt waren die kleinen Werke auf der Assembly 2008 die ganz großen Stars. Die beiden 64k Intros Nebula (von SQNY) und Traction's Incognito sahen zwar nicht ganz so edel aus wie das vor ihnen platzierte Intro von Fairlight, sprühten jedoch vor Kreativität und Innovation. Das SQNY-Teil setzt Objekte, Hintergründe und Effekte nur aus wabbelnden Linien zusammen, was man bislang noch nicht gesehen hatte. Incognito hingegen glänzt mit nüchternem, aber äußerst stilvollen Style und einem wunderschönen, melodischen Soundtrack. Auch United Force's Crystal Tension hinterlässt einen guten Eindruck, was vor allem an der perfekten Farbpalette liegt, die einfach Demo-Lust weckt.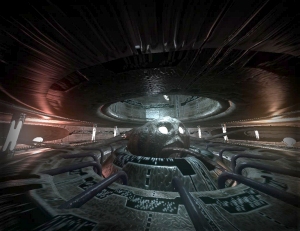 Der Sieger bei den Demos: Within Epsilon, ein Grafikspektakel allererster Güte, dem es etwas am Feinschliff beim Design mangelt.

Die großen Datenpakete
Doch was war jetzt mit den Demos, immerhin das absolute Highlight einer jeden Demo-Party? Nun, ganze sechs wurden auf der ASM'08 veröffentlicht. Und keines war von Farbrausch, von Fairlight, von Andromeda Software Development, MFX oder STILL. Das klingt nicht nach viel und ist dann wohl doch als Indiz zu werten, dass sich die Big Names mehr auf die NVscene konzentrieren. Dennoch war keine der sechs Demos wirklich schlecht, vier von ihnen sogar fast von fast elitärer Qualität! Während Adapt (mit The Invisible Hold) und Jumalauta (mit De:Cap) nur gute Standardkost zeigten, überraschte ein Newcomer. Total von Mojito landete zwar nur auf einem undankbaren fünften Platz, bietet aber viele optische Reize und ist für eine 1-Day-Produktion von überragender Qualität. Division hatten, wie in jedem Jahr, wieder eine Demo auf der Assembly am Start, die sich ein wenig am Stil von ASD orientiert. Ihr Deform hat uns ebenfalls gefallen und sicherte sich die Bronze-Medaille. PlayPsyco mussten sich mit dem zweiten Platz zufrieden geben. Ihr Contre-Jour getauftes Werk bietet zwar wieder ganz großes 3D-Kino, mit tollen Maschinenwelten und viel Effektschickschnack, hatte gegenüber Within Epsilon, welches von Pyrotech stammt, dennoch das Nachsehen. Das hatte noch detaillierte 3D-Szenen im Angebot. Szenen auf Game-Engine-Niveau, was letztendlich wohl den Ausschlag bei der Stimmabgabe im von Counterstrike- und Warcraft-Spielern bevölkerten Event (immerhin gab es bei den vielen LAN-Turnieren wertvolle Preise zu gewinnen) gab. Ein visueller Augenschmaus, dem jedoch ein wenig Feinschliff beim Design dennoch gut getan hätte.
(Pixar)tistik
Während wir noch auf Pixar's Wall-E warten und uns im Kino mit dem Kung-Fu Panda amüsieren, sorgt die Assembly'08 für Nachschub im Bereich des Computer-animierten Trickfilms. Maxon, zur lebenden Legende in der Szene geworden dank seinem Realtime Demo Wannabe und Donuts, hat wieder zugeschlagen und einen weiteren "Muss man sehen"-Kurzfilm gebastelt: Field Trip! Ein unglaublicher Trip um eine Wüstenrally mit einer handvoll ultracooler Vehikel, bei dem die Trickfilm-Konkurrenz nur neidisch am Auspuff schnuppern kann. Da wird gerast, gedrängelt, gecrasht und zerlegt, dass es eine wahre Freude ist. In absoluter Bombast-Optik, mit supergenialen Effekten wie einem Endlos-3D-Zoomer für die Greetings, 3D-Fraktalen und jeder Menge Comic-Fun in 3D. Farben, Details, Ideen, Texturen sind allesamt eine Klasse für sich. Ein Brüller schlechthin ist auch die Hommage an eine brachiale Panzer-Demo von MFX - jedoch nur für Insider. Pixar hätt's nicht besser hingekriegt!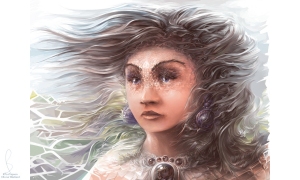 Auch Ra ist zurück in der Demoszene. Der Meister der Pixelkunst hat auf der ASM'08 mit Afterdeath ein neues Bild veröffentlicht.

Weitere Comebacks
Smash ist wieder im Intro-Sektor zurück. Reed, der eigentlich keine Musik mehr für die Demoszene machen wollte, ist doch wieder im Fairlight-Boot gelandet. Das sind freudige Nachrichten, doch gibt es noch mehr Überraschungen zu vermelden. Auch RA/NoooN ist zurück in der Szene. Der Mann, der die Pixelkunst zur Perfektion getrieben hat. Der mit seinem Stil unzählige Logo-Künstler inspirierte. Nach mehr als 10 Jahren Abstinenz hat er nun ein neues Bild gezeichnet. Afterdeath heißt es, welches zeigt, dass er nichts verlernt hat. Wo andere Leute nur auf diverse Photoshop-Filter zurückgreifen, setzt er noch Pixel für Pixel nebeneinander, nutzt aber dennoch moderene Möglichkeiten aus. Seine Detailverliebtheit lässt sich vor allem am Haar der unbekannten Schönheit ablesen, denn nicht jeder Grafiker widmet sich eben jenem mit solcher Hingabe. Ra hat in einem Forumsbeitrag bereits angekündigt, dass es demnächst wohl auch wieder Demos von NoooN geben könnte. Schön wär's!
Zurück sind auch die Byterapers. Zum einen mit der Alternative Party 2008 Invitation, welche ein paar hübsche Szenen zeigt. Zum anderen aber auch mit einer MS-DOS Demo, die sich gewaschen hat. Renaissance gewann die Oldskool-Demo-Compo und hat das einstige Limit bei den alten 486er-Maschinen doch ein klein wenig nach oben geschraubt. Ebenfalls alte Limitierungen gebrochen hat eine Demo für den guten, alten Amiga 500. Hardknee Lotus zeigt fantastische Effekte, die normalerweise nur auf einem AGA-Amiga möglich waren. Allerdings sollte der A500 über 1MB Chip und 2MB Fast-RAM verfügen.
Abseits der bekannten Wettbewerbskategorien war ebenfalls noch etwas los. Mit Title IX (Video) wurde die Playstation Portable mal wieder mit einer netten Produktion beschenkt. Daydream für das GP2X Handheld schlägt ruhige, entspannte aber sehr schöne Töne an und existiert auch in einer Version für Windows. Evoflash brachten hingegen die Browser zum Beben. Mit ihrer Flash-Demo 99er zeigen sie Fractal-Zooms, Voxel, Partikeleffekte oder den bekannten Zauberwürfel in superber Qualität. Vielleicht die beste Flash-Demo bislang.
Aus der Spieleecke
Dave the ordinary Spaceman heißt der Gewinner des GameDevelopment-Wettbewerbs. Das lustige Jump'n Run sieht niedlich aus, bietet gutes Leveldesign und eine Menge Spielwitz. Da werden Erinnerungen an die gute, alte Commander Keen Reihe wach. Das technisch bessere, ebenfalls lustige, aber nicht ganz so abwechslungsreiche Sauna Dismount wurde auf den zweiten Rang gewählt. Im Spiel für Sado-Masochisten gilt es, eine Art Crash-Test-Dummy möglichst stilvoll auf einen heißen Sauna-Ofen zu stoßen. Je höher der Grad der Verbrennung, desto mehr Punkte hagelt es. Kloonigames landeten mit Choke on my Groundhog, you bastard Robots auf Platz 3. Hinter dem langen Namen verbirgt sich eine Art Asteroids / Geometry Wars Mixtur in ungewöhnlicher, aber stilvoller Optik. Der etwas zu einfache Lemmings-Clone Pakoon III - First Blood, sowie der coole Arkanoid-Verschnitt FlipOut landeten auf den Plätzen. Letzteres läuft übrigens nur auf der Xbox 360, während die anderen genannten Titel unter Windows ihren Dienst verrichten. Die anderen Beiträge sind eigentlich nicht der Rede wert.