Das nun 4. 3D Zelda auf den großen Konsolen beginnt ziemlich ruhig. In einem abgelegenen Dorf muss der Ziegenhirte Link allerlei aufgaben erfüllen. Vom finden eines Korbs bis zum Kaufen einer Schleuder, wenig spektakulär. Nach einiger Zeit nimmt das Abenteuer jedoch Fahrt auf, es gibt die ersten Gegner, die man bekämpfen muss und schließlich die Verwandlung in Wolfsgestalt. Bis jetzt war ich als Zelda-Fan wenig beeindruckt. Auch die Grafik war bis dahin wenig ansprechend. Zwar sind die Figuren gut desingt, aber überall sieht man Kanten. Man merkt, dass das Spiel für GC entwickelt wurde und dann schnell auf die Wii kopiert wurde. Doch nun lernt man als Wolf neue Fähigkeiten und bekommt einen kleinen Einblick in die Story. Zusätzlich gesellt sich das kleine freche Wesen Midna an eure Seite um euch Tipps zu geben. Außerdem lehrt es euch ein Paar Fähigkeiten. Und so langsam wird das Spiel abwechslungsreicher. Nun muss man mit dem Gespür Käfer besiegen und (nich besonders gut desingte) Lichtgeister retten, damit man wieder zum Menschen wird. Dann kommt auch endlich der erste Große Dungeon, welcher an manchen Stellen ziemlich eindrucksvoll, an manchen Stellen sehr Langweilig ist. Außerdem erlernt man die erste von sieben Okulten Künsten, sehr nützliche Kampftechnicken. Auch die Story rund um Link, seine Freundin Ilya, Midna und Prinzessin Zelda sowie um die Bösewichte Ganondorf und Zanto wird im weiteren Verlauf besser. Nach dem dritten (von neun) Dungeon(s) hört man das erste wirklich gute Musikstück (Für Zelda Verhältnisse ist der Soundtrack eher schlecht) und kommt in einen Magischen Ort wo man ein Großes Rätsel aufgetischt bekommt, danach gibt's das Masterschwert. Nun erhält man auch die Fähigkeit sich jederzeit in einen Wolf zu verwandeln und sich zu Warpen. Die Wolfsverwandlung wird in den ersten beiden folgenden Dungeons noch regelmäßig eingesetzt, danach eigentlich nicht mehr. Schade, hier hat man eine Menge Potenzial vertan. Dafür wird im Spielverlauf der Rest besser, die Musik, das Gameplay, die Rätsel. Zusätzlich kann man nun viel einkaufen, Goldinsekten, Geisterseelen und Herzteile suchen. Die Itemliste ist am Ende sehr lang, jedoch werden viele Items wie z. B. der Morgenstern, der Gleiter oder besonders der Kopierstab später kaum noch eingesetzt. Die Bosse sind allgemein toll desingt, aber zu leicht. Die Steuerung hingegen funktioniert sehr gut und geht sofort in Fleisch und Blut über.

Fazit: Trotz der eher inkonsequenten eingesetzten Wolfsverwandlung, einer schwachen Technik und eines nur Mittelmäßigen Soundtracks, ist Twilight Princess ein hervorragendes Acton-Adventure mit viel Herz, einem riesigen Spielumfang (bis zu 60 Stunden Story + Sammelobjekte) vielen Tollen Ideen, einem Ausgewogenen Gameplay zwischen erkunden, kämpfen und rätseln, einer Tollen Steuerung und einem schönen Design.
Pro
Tolles Design...
Großer Spielumfang
viele Sammelobjekte
große Itemliste...
Ordentliche Story
9 Dungeos, die alle anders sind
Wolfsverwandelung...
Große Welt
Sonstiges
viele Gegnertypen
...dafür aber gesalzene Preise
Kontra
...aber eine schwache Technik
nur mäßiger Soundtrack
viel zu leichte Bosse
...von denen einige nur selten benutzt werden
... die später kaum genutzt wird
Sonstiges
Zu viele Rubine...
The Legend of Zelda: Twilight ...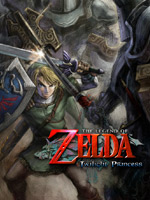 everplayer
09.01.2011